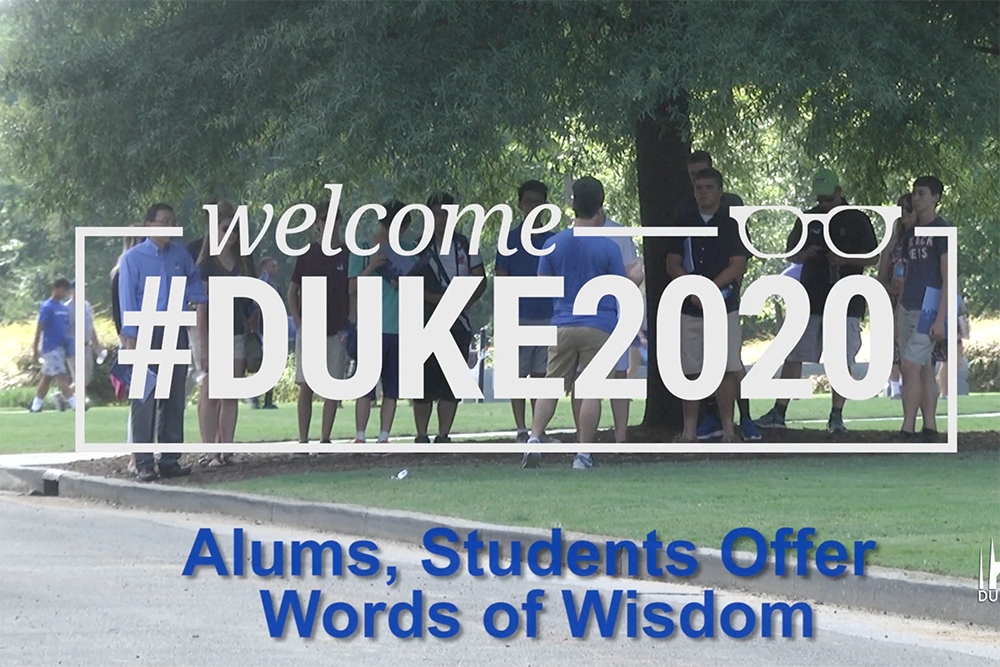 The Duke University Class of 2020, comprised of more than 1,700 students representing 70 countries and 49 states, arrives on campus Tuesday to begin a full slate of orientation activities.
Half of the incoming class is comprised of students of color, said Christoph Guttentag, Duke's dean of undergraduate admissions. Among U.S. states, the largest contingent of incoming students hails from North Carolina, followed by California, New York, Florida and Texas.
"I'm delighted by the makeup of this year's incoming class," Guttentag said. "Academically, it's the strongest group of students in our history.
"They're incredibly talented in a wide range of activities, and they represent a fascinating mix of backgrounds and experiences. I think the Duke community is really going to enjoy getting to know the Class of 2020."
First-year students move in to their dorms on East Campus beginning at 8:30 a.m. Tuesday, launching several days of orientation activities. Traffic congestion is expected near East Campus all day Tuesday, and parking there will be extremely limited.
At 10:45 a.m. Wednesday, President Richard Brodhead, Dean of Undergraduate Education Stephen Nowicki and Guttentag will address the incoming class at a convocation in Duke Chapel. The event will be live-streamed at https://www.youtube.com/user/DukeChapel.
Incoming first-year students will gather on East Campus' Main Quad at 7 p.m. Wednesday to spell out the numbers "2020" in what has become a traditional class photo. Watch the photo come together on Duke's Facebook page: https://www.facebook.com/DukeUniv/.
On Thursday evening, students will hear a reading by Bryan Stevenson, an award-winning author, attorney, law professor and MacArthur Fellow. Stevenson's memoir "Just Mercy" was this year's Duke Common Experience summer reading choice. It recounts Stevenson's battle to exonerate Walter McMillan, a black man who spent six years on death row before his murder conviction was overturned.
Students will continue exploring ideas presented in "Just Mercy" in discussion sessions led by Duke professors -- one of several ways faculty members are taking a stronger role in this year's orientation events. Faculty will also participate in a "Welcome to Academic Life at Duke" session at 3:30 p.m. Wednesday that offers a sneak peek of academic experiences students can expect while at Duke. Faculty will also lead Saturday outings to area locations such as the Durham Farmer's Market and the Eno River.
Jordan Hale, director of new student programs at Duke, said 750 incoming students have registered for the faculty outings.
"Students are excited about ways to connect with faculty," Hale said. "The outings offer a chance to do that outside the academic setting."
This fall also marks the debut of the Washington Duke Scholars program, a new Duke initiative for first-generation college students. The merit-based scholarship was awarded to 30 incoming first-year Duke students from 14 states.
"The scholars joining us this fall are phenomenal and bring with them a diverse set of experiences and talents that will enrich the Duke community," said Washington Duke Scholars program director Justin Clapp. "Unlike any other scholarship at Duke, the Washington Duke Scholars program brings students to campus over the summer.
"The scholars have already been on campus for six weeks learning and getting to know each other, giving them relationships and connections that will enhance their college experiences. I cannot wait to see what they accomplish at Duke and beyond."