Hosting Visitors? A Guide to Showing Off Campus
Tips and trivia for touring Duke with friends and family
Nearly 9.5 million people visited Durham in 2015, a number that has inched upward in recent years as the city adds new businesses and attractions for tourists.
While tracking the number of people who wander Duke's campuses isn't as easy, annual estimates are in the hundreds of thousands, from prospective students and their families to sports fans and people who want to see the iconic Duke University Chapel. Among the visitors are a number of family and friends of Duke community members.
As faculty and staff prepare to host their own visitors this summer, Working@Duke has compiled a "greatest hits" list of places and trivia to use to show off the university to friends and loved ones. 
Put on a pair of walking shoes and check out these hot spots. 
East Campus
From 1925 to 1930, East Campus was Duke University. The campus was previously the site of Trinity College, which became Duke University in 1924 after a donation from James B. Duke.
Landmarks: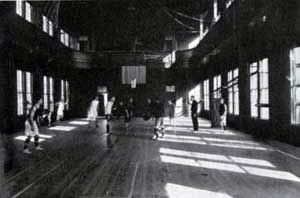 The Ark, circa 1912. Courtesy of Duke Libraries.
Built in 1892, the Crowell Building is now used by the Division of Student Affairs and is home for the Duke Coffeehouse. The Ark, originally a gym, was built in 1898 and was the site of the second intercollegiate basketball game in the state - Trinity versus Wake Forest in 1906. Wake won, 24-10. Today, it is used primarily for dance classes and student production rehearsals. 
Fun facts:
The site of Williams Field - where Duke's field hockey team plays - was the original site of campus' first football field. The first dormitory for women, the Mary Duke Building, was built in 1896 and located about where Jarvis Hall is now. The tract of land that became Trinity's campus had once been Durham's fairground. A racetrack was located about where Baldwin Auditorium now stands.
See it for yourself:
A two-year renovation project at Baldwin Auditorium updated the nearly 100-year old building into a state-of-the-art performance venue. The work received regional and national recognition. Duke community members and local residents alike can see shows there - stay up to date with the Duke Performances calendar. 
"Baldwin is a jewel of a concert hall and one of the finest for acoustic music in the Southeast," said Aaron Greenwald, director of Duke Performances. "It's transformed into a vibrant venue with state-of-the-art acoustical design."
Central Campus
First built in the 1970s as a space for temporary housing, Central Campus has grown to include residential and cultural aspects of Duke, including the Nasher Museum of Art.
Landmarks:
Duke Smart Home, completed in 2006, is a 6,000-square-foot residence and live-in research laboratory for undergraduates. It was the first LEED Platinum dorm in the country and includes a green roof, a rainwater reclamation system, and 3 kilowatts of solar photovoltaic panels. Public tours are available.
Fun facts:
Durham's "Almost World Famous" Dame's Chicken & Waffles has a restaurant on Central Campus called Dame's Express. The space sells the namesake meat and breakfast food pairings along with a variety of other options. Duke employees receive a 10 percent discount with a DukeCard.
See it for yourself:
The Nasher Museum of Art showcases a permanent collection ranging from ancient to modern art, plus rotating exhibitions, programs and scholarly publications. For up-to-date information, visit the Nasher Museum's website. 
"Art offers us a medium through which we can provoke conversations," said Ryan Elizabeth Bennert, student outreach and membership coordinator at the Nasher. "The museum is a great place to escape the summer heat and also find a greater understanding of society and its challenges."
West Campus
The main attraction for visitors to Duke, follow this suggested walking tour and surprise visitors with your knowledge of trivia.
Sarah P. Duke Gardens
Sarah P. Duke Gardens' Terrace Gardens. Photo by Rick Fisher.
If you don't already have access to a lot on campus, park at Duke Gardens, where it costs $1 per half hour to leave your vehicle. Wander along the five miles of paths through the botanical space that boasts rose and iris gardens, an Asiatic arboretum, a wisteria pergola, and expansive lawns perfect for sprawling on a blanket in the sun.
Started with a $20,000 donation in 1934, Duke Gardens have expanded to include 55 acres in all. However you choose to roam, use this map to end up at the northwest end of the Gardens near the Frances P. Rollins Overlook, where you'll find an exit leading to the academic campus. Just cross Flowers Drive and walk up two flights of stairs and you'll end up steps away from Duke Chapel.
Duke Chapel
Duke Chapel photo by Ray Walker.
The building opened in May after a year of restoration work that replaced mortar in the ceiling, cleaned stained glass windows and more. The catch? Visitors aren't supposed to notice any changes. Opened in 1932, the Chapel has a 210-foot-high tower, a 50-bell carillon, 77 stained glass windows, three pipe organs and seating for 1,600 people.
Abele Quad
After visiting Duke's defining tourist attraction, head west on the Abele Quad toward the athletics campus. You'll pass the renovated West Union, set to reopen at the end of this summer with a focus on Duke's foodie culture. Stump visitors with knowledge about Julian Abele, namesake of the quad, who was the first black graduate in architecture at the University of Pennsylvania.
If the quad looks familiar to some, let family and friends know they might have seen this space in movies like Brainstorm and Kiss the Girls or on TV shows like The Young Indiana Jones Chronicles and Dawson's Creek.
Cameron Indoor Stadium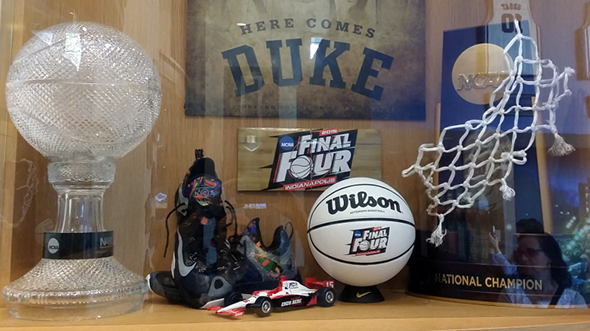 A trip to West Campus isn't complete without a stop by Cameron Indoor Stadium. Built in 1940, the stadium fits 9,314 fans and has been highlighted by ESPN and Sports Illustrated as a "must visit" for basketball fans. 
The Duke Basketball Museum and Athletics Hall of Fame is free and open from 9 a.m. to 5 p.m. Monday to Friday and 10 a.m. to 4 p.m. Saturday. The space is inside the Schwartz-Butters Athletic Center, with entrances at the top of the stairs and accessible ramp facing Krzyzewskiville. The space honors individuals and teams, including five displays for each of the Duke men's basketball team's NCAA championships.
"It's a tastefully done space with ample information on the storied history of Duke Athletics," said Jon Jackson, senior associate director of Athletics/External Affairs. "In addition to providing fans the opportunity to relive so many championship moments, it is a true celebration of all the great coaches, student-athletes and staff who've made Duke Athletics so special through the years."