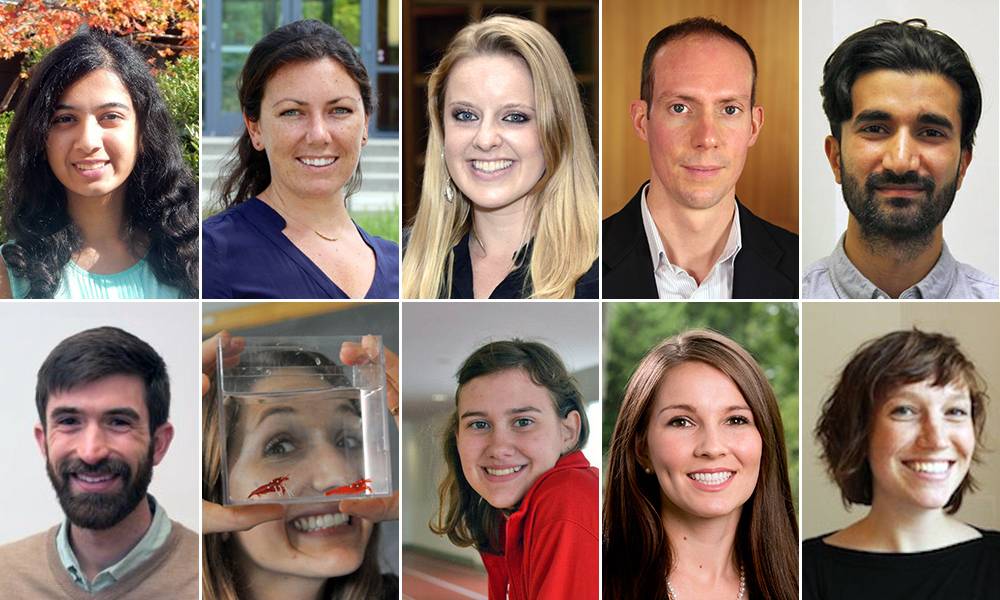 Duke Support for Interdisciplinary Graduate Networks (D-SIGN) grants have been awarded to five graduate student groups for the 2016-2017 academic year.
Through this new internal funding mechanism, graduate students have the opportunity to propose research projects and educational experiences that reach beyond disciplinary lines. These grants help graduate students to build or extend their networks and to integrate collaborative, cross-school endeavors into their programs.
Below are this year's grant winners:
Duke Conservation Society
Submitted by Priya Ranganathan, Master of Environmental Management student, Nicholas School of the Environment
Faculty sponsor: Stuart Pimm
The Duke Conservation Society will expand its network beyond the Nicholas School of the Environment to engage interdisciplinary approaches to conservation. The group's mission is to enhance students' understanding of the various scientific, political, economic and managerial tools available to address conservation issues; facilitate collaborations among undergraduate, master's and Ph.D. students on conservation projects and analyses; and provide opportunities for professional development such as networking with conservation professionals, seminars and guest speakers.
Global Alliance on Disability and Health Innovation – Children and Adolescents Project
Submitted by Brittney Sullivan, Ph.D. in Nursing student, School of Nursing; and Anna Martin, Master of Public Policy student, Sanford School of Public Policy
Faculty sponsor: Janet Prvu Bettger
The Bass Connections project team Global Alliance on Disability and Health Innovation (GANDHI) was designed with a focus on adults. A new interdisciplinary graduate network affiliated with GANDHI will aim to establish the evidence for improving systems of care and support specifically for children and adolescents living with disability after an acute hospitalization. Using a socioecological approach to identify the key needs for children newly living with disability, network members will examine and compare the social supports, health and community services and policies in three countries. Members hope this project will inform future interdisciplinary research to strengthen health systems for children and adolescents transitioning home from the hospital.
Global Energy Access Network
Submitted by Rob Fetter and Faraz Usmani, University Ph.D. Program in Environmental Policy students, Nicholas School of the Environment and Sanford School of Public Policy; and Hannah Girardeau, Master of Environmental Management student, Nicholas School of the Environment
Faculty sponsors: Subhrendu Pattanayak and Brian Murray
The Global Energy Access Network will bring together students working on global energy transitions, energy access and energy poverty. It will create a forum to explore shared interests, learn from experienced researchers and practitioners and construct new statistical indicators around the theme of energy access in emerging economies. The group aims to ignite a research and policy dialogue around an understudied global issue, and to help position Duke as a central contributor to that dialogue within a global network.
Rethinking Regulation – Graduate Student Working Group
Submitted by Mercy DeMenno, Ph.D. in Public Policy student, Sanford School of Public Policy
Faculty sponsors: Lori Bennear and Jonathan Wiener
The Rethinking Regulation – Graduate Student Working Group provides a forum for student-led interdisciplinary discussion, research and analysis of issues related to regulatory governance. Based in the Rethinking Regulation program at the Kenan Institute for Ethics, the group comprises 20 doctoral and professional students from nine disciplines and eight schools/departments. Members have a wide range of academic and professional experiences, and are united by a common interest in regulatory governance and a shared commitment to interdisciplinary collaborative inquiry in the service of society. Funding will support research workshops, writing group meetings, analyses of contemporary regulatory policy issues and other collaborative activities.
A STEM Researcher-Educator Network to Improve K-12 Science Literacy
Submitted by Rebecca Lauzon, Ph.D. in Earth and Ocean Sciences student, Nicholas School of the Environment; and Eleanor Caves and Patrick Green, Ph.D. in Biology students, Graduate School
Faculty sponsors: Kate Allman and Brad Murray
A new network of STEM graduate students (from the Graduate School, Pratt School of Engineering and/or the Nicholas School of the Environment) and Master of Arts in Teaching students will create lesson plans based on current research and distribute them to local K-12 educators. The network will utilize the structure of a graduate student-run STEM outreach group called the Scientific Research and Education Network (SciREN), which develops relationships between researchers and educators to incorporate current research into K-12 classrooms. All lesson plans created for SciREN are freely available to educators through an online repository.
Proposals were reviewed by an ad hoc committee convened by the Vice Provost for Interdisciplinary Studies with representation from faculty, deans, institute directors and graduate students. By June 30, 2017, recipients will report on their group's activities, use of funds and progress toward anticipated outcomes