Puppy Break in Perkins
Therapy dogs descend upon Perkins Library to visit with students and employees
Harper, an 8-year-old beagle, maneuvered under chairs before making a beeline for Caroline Cobb's lap.
Cobb, a Duke public policy master's student, doesn't get to visit home and see Harper often due to school responsibilities, but she got to stop by and see her Tuesday during a "Puppies in Perkins" study break.
Cobb's mom, Melody Haislip, brought Harper from Raleigh to visit with students and employees during the biannual Duke pup therapy event. Harper joined four other therapy dogs in Perkins Library, resting on blankets and receiving pats and hugs.
"There's nothing like when your family dog crawls into your lap and picks you out of a group of people," Cobb said.
Across the room, Blue, a 9-year-old border collie, rolled over to receive belly rubs from students. His owner, Gail Abrams, said Blue was certified as a therapy dog a year ago, and they plan to attend more therapy events when she retires from serving as executive director of the Piedmont Wildlife Center.
"A lot of people probably have dogs at home that they don't have here," Abrams said. "To see people interact with animals is what I really love."
Thor, a Great Pyrenees that weighs about 110 pounds, lay on the carpet while students and staff sat next to him. Kathy Sowan, one of his owners, said he is a rescue dog who has attended "Puppies in Perkins" before. She passed around a lint roller to students, knowing that Thor's thick white fur would cling to their clothes.
Thor lifted his head and then collapsed, content, back on the carpet while receiving pats from five students.
"This is the life," Sowan said, smiling.
Nine-year-old border collie Blue accepts pets from students.
Rika, a 3-year-old Hungarian Kuvasz, meets students in Perkins Library.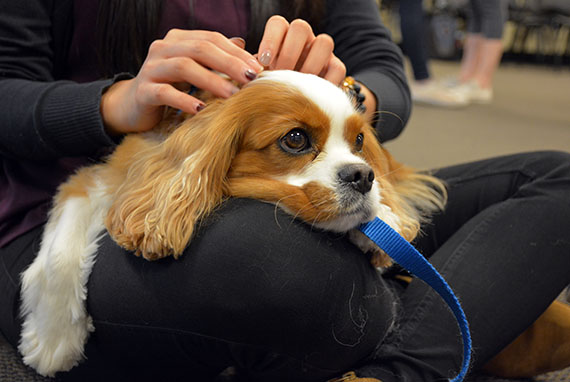 Charger, a 6-year-old Cavalier King Charles spaniel, rests in a student's lap.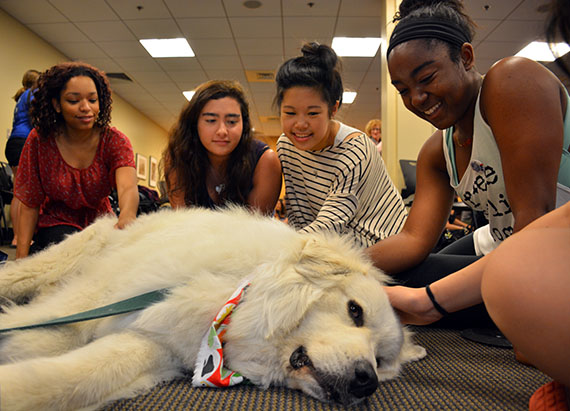 Thor, a 5-year-old Great Pyrenees, weighs about 110 pounds.