Student Laurels and Honors, 2016 Edition
National, university and department awards showcase Duke's exceptional students
Rhodes Scholars Laura Roberts and John "Jay" Ruckelshaus
National Awards
Rhodes Scholars
Seniors Laura Roberts of Dallas and John "Jay" Ruckelshaus of Indianapolis were among the 32 recipients selected this weekend for prestigious Rhodes Scholarships.
Roberts is a Global Human Rights Scholar and Lowell Aptman Prize finalist. Ruckelshaus is a Harry S. Truman Scholar and Angier B. Duke Scholar. They were chosen from among 869 applicants at 316 colleges and universities throughout the country, and are the 44th and 45th students in Duke's history to receive a Rhodes Scholarship. The scholarships provide all expenses for two or three years of study at the University of Oxford in England.
Truman Scholars
Junior Logan Beyer is among 54 students selected as 2016 Truman Scholars. Beyer, a Benjamin N. Duke Scholar from New Bern, North Carolina, formulated her own curriculum though Duke's "Program II" option -- an interdisciplinary program of study designed by individual students to meet their unique academic and intellectual goals. Beyer's program focuses on taking a systems approach to childhood development.
Students are selected based on their records of leadership, public service and academic achievement, and their likelihood of becoming public service leaders.
Senior Jay Ruckelshaus was named a Truman Scholar in 2015.
Goldwater Scholars
Harvey Shi, a sophomore, has been named a 2016 scholar by the Barry M. Goldwater Scholarship and Excellence in Education Program.
Shi, a Pratt School of Engineering student from Woodway, Texas, plans to declare majors in electrical and computer engineering and computer science.  After Duke he hopes to pursue a Ph.D. in systems biology and conduct supercomputing research while teaching at a research university.
The scholarship program was designed to foster and encourage outstanding students to pursue careers in the fields of mathematics, the natural sciences and engineering.
Lindsey Brown, a member of the class of 2016, was named a Goldwater Scholar in 2015.
Mitchell Scholars
Senior William "Wills" Rooney of Darien, Connecticut, is one of 12 Americans awarded a prestigious George J. Mitchell Scholarship for a year of graduate study in Ireland.
Rooney, 21, plans to attend Maynooth University for a master's degree in philosophy of religion. 
Schwartzman Scholar
Duke senior Emma Campbell-Mohn of Westport, Connecticut, has been selected for the first class of Schwarzman Scholars and will study for one year at Tsinghua University in Beijing, China.
The Schwarzman Scholarship gives scholars the opportunity to develop their leadership skills through a funded one-year master's degree in public policy, economics or international studies. Campbell-Mohn's academic work at Duke has focused on security, peace and conflict, and Chinese language and culture.
Gates-Cambridge Scholar
Duke senior Catherine Newman is among 35 U.S. recipients selected for the prestigious Gates-Cambridge Scholarship, which covers a student's tuition and living expenses while completing a graduate degree at the University of Cambridge.
Beginning this fall at Cambridge, Newman plans to pursue a Masters of Philosophy in Biological Science with a biochemistry concentration under the tutelage of Ben Luisi. She looks forward to furthering her research on multidrug resistance by examining the structures of type 1 secretion systems using cryo-electron microscopy.
University Awards
African and African-American Studies
Antonio De Jesus Lopez won the John Hope Franklin Award for Academic Excellence. He also received the Karla F. C. Holloway Award for University Service and the Mary McLeod Bethune Writing Award.
Gloria Ayee received the Graduate Teaching Award
Art, Art History and Visual Studies*
Michael Koh and Stephanie Wu earned the Mary Duke Biddle Foundation Visual Art Award
Hanna Wiegers won the Nancy Kaneb Art History Award
Emily Kragel and Meghan Gloudemans earned the Sue and Lee Noel Prize in Visual Arts
Sophia Sennett and Stephanie Wu earned the Visual Studies Initiative Award
Art of the Moving Image*
Abhi Shah and Clark Schneider were named the Outstanding Undergraduate Filmmaker Award
Asian and Pacific Studies
Liangliang Zhang won the Sirena WuDunn Memorial Scholarship
Asian & Middle Eastern Studies
Jessica Ashley Gold received the award for Outstanding AMES Honors Thesis
Athletics
Lauren Blazing and William Class received the ACC Plaque for Excellence, Scholarship and Athletics
Biology
Lauriane Pinto won the James B. Rast Memorial Award in Comparative Organismal Biology
Ashley Kaitlynn Gartin received the Edward C. Horn Memorial Prize for Excellence in Biology
Matthew Clark Farnitano received the Excellence in Plant Science Prize
Emily Laub earned the Maggie Schneider Award in Marine Biology
Biostatistics and Bioinformatics
Emily Burke received the Overall Academic Excellence Award
Zinan Chen earned the Student Leadership Award
Xiaowen Cao won the Outstanding Master's Project Award
Chemistry
Charlotte Farquhar received the American Chemical Society Undergraduate Award in Analytical Chemistry
Jacob Wiener won the American Chemical Society Undergraduate Award in Inorganic Chemistry
Jeffrey Cornelison won the American Chemical Society Undergraduate Award in Organic Chemistry
Sun Joo Kim and Kevin Tie earned the Merck Index Award
Catherine Newman won the Hypercube Scholar Award
Dylan Eiger received the Department of Chemistry Award
Classical Studies
Elizabeth Djinis, Cord Peters and Nolan Russell all received the Classical Association of the Middle West and South Award for Outstanding Accomplishment in Classical Studies.
Cord Peters won the David Taggart Clark Prize in Classical Studies 
Computer Science
Zhitao Ying, William Victor and Roger Shu Hong Zou all received the Alex Vasilos Award
Rebecca Steier received the DeNardis Award
Cultural Anthropology
Callista Addis won the Judith McDade Prize in Cultural Anthropology
Zachary Michael Fowler won the Paul Farmer Award for Justice and Social Responsibility.
Dance
Cindy Li earned the Clay Taliaferro Dance Award
Maurice Dowell won the Julia Wray Memorial Dance Award
Divinity
Christopher Lee Redmon received the Award for Excellence in Bible
Susannah Jeanette Long earned the Frederick Buechner Writing Award
Philip DeBlaey Jackson received the Richard P. Heitzenrater Award for Excellence in History
Molly Ann Shoulta earned the Hoyt Hickman Award for Excellence in Liturgics
Lara Elena Musser Gritter won the Jameson Jones Preaching Award
Dorothy N. Clark and Ryan Scott LaRock received the McMurry Richey Awards for Field Education
Madeline Paige Watts received the McMurry Richey Awards for Missions
Susannah Jeanette Long received the Seminarian Award of the Fellowship of United Methodists in Music and Worship Arts
Molly Brock White earned the John Harrison Ness Memorial Award of the General Commission on Archives and History of The United Methodist Church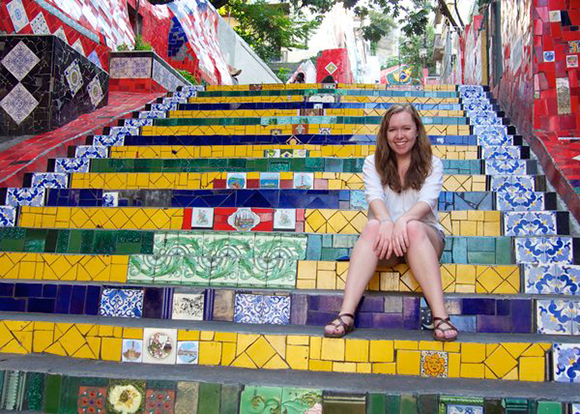 Katie Fernelius' final project was rhapsody, which explored the question, Who is a citizen?
Center for Documentary Studies
Katie Jane Fernelius received the Julia Harper Day Award for Documentary Studies
Duke Global Health Institute
Tatenda Yemeke received the Outstanding Master of Science in Global Health Award.
Duke Human Rights Center at FHI
Meaghan Kachadoorian and Josephine Ramseyer received the Oliver W. Koonz Human Rights Prize
Duke Service Learning
Yvonne Lu and Leta Hollowell received the Betsy Alden Outstanding Service-Learning Award
Duke University Union
Elaine Pak, Justin Du and Griffin Unger won the Hal Kammerer Prize for Film and Video Production
Earth and Ocean Sciences
Molly Kaitlin Rosenstein received the Thomas V. Laska Award
Economics*
Chuka Obiofuma won the Class of 2016 Award for Exceptional Growth in the Master of Economics
Rachel Anderson won the faculty vote for Outstanding Honors Poster; Joshua Rosen won the student vote.
Clement Lee Jian Xing and Grant Kelly earned the Outstanding Symposium Presentation Award
Clement Lee Jian Xing received the Allen Starling Johnson Jr. Award for Excellence in Undergraduate Research for Best Honor Thesis; Rachel Anderson, Wei Jie Chia and Suhani Jalota were finalists.
Ashley Morgan DeVore earned the Master's Program Award for Leadership
Huidi Lin won the Master's Program Award for Academic Excellence
Education
Halimah Khalila-Majeedah Mohamed and Loren Rose Roth won the D.T. Stallings Award
Leslie Ayako Draper Niiro earned the Holton Prize for Education Research. 
Engineering
Jinsu Kim, Chase Raj Singh Malik and Davis Reed Treybig earned the Walter J. Seeley Scholastic Award
Xiping Cynthia Bai and Andrew Gordon Method won the Otto Meier Jr. Tau Beta Pi Award
Alexandra Noura-al Huda von Briesen received the Pratt School of Engineering Student Service Award
Jinsu Kim received the da Vinci Award
Christopher Paul Eckersley and Henian Zhu won the Helmholtz Award
Lauren Nicole Heckelman earned the Theo C. Pilkington Memorial Award
Anita Helene Brown and Eunice Ho In Leung received the ASCE Outstanding Senior Prize
Jacob Feldman King won the William Brewster Snow Environmental Engineering Award. King also received the Eric I. Pas Award
Jacob Feldman King and Eunice Ho In Leung earned the Aubrey E. Palmer Award
Craig Gerard Vincent earned the David Randall Fuller Prize
Chase Raj Singh Malik and Davis Reed Treybig received the George Sherrerd III Memorial Award in Electrical and Computer Engineering
Dennis Edgar Lynch won the Charles Ernest Seager Memorial Award
Zachary Douglas Bears and Safkat Islam received the Charles Rowe Vail Memorial Outstanding Undergraduate Teaching Award
Xiping Cynthia Bai and Kunyao Yu won the Pi Tau Sigma Scholarship Award
Connor James Tinen earned the Mechanical Engineering and Materials Science Faculty Award
English
Katherine Elizabeth Coric and John Peter Lucaci received the Award for the Most Original Honors Thesis
Cambridge Shae Van Wagoner earned the Barbara Herrnstein Smith Award for Outstanding Work in Literary Criticism or Theory
Christopher Jung-Joon Lee won the award for Best Critical Essay
Lili Zerihun, Abigail Lawrence and Grace Li received the Anne Flexner Fiction Award
Andrew Tan-Delli Cicchi and Jazlyn Williams won the Anne Flexner Poetry Award
Rosa Ouyue Yang earned the Lucaci Award for Creative Non-Fiction
Sarah Darwiche and Natasha Derenzinski-Choo won the Academic Of American Poets Award
Gwen Hawkes won the Schutt Senior Award for Outstanding Contributions in Creative Writing
Georgia Parke received the Terry Welby Jr. Award for Creative Writing
Environment
John William Hare-Grogg earned the Sara LaBoskey Award
Indrani Saha, Meghana Rao and Yilun Zhou
Faculty Scholars
Junior Meghana Rao received the Faculty Scholars Award, the highest student honor presented by the university faculty. Indrani Saha and Yilun Zhou received honorable mention.
In 2015, current seniors Connor Hann and Jay Ruckelshaus received the award. Rachel Hennein and Stephen Ghazikhanian received honorable mention
Fuqua School
Stephen Toth won the Alan D. Schwartz Award for Mentorship
Raanan Sayag received the Asa T. Spaulding, Sr. Award for Leadership
Dean's Leadership Awards went to Shefali Batra, Shivansh Rastogi, Scott Rushton II and Iris Vildosola
Deans' Recognition Awards went to Osama Aijaz AlRaee, Said Basim AlSalah, Justin Bedi, Reginald G. Benbow, Nicole Brichtova, Darein Lionel Burton, Anna Lauren Doherty, Kevin Patrick Doyle, Maria Alejandra Gerosa, Julian Andre Philipp Geyer-Klingeberg, Apostolos Grevenitis, Andee Christine Hendee, Emily B. Jackson, Aaron David Joachim, Katherine Keng, Justina Juenyi Kwong, Jennifer Lueck, Genevieve Quinn Joyce Lupton, Elizabeth King MacFarlane, Ramit Mehta, Nicole Marie Melwood, Margaret Townsend Munford, Colin Gore Nangle, Melody Chou O'Conor, John S. Park, Rebecca Mae Shepherd, Annette Renee Sheppard, Jessica Anne Stone and Lauren Frances Wetze
Distinguished Service Awards went to Jessica Davlin and Shail Puri
Ashley Davenport and Paul Jacobs received the Keohane Leadership Award
William Hockett won The Breeden Award in Finance
The Graduate School
Heather Heenehan and Steffen Kaupp earned Dean's Awards for Excellence in Teaching
Charles Shields IV earned a Dean's Award for Excellence in Mentoring
Courtnea Allyson Rainey received a Samuel DuBois Cook Award
History
David Michael Monroe won the William T. Laprade Prize
International Comparative Studies
Carlyn Meyerson won the Capstone Research Prize
Iris Kim received the ICS Distinguished Thesis Award
Mathematics
Alexandru Milu received the Karl Menger Award for Superior Performance in the Putnam Competition
Lindsey Brown, Runjing Liu and Ziquan Yang received the Julia Dale Prize in Mathematics 
Medicine
Inas F. Aboobakar, Abiram Bala, Kristin Elizabeth Bergethon, Alison Flanagan Brown, Stephen Cannada Harward II, Yamini Krishnamurthy, John Edward McManigle, Colin Thomas Penrose, Katherine Price Pryor, Anne Bragg Rohlfing and Mark Timothy Winkler earned Academic Awards
Carles Russell Horres III received the Andrew Puckett Essay Contest Award
Trevor Dickey and Stephanie Thao Thanh Ngo won the Arnold P. Gold Foundation Leonard Tow Humanism in Medicine Award
Shaniqua Chantel Johnson, Amanda Dorsey Kimberg and Alexandra Rosenberg received the Brenda Armstrong Living the Dream Award
Wynn Hunter won the Clinical and Translational Science Award
Davison Scholarships went to Inas F. Aboobakar, Patricia Yea Chu, Trevor Cervenka Dickey, Rosa Marie Maiorella, Stephanie Thao Thanh Ngo, Matthew Scott Susko, Simon M. Tesfamariam, Rand Nicholas Wilcox Vanden Berg
Dean's Merit Scholarship went to John Randolph Deans, Stephanie Clare Patterson, David Evans Peterson and Rohan Shah
Dean's Recognition Awards went to Anna Mary Brown, Arthika Chandramohan, Shan Marwan Elahi, Parastou Fatemi, Jessica Lauren Friedman, Brittany Pierce Hipkins, Neel Dave Pasricha, Rohan Shah, Danielle Lynn Sobol, Chioma Udemgba
David Jonathon Arriola, Marisa Karina Dowling, Chidiebube Chukwunyere Egwim, Isabel Victoria Rodriguez and Ulysse Najin Toche received Dean's Tuition Scholarships
Shan Elahi won the Doris Duke Charitable Fund Award
Matilda Ogundare earned the Doris Duke Fellowship
Patricia Chu earned the Doris Parrish Cardiology Award
Anne Bragg Rohlfing earned the Doris Parrish Oncology Award
Denise Di Pong won the Eugene A. Stead Student Research Scholarship
Philip Tyler Gastrell, Anne Bragg Rohlfing, Chioma Udemgba and Stephanie Clare Patterson received Howard Hughes Medical Institute Research Training Fellowships
Quihua Fan earned the Joseph Collins Fellowship
Rachel Taylor received the Ovarian Cancer Scholarship
Lauren Carter Potts earned the Palumbo Family Award
Anna Minh Afonso, Sarah Anne Cassel, Trevor Cervenka Dickey, Jessica Lauren Friedman, Brittany Pierce Hipkins, Amanda Dorsey Kimberg, Stephanie Thao Thanh Ngo and Denise Di Pong were named to the Primary Care Leadership Track
Senior Scholarships went to Inas F. Aboobakar, Ashwin G. Agarwal, Kristin Elizabeth Bergethon, Jared Alexander Blau, Anna M. Brown, Alison Flanagan Brown, Adam K. Brys, Tony T. Chen, Rupen Rajesh Desai, Trevor Cervenka Dickey, Charles Russell Horres III, Yamini Krishnamurthy, Alexander Leandros Lazarides, Colin Thomas Penrose, Anne Bragg Rohlfing, Danielle Lynn Sobol and Matthew Scott Susko
Colin Thomas Penrose received the Wilburt Davison Award
Katie Falloon earned the Dean's Research Award in Basic Sciences
Wynn Hunter earned the Dean's Research Award in Clinical Sciences
Harvey Pendell Meyers III won a Wilkins Research Scholarship 
Military Science Army ROTC
Eric Peterson won the George C. Marshall Award. He also earned the Sons of the Revolution Award
Kurtis George Gruters, Eric Francis Peterson, Austin Patrick Sanders and Zachary Nicholas Lerangis were named Distinguished Military Graduates
Kurtis George Gruters and Eric Francis Peterson won the MOAA Award
Music
Anderson Speed earned the Ann-Marie Parsons Memorial Prize
Madison Spahn won the Henry Schuman Music Prize
Jingwei (Jenny) Li earned the Julia Wilkinson Mueller Prize for Excellence in Music
Thomas Jenkins, Cindy Tay and Grant Kelly earned the Paul R. Bryan Award
Jamie Keesecker earned the William Klenz Prize in Music Composition
Naval Science
Kelly Anne Murphy won the American Veterans Award
Thomas Beckett Brown was named the CNO Distinguished MIDN Graduate
Anna Tegan Reinhart won Daughters of the American Revolution Award
Lucas Crim received the National Submarine League Award
Gregory Petrilak earned the Scottish Rite Award
Charles Bill earned the USAA Spirit Award
Nursing
Natalie Krohl received the Annie Beery Bieber Award for Outstanding Leadership Award
David Jackson won the Ruby L. Wilson Excellence in Clinical Practice Award
Eugenia Gil received the Bonnie Jones Friedman Humanitarian Award
Erin Downey earned the Outstanding DNP Scholarly Project Award
Office of Health Professions Advising
Stephen Kirchner won the Raymond Lublin Award
Physical Therapy
Samantha Van Gorder won the Duke Doctor of Physical Therapy Diversity Award
Kaitlyn Schlueter earned the Helen Kaiser Duke Physical Therapy Alumni Association Award
Hilary Ann Frimenko, Michael Alan Jeanfavre, Leigh A. Martino and Hanzhu Zhang earned Helen Kaiser Scholarship Awards
Melana Tysowsky won a Student Recognition Award
Physics
Melody Lim received the Daphne Change Memorial Award for 2015
Katrina Miller received the Daphne Change Memorial Award for 2016
Kristen Shortley, pictured with Professor Michael Gillespie, was one of the winners of the Robert S. Rankin Award.
Political Science
Emma Mary Campbell-Mohn, Seamus John Connelly, Matt Marshall Hamilton, James Vincent Lauria, Liliana Iveth Ramirez Saravia, Jason Dean Singh and Eliza Collis Warner received Alona E. Evans Prizes in International Law
Lauren Blazing and Brendan McCartney won the Elizabeth G. Verville Award
Laura Roberts and Tyler Fredricks earned the Ole R. Holsti Award in American Foreign Policy and International Relations
John Christian Ruckelshaus and Emma Mary Campbell-Mohn received the Robert S. Rankin Award for Leadership and Academic Achievement
Kristen Shortley won the Robert S. Rankin Award in American Government and Constitutional Law
Michael Pelle won the Robert S. Rankin Award in American, National, State, and Local Governments
Psychology
Paige Scarbrough won the Karl E. Zener Award for Outstanding Performance of an Undergraduate Major in Psychology
Martha Berg won the Jerome S. Brunner Award for Excellence in Undergraduate Research
Public Policy
Matthew Peterson received the Joel Fleishman Distinguished Scholar Award
Christie Marie Lawrence and John Anthony Sullivan earned the Terry Sanford Leadership Award
Romance Studies
Peter Nicholas Ciaccia earned the Guido Mazzoni Prize in Italian
Quinn Holmquist received the Richard L. Predmore Award in Spanish
Emily Berntsen and Leta Hallowell won the Robert J. Niess/Alexander Hull Award in French
Slavic and Eurasian Studies
Stephen Ghazikhanian won the Southern Conference on Slavic Studies Prize for Best Paper by an Undergraduate Student
Statistical Science
David Clancy won the TA of the Year Award
Robert Reece won the Otis Green Fellowship
Race and Gender Research Award
Carlos Tavares received a Duke Service Learning Faculty Fellowship, a Graduate School Domestic Dissertation Travel Award and a Graduate School Summer Research Fellowship
Andrew Miles and Mary Beth Fallin Hunzaker received fellowships in the Program for Advanced Research in the Social Sciences.
Student Affairs
Stephen Ghazikhanian, Emily Danielle Spiera, Thomas Alexander Vosburgh, Eliza Morgan Meredith, Josephine Janeclair Ramseyer, Shangnon Chen Fei, Yossra Ibrahim Hamid and Nicole Jadue González received the Student Affairs Distinguished Leadership and Service Award
Safa Kaleem, Gayle Powell, Umer Ahmed, Ezgi Ustundag and Suhani Jalota won the William J. Griffith University Service Award
Theater Studies
Catherine (Faye) Goodwin won the Alex Cohen Award for Summer Initiatives in Theater

Kari Barclay won the Award for Excellence in Directing
Cullen Burling received the Award for Outstanding Acting
Catherine (Faye) Goodwin won the Forlines Family Theater Studies Award

Morgan Hoit earned the Harold Brody Award for Excellence in Musical Theater
Andrew Jacobs received the Kenneth J. Reardon Award for Theater Design, Management or Production
Harmony Zhang won the John M. Clum Distinguished Drama Award
Catherine (Faye) Goodwin won the Reynolds Price Award for Best Original Script for Stage, Screen or Television
Trinity College of Arts and Sciences
Jacqueline Tanya Chipkin won the Bascom Headen Palmer Literary Prize. Honorable Mention went to Elizabeth Maria Djinis.
Kari Barclay, Alexander Bressler, Cullen Burling, Sophie Caplin, Maurice Dowell, Caroline Fernelius, Zachary Fowler, Catherine (Faye) Goodwin, Carl Heinz, Stephanie Joe, Isabella Kwai, Jingwei (Jenny) Li, Rayner Liu, Nancy Merlin, Abhi Shah, Jae Wook Shin, Madison Spahn, Andrew Tan-Delli Cicchi, Harmony Zhang and Zhen Zhang received Edward H. Benenson Awards in the Arts
Kari Barclay won the Louis B. Sudler Prize in the Creative and Performing Arts 
Quinn Holmquist received the Algernon Sydney Sullivan Award for service
Women's Studies
Jessica Del Villar and Suhani Jolata earned the Dora Ann Little Award