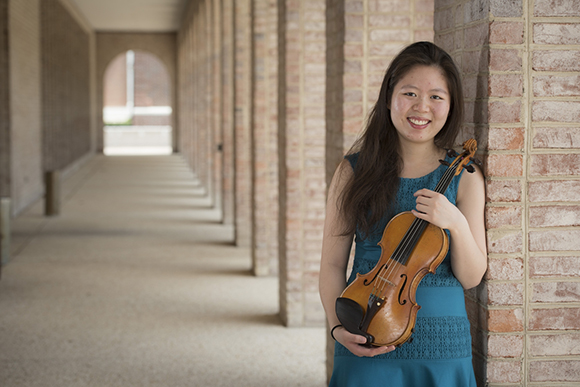 While at Duke, senior Jenny Li's love for music bloomed. Photo Reagan Lynn/Duke Photography
Jenny (Jingwei) Li's love of the violin came into focus during her years at Duke. But affinity for music runs deep in her family – all the way back to Gaoguan, the small village in China where Li was spent her early childhood and where her grandfather still plays the two-stringed instrument called the erhu.
This summer, Li travels back to Gaoguan to explore the roots of her musicianship. With the help of a Benenson Award in the Arts from Trinity College, Li will spend a month in Gaoguan collaborating with local musicians, including her grandfather and her grandmother, who sings and plays keyboard. She plans to prepare a concert program including Chinese and Western music. She also hopes to create a documentary film that explores the impact of music in rural China.
"That's where I first learned to enjoy music," Li said. "I'm interested in learning more about the role of music in that unique culture."
After spending her early years in Gaoguan, Li moved to the United States with her parents at age five when her mother landed a postdoctoral position in a virology research lab in Pennsylvania. 
Below, Jenny Li, winner of the 2015-2016 Duke Symphony Orchestra Concerto Competition, is featured in the orchestra's performance of Brahms' "Violin Concerto in D major, Op. 77."
Li began playing the violin as an 8-year-old growing up in Hershey, Pa. But she says her passion for the instrument really bloomed while at Duke. She served as concertmaster for the Duke Symphony Orchestra and twice won Duke's student concerto competition, which gave her the opportunity to perform as a violin soloist with the orchestra.
"I've been really inspired by all the music teachers at Duke," Li said. "The faculty really care about the students and the music itself. At Duke I really was able to start expressing myself more through music."
Li also has a passion for global health. While at Duke, she designed and taught a house course on HIV/AIDS. She took part in two medical missions to Honduras through Duke Global Medical Brigades, helping to set up temporary clinics to deliver basic health care to rural residents. Li also worked three different jobs each semester, including working as writing tutor, a research assistant and a teaching assistant in a Global Health class.
A double major in global health and sociology, Li graduates with distinction in both of her majors as well as in music.
Li says she may revisit her interest in global health in the future. But for the moment, she is pursuing her passion for the violin. When she returns from China later this summer, Li will begin preparing for music conservatory auditions.
"I'm trying to give music a shot right now," Li said. "When I'm performing, I'm drawn completely into the music, into the beauty of music and of life."
 "For me, there's nothing that compares to that kind of excitement."