OIT's Innovation Studio to Expand
Year old maker space is part of Telcom Building renovation
Tamika Galanis spent days on the sea floor last summer looking for invasive lionfish off the coast of The Bahamas. While the lionfish eluded her, the coral reefs, having made the biggest impression, made their way into her artwork.
Inspired by her diving expedition in the Caribbean to collect data for her master's thesis in Experimental and Documentary Arts, Galanis returned to Durham to create a series of sculptures melding images of human faces with images of the coral reefs. Her "human-coral hybrid" sculptures were modeled and printed in 3D using plastic filament at the Office of Information Technology's Innovation Studio. The sculptures are prototypes for a proposed large-scale artificial reef project in Nassau, Bahamas, where Galanis grew up.
"The studio was very helpful in terms of support, and the availability of this technology helped me materialize the prototype for a larger reef project," Galanis said.
Galanis is one of more than 300 multidisciplinary staff, faculty and students who have used the Innovation Studio in the past year to create three-dimensional objects in their research and work. Along with an assortment of electronics, scanners and industrial-grade laser and woodcutters, the Studio hosts 3D printers, which allow for creating life-like objects made of plastic filament. All the tools are open to members of the Duke community.
Now the Innovation Studio is expanding as part of a renovation project that will create an entire floor dedicated to technology experimentation and collaboration at Duke. The new space, scheduled to reopen in August, will include a more spacious, cutting edge Innovation Studio, a consultation space and a collaborative workspace with moveable walls and garage doors supporting student projects and ideas through the Innovation Co-Lab, and a home for Duke Research Computing.
"This new space will be a real showcase of new and emerging information technologies with displays and examples of how such technologies can be used in teaching, learning, and research at Duke," said Julian Lombardi, assistant vice president for the Office of Information Technology (OIT).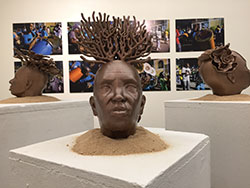 The human-coral hybrid sculptures created by Tamika Galanis are prototypes for a larger proposed reef project.
About a year ago, OIT converted a vacant room deep inside the Telecommunications Building into the Innovation Studio – a place that provides resources and support through cutting-edge fabrication technology. The Studio was a project borne out of the Innovation Co-Lab, an on-campus creativity incubator, focused on exploring how technology can reshape the research, academic and service missions of the university.
In its first year, the Innovation Studio expanded from one 3D printer to 30, resulting in more than 39,000 hours of print time.
"Things took off quickly with the studio. We were expecting to do about 1,500 print jobs in the first year and we did more than 6,000. We have been very busy." said OIT's Chip Bobbert.
The Innovation Studio is being housed temporarily at the Foundry in Gross Hall until the fall semester, when the renovation is expected to be complete.
Galanis is grateful she was able to use the studio to create the Human-Coral Hybrid project. One of her favorite recent works is a luminous copper-colored wall hanging that shows a woman's face crowned with a headdress like a coral reef. Galanis said the art represents an "Obeah Woman," who, in Bahamian culture, is typically thought to engage in the dark arts.
"This thesis work is all about combatting the stereotypical global view of the Caribbean—particularly The Bahamas," Galanis said. "That is why my work is entitled 'Hacking the Narrative: Telling Counter Tropic Stories.'"
When she graduates in May with a Master of Fine Arts, Galanis plans to carry her thesis artwork into a PhD program. Her proposed reef project would create an underwater sculpture garden that is "easily accessible to locals and engages the population in issues of climate change, history, and fine arts," she said.