Coach K Motivates Duke's Class of 2016
University awards 5,300 degrees at 164th commencement ceremony
In his 36 years as the men's head basketball coach at Duke, Mike Krzyzewski has delivered countless motivational speeches to his players.
On a cloudless, cool May Sunday morning, Coach K was again exhorting Duke students -- reminding them that attitude, belief, preparation and execution are the keys to being a part of a successful team -- except this time his words were directed at Duke's Class of 2016 during the university's 164th commencement ceremonies.
"There's nothing more important than attitude, and it's your choice," he said.
Duke President Richard H. Brodhead presided over the ceremony, which awarded more than 5,300 undergraduate, graduate and professional degrees before a stadium packed with cheering family and friends.
The ceremony also marked the return of commencement to Brooks Field at Wallace Wade Stadium. Last year's ceremony was moved to the Durham Bulls Athletic Park downtown because of renovations to Duke's football stadium. The improvements to the football stadium are still ongoing and quite visible, including a three-story, glass-enclosed suite and press box area towering above the stands on the west side.
"We, like much of this campus, are under construction," Duke Chapel Dean Luke Powery said in the opening invocation. "We're all a work in progress."
financial&emotional support for this degree courtesy of these two #Duke2016 pic.twitter.com/gIP4ohvr3g

— Emma Baccellieri (@emmabaccellieri) May 15, 2016
Twelve of this year's graduates were the first recipients of Duke's undergraduate Certificate in Innovation and Entrepreneurship. The program encourages students to pursue a rigorous, cross-disciplinary study that builds on Duke's existing emphasis on knowledge in service to society.
Another five graduates were in the inaugural class of the MasterCard Foundation Scholars Program, which provides access to quality and relevant education to academically talented young people from Sub-Saharan Africa who are committed to giving back to their communities and countries.
The ceremony, which was webcast live on Duke's YouTube channel and covered on Twitter at #Duke2016, also honored students who graduated in September or December 2015.
Krzyzewski, who has led the Blue Devils to five NCAA championships, amassed the most wins in NCAA Division I men's basketball history and been inducted into the Naismith Basketball Hall of Fame, said it was the first time he had spoken at a graduation.
"I've been asked really about 100 times to speak at graduations around the country and I saved myself for you. … I've dreamed of this day, just like you've dreamed of this day, and it's an honor."
Coach K often mixed humor with personal anecdotes to lay out the successful formula he's followed in his life. He spoke about his mother who advised him on the day before he started high school to get on the right bus. He told her he knew how to get to school, but she responded, "Tomorrow you're going to meet new people. You're going to get on a different journey. And the bus that you drive, make sure it's the right one. Make sure you let only good people on it. … Good people will make you better."
Coach K delivered the commencement address at @DukeU today. His message: Expect great things. Together.#Duke2016 pic.twitter.com/YO8hJp1sp5

— Duke M. Basketball (@Duke_MBB) May 15, 2016
As an extension of that advice, Krzyzewski said he has no rules for his basketball teams, only standards, which include "communication, we're going to look each other in the eye, we're going to tell each other the truth, we're going to have each other's back, … we're going to be enthusiastic, we're going to win and lose together."
He reminded the graduates that they will be knocked down from time to time, "but failure or any kind of setback is not a destination. … There was something good about being knocked down as long as it wasn't your destination."
In addition to being the coach at Duke, Krzyzewski is also the head coach of the USA Men's National team. In that role, he's guided the men's basketball team to gold medals at the 2008 and 2012 Olympics, and will again coach the U.S. men's basketball team during the upcoming Summer Olympics in Brazil.
He spoke about the challenge of pulling together superstars into a team, "to get them to find one heart." One way he did so was to take the Olympic team to visit with wounded veterans and with military troops "who understand selfless service, and really have the biggest hearts in our country. And as a result of being with them they felt it. And as a result of that we played with one heart."
Coach K, who also teaches courses in leadership at Duke and is active in the Durham community and with several charitable organizations, concluded by asking the students to stand and link arms. At the count of three, he told the students, squeeze your arms together and yell, "Together."
"Let's go," he added. "Coach K out."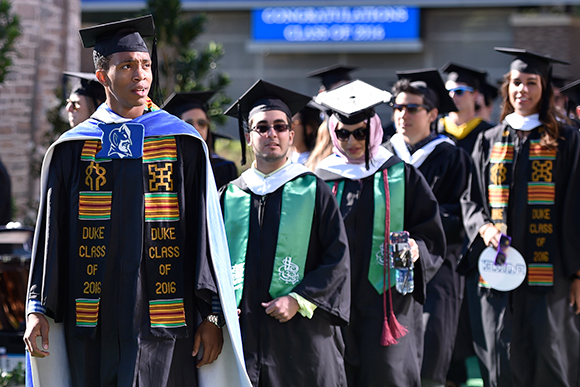 Earlier in the program, student speaker Shannon Beckham sounded a similar theme, urging her classmates to not only be great, but to also be good people.
"My hope is that we don't forget the importance of our experiences here, because they have built our characters just as much as our resumes," said Beckham, a public policy major from Arizona.
Duke awarded five honorary degrees. The recipients were: global health pioneer William Foege; Risa Lavizzo-Mourey, president and CEO of the Robert Wood Johnson Foundation; journalist and TV talk show host Charlie Rose; former U.S. Poet Laureate Natasha Trethewey; and mathematician Srinivasa Varadhan.
In addition to Sunday's ceremony, Duke's graduation weekend was filled with events held by schools, departments and programs across Duke's campus and downtown Durham.
On Friday afternoon and twice on Saturday, graduating seniors gathered in Duke Chapel for a colorful baccalaureate service. The three services were the first events to be held in the chapel since it underwent a year-long restoration.
Speaking at the baccalaureate services, Brodhead told the graduates: "All your life you have been called gifted, but gifts are meant to be given, not just smugly enjoyed. There really is somewhere you have to go. You have to go on the journey to learn what the gift is that you peculiarly could give to the world, and how you can deliver it.  You don't know this yet and you will never know it once for all: you will learn by going."
Also on Friday and Saturday, graduates of Duke's graduate and professional schools gathered at ceremonies where they heard from an array of notable speakers. Dick Costolo, chief executive of Chorus and former CEO of Twitter, spoke twice to graduates of different programs at The Fuqua School of Business, and Charlie Rose spoke to law school graduates. National Basketball Association Commissioner, Duke trustee and alumnus Adam Silver offered the Class of 2016 words of wisdom at Class Day, a new tradition that gave the graduating class one final opportunity to come together and celebrate their accomplishments over the past four years.
The weekend also included commissioning ceremonies for ROTC graduates, special events for many of Duke's scholars and fellows, a brunch reception at International House and dozens of other events. Many graduating seniors received their degrees at departmental ceremonies following commencement.
At the end of commencement, as degrees were being conferred en masse to members of the respective schools, Brodhead singled out Blake Wilson, a Duke faculty member who as a pioneer of the cochlear implant has received many prestigious awards but who on Sunday earned a Ph.D. from Duke. The implant has provided hearing to hundreds of thousands of people who were previously deaf or severely hearing impaired.