Duke Honors Sustainability Leaders
Awards presented to faculty, staff for commitment to environment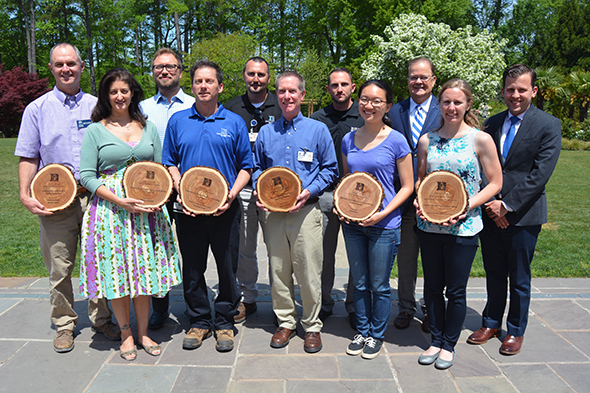 Faculty, staff and students gathered in April to recognize and celebrate a campus-wide commitment to sustainability as part of Duke's annual sustainability awards. 
Sustainable Duke and Duke Sanitation and Recycling, co-sponsors of the event, honored community members nominated by peers for "green" actions that support a commitment to sustainability and carbon neutrality by 2024. Initiatives range from recycling programs to donating reusable medical equipment to health organizations around the world. 
"If we are going to solve global problems, we all have to start with ourselves," said Tim Profeta, director of the Nicholas Institute for Environmental Policy Solutions, who offered closing remarks at the event. "We have so start where we live and where we work, and thats why all we do what we do at Duke." 
Here are this year's winners: 
Outstanding Leadership in Sustainability - Faculty
Daniel Ahlquist, lecturing fellow, Thompson Writing Program
Ahlquist developed first-year student writing courses focusing on sustainability and co-taught a class on global food systems. He also led sustainability-focused research and civic engagement activities with students through the DukeImmerse program and DukeEngage. He serves on the education subcommittee of the Campus Sustainability Committee and a Social Science Research Institute group focusing on food.
Outstanding Leadership in Sustainability - Staff
Melissa Neeley, operations support staff member, John Hope Franklin Center 
In their nominations for Neeley, colleagues wrote about her dedication to supporting green behaviors throughout their building, from collecting items for the Duke Free Store to leading an effort to install water bottle refilling stations to reduce plastic water bottle use. Last year, she created a rechargeable battery program for colleagues to save money and avoid waste.
Boyd Pickard and David Grizzle, control technicians, Energy Management Controls Shop
The duo work each day to maintain automatic systems that control building HVAC and utility services. Their work identifies areas of campus to reduce energy consumption and teaching colleagues how to keep systems running efficiently for water and energy use. Pickard and Grizzle act as a frontline to monitor building energy use, a significant part of Duke's on-campus carbon footprint.
Outstanding Leadership in Sustainability - Student
Kelly Shen, senior
Since her first year at Duke, Shen has been involved in a variety of students groups supporting sustainability on campus, including the Drom Eco-Reps program, Environmental Alliance and Students for a Sustainable Living. She has partnered with Sustainable Duke and Facilities Management to organize the Duke Free Store, which helps recycle office items like writing utensils, binders and more.
Outstanding Leadership in Waste Reduction
Sarah P. Duke Gardens Green Team
Comprised of seven employees from Duke Gardens, the Green Team leads a waste reduction program. Some accomplishments include donated the wood of fallen trees, installing recycling bins, reusing leaves for compost and chipping brush for mulch. Last year, the group led an effort to recycle 4,578 pounds of waste metal.
John Lohnes, physician assistant, Duke Orthopaedics
For more than 10 years, Lohnes has helped run REMEDY, a volunteer program that recovers usable surplus medical supplies from Duke Hospital for distribution to local and global areas of need. With the help of student volunteers, supplies are donated to Duke affiliated and non-profit global health organizations and programs.
Zero Waste Game Day Recognition
Members of Duke Athletics and Duke football were also recognized at the event for their part in helping Duke become the first ACC school to achieve a zero waste gameday.
Over the past two seasons, Duke Athletics has instituted a program to divert compostable and recyclable materials from gameday waste collection, hitting a single-game high of 94 percent diversion at last season's home game against University of Pittsburgh.