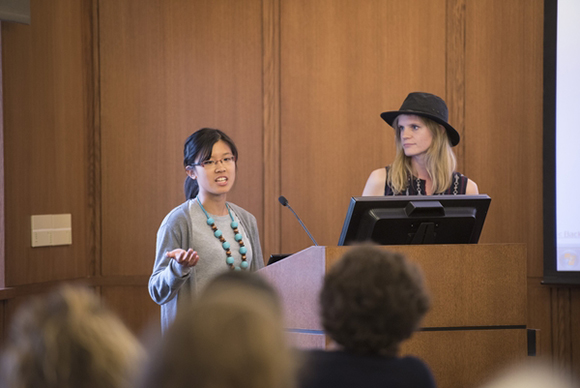 Yi Ying Teh and Phia Sennett, winners of the 2015 Oliver Koonz Prize for human rights research, lead a discussion at the Human Rights Student Research Slam. Photo by Reagan Lunn.
Duke's new Human Rights Certificate program celebrated its first semester Thursday evening with a "research slam" highlighting student projects and an alumni panel about working in human rights fields.
Robin Kirk, co-director of the Duke Human Rights Center, said much work remains to be done in educating the public about human rights.
"We, as a human rights community, [have] not been successful in really convincing the American people about the importance of human rights," Kirk said. "We can see that today in the presidential race. Americans don't really know about human rights, don't understand what human rights are. They think they're a luxury."
Hosted by the Duke Human Rights Center at the Franklin Humanities Institute, the event, Global Ideas: Local Impact, began with a "research slam," in which students were invited to share their human rights research. The student projects included working with women in the South African textile industry, studying a hospital that treats Tibetan refugees for tuberbulosis and studying mass incarceration in the United States.
Gayle Powell's project focused on Central Prison in Raleigh, N.C.
"I asked [the guard] what the maximum was for solitary confinement, and he just looked at me a laughed," Powell said. "He said there's no maximum, that they've had guys in there for thirty-five years. And I just thought about the psychological implications and how inhumane that is.
"Knowing that's occurring to many people in the United States is really shocking."
Sabrina Tager talks with Professor William Chafe, co-director of the DHRC@FHI. Photo by Reagan Lunn.
Risa Peters appreciated the opportunity to conduct in-person interviews for her research project.   
"Going out and speaking with women, learning about the history via lived experiences and just personal narratives was a very important lesson and something that I think gives you way more than what you could learn from a textbook," Peters said.
Students also heard from a panel of Duke University alumni involved in human rights work who described how their time at Duke shaped their capacity to pursue their passions.
Amanda McRae, a Duke Law graduate and Woman in Justice fellow at the Avon Global Center for Women and Justice, offered her definition of "human rights."
"To me, rights always spells empowerment," McRae said. "Each individual can look at what they're entitled to under the law and exercise those rights."
Ebonie Simpson, a Trinity '12 public policy major, now works as an assistant director at the Mayor's Office of Housing Recovery Operations in New York City. She drew a link between her passion for human rights and her time at Duke.
"I really immersed myself in hands-on experiences that allowed me to shape the world that I was living in," Simpson said.