'Just Mercy' Chosen for Duke Summer Reading
Class of 2020 will receive a copy for their first common experience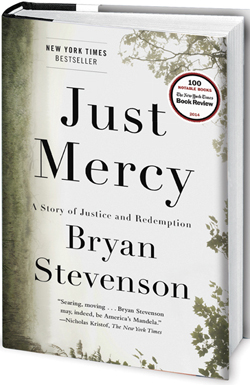 A memoir centered on social justice, equality and the quest for innocence has been selected as the Duke University Class of 2020 Common Experience summer reading book.
Attorney Bryan Stevenson's "Just Mercy: A Story of Justice and Redemption" relates his fight against racial and economic biases in the U.S. legal system. The story focuses on one of Stevenson's most famous cases, in which he helped exonerate Walter McMillian, a black man convicted of killing a white woman in 1986. McMillian was held for six years on death row before the conviction was overturned.
The crime took place in Monroeville, Alabama, the same town where Harper Lee grew up and set the novel "To Kill a Mockingbird," in which a black man is wrongly convicted of raping a white girl.
"'Just Mercy' is an amazing book in the way it tackles racism, justice and the criminal justice system," said Paula Ajumobi, a first-year student on the selection committee. "It will frustrate you, but you should still read it anyway. "
The Duke Common Experience Program is designed to give incoming students a shared intellectual experience with other members of their class, with the summer reading choice as a key focal point. A committee composed of students, staff and faculty selected the book after an extensive review of numerous recommendations.
"Not only does this book highlight the racial injustice that plagues our country, but it confronts this issue by exposing the criminal justice system and the brutality and racial bias that is present in it," said Maggie Haas, another first-year committee member. "I think 'Just Mercy' will be an extremely eye-opening book for our freshmen, and I believe it will be one to inspire productive conversations among not only our incoming class, but Duke as a whole."
A special printing of the book will be mailed this summer to members of the Duke Class of 2020. Stevenson -- founder of the Equal Justice Initiative, MacArthur Fellow and NYU Law professor -- has been invited to campus during Orientation Week to speak with the first-year students.
In addition to "Just Mercy," this year's finalists included:
-- "The Prince of Los Cocuyos" by Richard Blanco;
-- "Between the World and Me" by Ta-Nehisi Coates;
-- "Station Eleven" by Emily St. John Mandel.
Past summer reading selections include "Fun Home" by Alison Bechdel; "Americanah" by Chimamanda Ngozi Adichie; "Let the Great World Spin" by Colum McCann and "A State of Wonder" by Ann Patchett.
Stevenson portrait by Nina Subin.