Save on Chicken and Waffles at Dame's
Employees get 10 percent off food at restaurant's campus location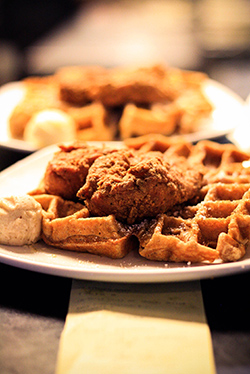 Janelle Stuvland may only visit Dame's Chicken & Waffles every few months when family or other visitors come to Durham, but if she had it her way, it'd be much more often.
"I crave it once a week," admitted Stuvland, marketing and communications coordinator with the Office of University Development. "I didn't like fried chicken until I had Dame's. 
Fittingly, Stuvland says it's the most flavorful fried chicken she's ever had, with perfectly seasoned light breading encasing tender meat. She doesn't mind it with a crispy waffle and some vanilla-almond shmear, a cream butter served with plates of the sweet and savory meals.
"It's a slice of Durham," Stuvland said.
But the iconic Durham restaurant is also a piece of Duke, too. Since opening up a satellite location called Dame's Express on Central Campus in the fall, students, faculty and staff have had the chance to sample the restaurant's self-described "Almost World Famous" food recognized in the New York Times, Southern Living magazine and more.
Now, employees can get a 10 percent discount off all menu items at the campus location, excluding alcohol and catering, by showing their valid DukeCard ID when ordering. That'll save on classic items like waffles, a chicken and waffle pairing and a variety of eclectic fare, from salads to burgers, pizza and more. A full menu can be found on the Dame's Express website.
"When I saw that HR email about the employee discount I forwarded it to my husband," Stuvland said. "We're pumped to visit Central Campus because we can get the great chicken but without the wait we may have downtown."
Founded by Damion "Dame" Moore and Randy Wadsworth, Dame's well-known food pairing is based on the Harlem Renaissance, when the combination of the fried meat and breakfast food became popular. It's a combo that Stuvland's coworker, Sarah Weissberg, loves to share with family when they visit from out of town and even when she and her husband recently celebrated their wedding anniversary.
"I had never heard of eating chicken and a waffle before coming to Durham, but it's the best combination," said Weissberg, senior development writer with Development. "The Central Campus location is a great excuse to have delicious food, but you also get to mingle with students, faculty and staff while getting a real taste of Durham."