What's Old is New Again
Duke transforms spaces into innovation hubs for Duke community use
Construction of new spaces across campus may have the eyes of the Duke community, but two renovation projects, hidden underground, have transformed former industrial spaces into hubs of innovation and creation.
The industrial space changes are because of Duke's state-of-the-art chilled water system, which provides air conditioning to university and health system buildings. When the Levine Science Research Center (LSRC) and Gross Hall joined the system and no longer were cooled by their own individual chillers, basement space was up for use.
In partnership with Facilities Management, the Pratt School of Engineering found a new space for The Foundry, a project space focused on engineering and entrepreneurship, and the Duke Institute for Brain Sciences (DIBS) moved into a new home at LSRC, with both spaces available to the Duke community for meetings or student projects. The renovation at DIBS has even been recognized with awards for its architecture, including a Triangle Business Journal 2016 Space Award, which honors top development projects in the Raleigh-Durham-Chapel Hill area.
"When you think of basements, you think of cold, dark places," said Steve Carrow, Facilities' project manager who oversaw renovations for DIBS' office space. "We were able to take a mechanical room that was a big, concrete box and turn it into this very modern space."
Duke Institute for Brain Sciences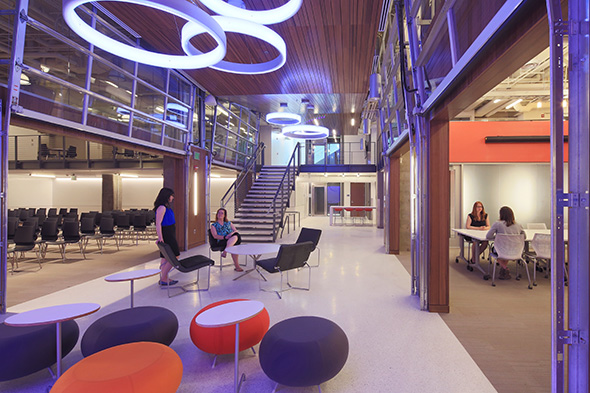 The main lobby area at DIBS. Copyright ©2014 LS3P Associates Ltd.
What was once full of giant Duke blue pipes and the humming of industrial equipment is now 10,653 square feet of brightly lit open spaces, from a 100-seat multipurpose room to three "team" rooms for teaching and 11 offices. Circular LED lights hang overhead, which can change colors from blue to red and anything in between. It's all accented by a giant glass box entryway that sits next to Blue Express at LSRC.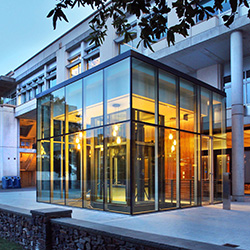 The glass box entry to DIBS. Copyright ©2014 LS3P Associates Ltd.
"Before, this space was all metal and pipes and puddles," said Julie Rhodes, who leads creative strategy and public relations for DIBS. "We saw the space go from a complete lack of humanity to a space transformed for this very vibrant human interaction."
The redesigned, common area location is open to the entire Duke community for drop-in use, whether for meetings or to view a dedicated gallery space in the lobby area. Elizabeth Johnson, associate director of DIBS, noted the attraction of creating an "Apple store" feeling to the space makes people forget they're in a basement. 
"The fact we were able to create this unique, open space really helped counter any subterranean aspect," Johnson said.
The Foundry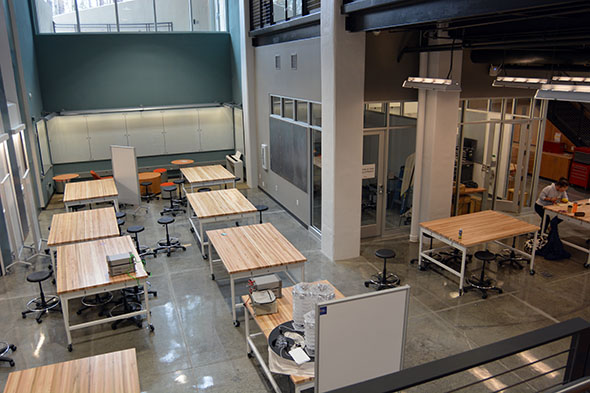 Workspace at The Foundry. Photo by Bryan Roth.
Across campus in Gross Hall, Duke community members found a similar reaction when The Foundry was opened this past fall. The former basement mechanical room was turned into a 7,600 square foot open space full of tall glass windows, wooden tables and featuring electronic shops, workbenches, teaching and meeting spaces and more. One room has a garage door and a loading bay for the Duke Electric Vehicles club. Another houses 3D printers for the DukeMakers club.
First-year student Lauren Pederson recently spent time in The Foundry making a mbira, a traditional African instrument, for class. Photo by Bryan Roth.
George Truskey, interim dean of engineering who led a planning group in the creation of The Foundry, said repurposing the unused industrial space made sense as more colleges and universities joined the "maker space movement," that encourages greater hands-on learning and innovation among students, faculty and staff.
Students and employees can request to use space at The Foundry through an online form. 
"When you walk in, you don't have a sense that it's a basement," Truskey said. "I don't think people realize that we still have some mechanical equipment installed."
Nine student organizations use The Foundry as their home base to build robotics or share ideas and entrepreneurial projects. Open 24 hours a day, Truskey noted that the space is now used around the clock by Duke community members to build, create and interact.
"It's now a signature space on campus," Truskey said.