Free and Low-Cost Software Spurs Creativity at Duke
Discount software programs like Adobe provide cost-effective content creation
When Carol Jackson and her colleagues at the Sanford School of Public Policy had an idea to create an audio podcast about the school's research, they turned to an editing software program offered through Duke at a deep discount.
The software, called Adobe Audition, is part of a bundled suite of 20 programs offered in the Adobe Creative Cloud – all for $150 annually.
Read More
Jackson found Audition easy to use and a helpful tool to highlight how public policy issues and research affect people. She used it to create the Ways & Means audio show, which is in season one and has nearly 1,800 plays.
"Without a lot of background in the software program you can record a short bit and include it in your story, website or report," Jackson said. "It's a way to provide multimedia content easily."
Adobe Creative Cloud is among the software products available to staff, faculty and students through Duke's Office of Information Technology (OIT). The suite, which runs $49 per month retail, is $150 annually for staff and faculty and free for students. Popular programs in the bundle include Acrobat, Photoshop, Illustrator, InDesign and Premiere Pro video editing.
The software can be purchased from the OIT software page, and Duke community members who have purchased Adobe products on their own can switch to the Duke license and get a refund.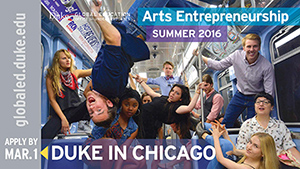 Jill Powell created this digital flyer using Adobe Photoshop and Illustrator.
"This package is an incredible value," said Glenn Setliff Jr., Duke's software manager. "Creative software like Adobe is no longer just for graphic designers. It can be used by anyone at Duke to create multimedia in everyday communications like websites, blogs, social media, reports, anything really."
Jill Powell, a marketing and recruitment manager at the Global Education Office for Undergraduates, uses Adobe's Photoshop, InDesign and Illustrator to create graphics to promote Global Education's programs.
She recently created a compelling digital flier about an arts program in Chicago with a few words and colorful photo. She posted the flier around campus, on social media, and on her department's website to raise awareness and encourage students to apply.
"Study abroad is an extension of what students are learning here," Powell said. "My job is about storytelling. Adobe helps me do that."