A New Way to Listen and Learn
Duke faculty and staff jump on trend of podcasting
It started last year, when NPR's whodunit-inspired "Serial" became a cultural phenomenon and now one of the fastest growing news and entertainment mediums is taking hold on campus.
Podcasts are so in right now.
Read More
"I liked This American Life for years and got on the bandwagon with everybody else on Serial, so the increase in podcasts has led me to find more chatter about them," said Lou Brown, senior research scholar and director of programs with the Forum for Scholars & Publics, and a fan of the Center for Documentary Studies podcast, Scene on Radio. ""Two years ago, nobody was talking about podcasts over dinner."
In the past 10 years, the percentage of Americans who are aware of podcasts and have listened to a podcast at least once a month doubled, according to the Pew Research Center. In 2015, a third of Americans said they listened to a podcast at least once, up from 11 percent in 2006.
At a time when mobile devices make it easy to tune in on the go, here are three new shows produced at Duke to add to your listening list. 
Ways & Means
Produced by the Sanford School of Public Policy, this monthly podcast connects faculty research with personal stories that offer context and emotion to issues in the news. The show isn't just about an interview, but finding a deeper connection between people and the policies that impact them.
The first episode focused on fact checking and politics while its second explored what people want when they are dying and what they get instead. The most recent episode, "A Brain and A Uterus," discusses how women gained a political voice in the U.S. and in some ways lost it.
"Our goal is to produce a top-quality show that attracts listeners beyond higher education," said Karen Kemp, assistant dean for communications for the Sanford and a co-producer for Ways & Means. "Everybody loves a story, so we use a narrative to include a person's real story and illustrate a policy problem."
Season one will feature four or five more episodes on topics including regulating sugar and innovation in government. Listen to shows on the Ways & Means website or download from ITunes.
Glad You Asked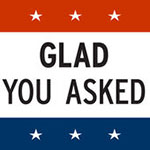 This series, produced by staff at the Office of News and Communications (ONC), is part of Duke's "Campaign Stop 2016" coverage of this year's election season. Offered in bite-sized snippets of two minutes or less, Glad You Asked gives faculty a chance to weigh in on issues or conversations missing from campaign debates.
"A lot of coverage of elections is very focused on the horse race aspect – who's ahead and who's behind," said Alison Jones, a senior writer with ONC who produces the podcast. "We have faculty with a great deal of expertise on critical issues that deserve attention."
Conversations have surrounded topics like police brutality, climate change and animal welfare. New episodes are released each week. Listeners can can subscribe to the series in iTunes or can stream the episodes on SoundCloud or the Campaign Stop website. 
"It's a brief investment of listener's time to get a sense of what's going on around them," Jones said. "From our mental health system to the state of the nation's infrastructure, it's an easy way to receive new ideas."
Scene on Radio
Stepping outside the studio, this podcast aims to tell stories that explore human experience and American society through the voices of its subjects and "the sound of life happening." Produced and hosted by John Biewen, Scene on Radio follows familiar beats made popular by shows like This American Life. 
Ranging in runtime from 15 to about 25 minutes, each show focuses on one theme, with stories supporting that idea created by Biewen or others, including students from the Center for Documentary Studies (CDS). Recordings include newly made pieces as well as timeless stories told as long as a decade ago.
"These aren't meant to be news, but pieces about the human experience," Biewen said. "Our message isn't tied to something that happened last week or a month ago, but it's a bigger picture of who we are as a society." 
Scene on Radio started with a series about sports and American culture and includes a recent show about how music brings together migrant farmers. Future episodes explore themes including death and the relationship between music and place.
New episodes are shared twice a month. Find an archive on the Scene on Radio website.