Freeman Hrabowski talks with Duke faculty members Erich Jarvis, Sherilynn Black and Kafui Dzirasa. Photos by Jared Lazarus/Duke Photography
University of Maryland-Baltimore County President Freeman Hrabowski often begins his talks by asking for his former UMBC students in the audience to stand.
When he did so Tuesday in the Great Hall of Duke's new Trent-Semans Medical Education Building, more than a dozen Duke students and faculty stood, bringing large applause.
Very simply, you can find Hrabowski's students on nearly every faculty or graduate student body of a major American research university. At Duke they include psychiatry professor Dr. Damon Tweedy, author of the acclaimed book, "Black Man in a White Coat." Another is Duke neuroscientist Dr. Kafui Dzirasa, who started Hrabowski's week Monday by calling him to inform him that he was a recipient of the prestigious Presidential Early Career Award for Scientists and Engineers.
"Tonight is a something of a dream fulfilled for me," Hrabowski told the audience of more than 200 people who filled the Great Hall.  "If someone told me 50 years ago that I would be speaking at Duke in front of many of my students, I would not have believed it."
For decades, minorities have been underrepresented in STEM. With an eye on systemic injustice, how do we enable and...

Posted by Duke University on Tuesday, February 23, 2016
While so many universities struggle to attract underrepresented minorities into the sciences and engineering – the so-called STEM fields, Hrabowski's record of success is astonishing.  The 2005 Duke honorary degree recipient currently serves as a consultant to the National Science Foundation, the National Institute of Health, the National Academies and university and school systems nationally on the issue.
With this success, he has turned UMBC, once a small, little-known state university, into a formidable research institution. The university has become a pipeline for African-Americans and others into the medical and natural sciences fields, and "an vital economic engine for the city of Baltimore," said Duke President Richard H. Brodhead, who introduced Hrabowski.
"His message is a little bit humbling, but also inspiring," Brodhead said.  "This thing (of attracting minority STEM students) that is supposed to be impossible, isn't so impossible after all.  And he has his university as proof. The lesson is if universities think something is insolvable, sometimes it is because we need to work a little harder or with more imagination.
"He has found a way to attract talent, inspire it and put it on the road to success. Many of UMBC's graduates are first in their family to graduate from college. They're smart, and they're hungry for learning. What he's doing for America is because he sees education as a road for democracy."
In his talk, Hrabowski gave credit to the lessons he learned as a child, growing up in Birmingham, Alabama, during the peak of the civil rights movement. One of the participants in the 1963 Children's March, Hrabowski spent a "long, terrible" week in jail at age 12. That week, he said, "taught me that children can impact their own future."
"In 1963, I was sitting in back of church, not wanting to be there, but this man said if children participate in this march, if they show they know difference between right and wrong, and they will get better education. When I heard that, I thought about how tired I was getting hand-me-down books from the white kids.  And I wondered, who was this guy? And he said his name was Martin Luther King.
"For first time, I believed tomorrow could be different than today.
"When I tell that story today, students tell me I was brave. But I wasn't brave, I ran from fights. The only thing I attacked was math problems.  But I knew that I wanted a better education. From then on, I always connected solving math problems with the problems of solving social issues.  And I learned that the most interesting problems can't be solved quickly."
Hrabowski praised Duke's School of Medicine and Graduate School for supporting young black scientists and clinicians, but he added that, like nearly all other leading research universities, Duke can improve its record of attracting undergraduates into the natural sciences. 
"You attract some of the best students in country, and you should be among the best in producing students going on to Ph.D.s in the sciences. And you are not."
He joked that the more prestigious the university the more likely the students are to "enroll as pre-meds and graduate as lawyers." He said universities must rethink science education, particularly the first-year gateway courses, and find new ways to connect research to teaching, promoting collaborative learning and emphasizing interdisciplinary thinking on large problems.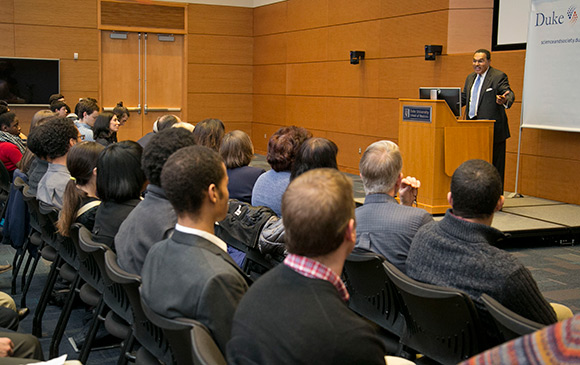 He added universities must support students who struggle in the sciences, as even the best students do. Students must be honest about recognizing the need for support, but universities must be ready to help. "There's a saying that iron sharpens iron.  People can sharpen you, I believe.  Every successful scientist gets knocked down.  But there's something powering by saying, 'I need your help.'"
The son of an English teacher, Hrabowski added that universities also have to support the humanities, and find ways to connect the sciences to the humanities. An emphasis on reading and a solid background in the humanities is essential to understanding problems in STEM fields, he said.
And he added that even as he developed UMBC's program for underrepresented minorities, he sees the effort as benefiting all students. Unequal access to higher education for poor students of all races is presenting dire consequences for America that the country is not dealing with.  
The audience was filled with students from several Triangle universities, including more than 40 UNC-Chapel Hill Chancellor Science Scholars, a program explicating modeled on UMBC's Meyerhoff Scholars. The students treated him like a rock star, many staying around to share a word with him, and several lining up for an autograph of his latest book, "Beating the Odds: Raising Academically Successful African American Males."
More than 6,200 people watched the talk on Duke's Facebook page.
In addition to the lecture, Hrabowski met with student groups and classes, including Science and Society master's degree students, as well as members of Duke's Diversity Task Force and other faculty members. 
The Duke Initiative for Science and Society sponsored the talk as part of its Distinguished Speaker Series. The next lecture will be New York Times science writer Gina Kolata on March 22.