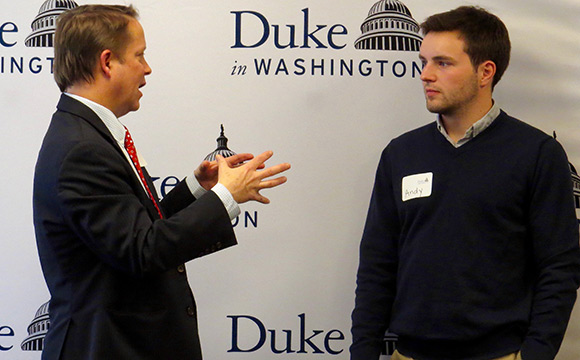 UNC-Chapel Hill's Beau Mills talks with UNC student Andy Logan at the Duke in DC office this past week. Photo by Jeff Harris
Last week, while the national media focused on the Triangle's basketball rivalry between Duke and the University of North Carolina at Chapel Hill (UNC-CH), 250 miles away, a group of 40 students from the two universities were sharing a classroom in our nation's capital.
One student, UNC-CH senior Samantha Richman, had a front row seat for both sides of the relationship. 
Wednesday night, Richman had been in the student section at the Dean E. Smith Center, cheering the Tar Heel men's basketball team as they took on the Duke Blue Devils. The next day she was in Duke's Washington, D.C., office, participating in a special joint Duke-UNC-CH class.
Richman is one of 24 students participating in the Burch Field Research Seminar in D.C., led by Daniel P. Gitterman, the Thomas Willis Lambeth Distinguished Chair in Public Policy at UNC-CH. Students in the program combine coursework with internships that expose them to a range of public policies while engaging them with policymakers and activists.
"I'm gaining professional experience to my resume, which is especially important as I head into graduation," Richman said. "This program has allowed me a chance to live in D.C. and build a network, all while taking interesting classes."
This semester, those UNC-CH classes have been held at the Duke in DC offices, which is also the classroom for the Duke in DC – Policy, Leadership, and Innovation seminar, offered by the Sanford School of Public Policy and the Global Education Office at Duke. Led by Kristin A. Goss, associate professor of public policy and political science at Duke, the seminar connects classroom study to experiential learning through a policy internship.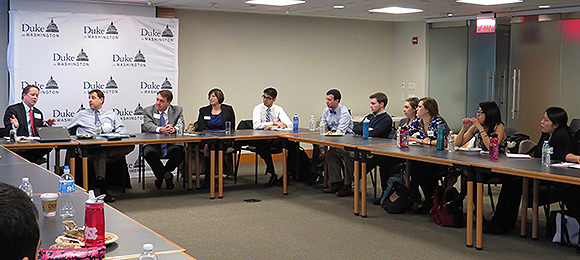 At Thursday's class, Beau Mills, Chris Simmons and Daniel Gitterman (all top left) discuss university-federal relations before Duke and UNC students. Photo by Jeff Harris
As a way to build relationships between the institutions, Gitterman and Goss combined the two programs last week for a joint session on UNC-CH and Duke's roles in Washington. Speaking to the students were Chris Simmons, associate vice president for government relations at Duke, and Beau Mills, director of federal affairs at UNC-CH.
"Given our students' interests in public policy and the programs sharing space, it makes sense we're together today," said Simmons. "While the rivalry is fun, the reality is Duke and North Carolina have a lot of similar interests when advocating before the federal government. And that's easy to forget during a week of the Duke-UNC basketball game."
For example, Duke and UNC-CH rank among the nation's largest recipients of federal research dollars. Both have large workforces, including police forces that carry firearms on campus, meaning the institutions are affected by labor and tax laws, and gun regulations.
"There's not a federal agency or department that doesn't have a law or regulation that affects higher education," Simmons said.
For Duke junior Farzain Rahman, the discussion emphasized how closely the schools work together, and gave her a chance to see similarities between the students in the program. 
"When we're talking, it's easy to forget that we're from Duke and Chapel Hill," Rahman said. "We're just all students from North Carolina, trying to figure out class and internships. I hope after this we'll have more interactions between the groups."
Mills agreed. "In a setting like this, you remember that Duke and Carolina students aren't all that different," the UNC-CH director said. "They're bright, engaged students who want to make an impact in the world."