Renovating Residence Halls to Building a Campus in China
Dudley Willis helps oversee Duke construction at home and abroad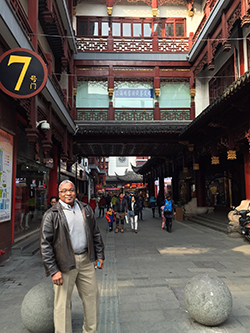 Name: Dudley Willis  Position: Assistant director, Duke Office of Project ManagementYears at Duke: 9
What I do at Duke: I work as part of a team to do capital construction projects for Duke. I also oversaw construction at Duke Kunshan University in China for Phase 1 of the Duke Kunshan University project, and we're slowly moving into finishing up Phase 1 for Duke Kunshan University, which includes the Innovation Center. And then we'll move forward into Phase 2, which will ultimately give us housing for 2,500 students on campus. Currently I'm in charge of the residential hall work (back in Durham). We have a new dorm planned for East Campus, Craven and Crowell renovations, and Wannamaker and Giles will be renovated this summer. Those are the big projects and there are lots of other smaller ones. Officially I'm responsible for residential halls, Student Affairs projects and special projects.
My first ever job: I worked for a moving company, just moving furniture. I was 15. It was back in St. Louis, that's where I'm from, and it was over a summer.
My dream job: I still haven't quite figured out what I want to be when I grow up. But it would have to be something where I could build things. One of my strengths is solving puzzles, putting things in order, so something that would use that skill, and traveling would be nice, meeting new and interesting people. Kind of like being Indiana Jones without the danger.
If someone wanted to start a conversation with me they should ask me about: China's an easy one. I've got lots of stories about China. (Dudley traveled to Kunshan, China, and lived there for 21 months to help oversee the construction of Duke Kunshan University.) That was a once-in-a-lifetime type of trip, type of experience.
The best advice I ever received: Lead by example. My dad always taught me that. You can't expect other people to follow you if you're not doing it yourself, and the things you do speak a lot louder than what you say.
What I love about Duke: no matter what we do, the focus is always on excellence. From education to the medical side, it's always about being the best and I appreciate being a part of that, being a part of something big.
Something unique in my office: I have two bulls that I bought while I was in China. I collect bull figurines. They're made out of brass. They're supposed to bring good luck and prosperity.
When I'm not at work, I like to: set up aquariums; I like fish tanks. Right now, I have one set up but I'll probably end up with two. They're freshwater fish and I like to do aquascaping, so I grow plants and make it look pretty.       
If I could have one superpower, it would be: Something like wisdom, just being able to know what was going to happen before it happens.
Something most people don't know about me: I can bake a mean cookie. I make good oatmeal cookies and a very good rum cake.