Duke on Track for Carbon Neutrality
Duke goal set to be reached in 2024
Since its initial commitment made nearly 10 years ago, Duke remains on track to reach its pledge of carbon neutrality by 2024 and continues to set goals in new areas of sustainability through its Sustainability Strategic Plan.
Extra attention has been paid to educating students and employees about impacts of travel, water consumption, energy use and more. Last spring, the Duke Board of Trustees turned its attention to Duke's trees, recognizing two natural areas on West Campus as protected spaces important for education, conservation and aesthetic value.
Read More
"Ultimately our success is dependent on individual choices," said Tavey Capps, director of Sustainable Duke. "We have the opportunity and responsibility to create citizens who think critically about the trade-offs necessary for sustainable communities here on campus, in Durham, our region and across the globe."
How far has campus come toward its sustainability goals? Here are a few areas in which Duke has reduced its footprint.
WATER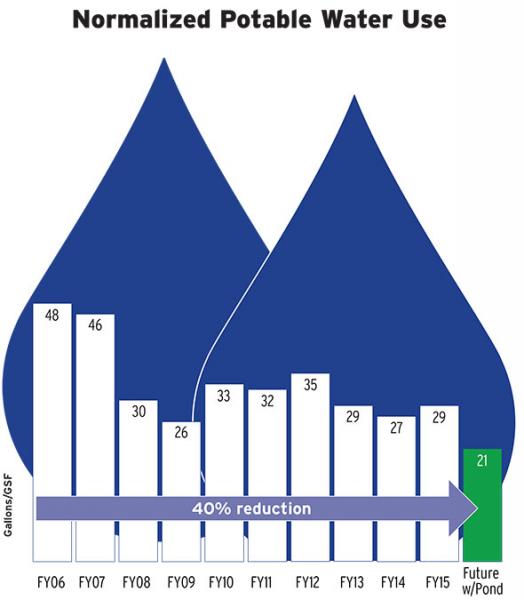 Goal: Focus water-reduction strategies on the top 20 buildings that account for 70 percent of water use at Duke.
Between fiscal years 2006 and 2015, campus decreased potable water use by 19 percent. Continued help will come from Duke's storm water reclamation pond, which is expected to save 100 million gallons of potable city water per year – the equivalent of 151 Olympic swimming pools. Water from the pond will be used at the nearby Chilled Water Plant, which pumps water across campus to cool buildings.
Emissions
Goal: Enhance understanding and foster changes in behavior among members of the Duke community to reduce greenhouse gas emissions at Duke.
Students, faculty and staff continue to reduce environmental impact through tools, programs and Duke's sustainability certifications. Sustainable Duke offers in-person classes and online education through the office's website to teach Duke community members how to reduce their carbon footprint. In 2015, nearly 2,000 employees and graduate students participated in the Unpark Yourself Challenge to promote alternative transportation options. 
EDUCATION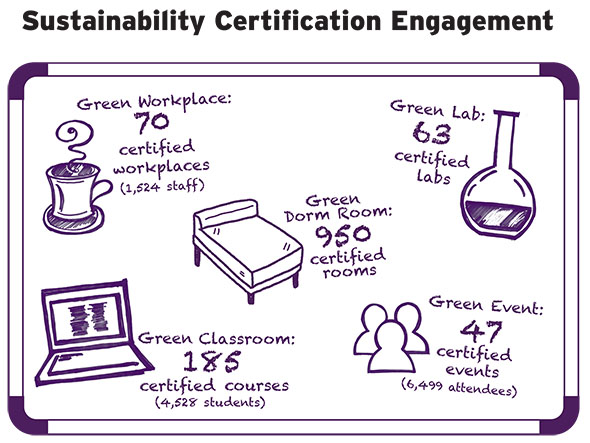 Goal: Carbon neutrality by 2024.
Since 2007, Duke's overall greenhouse gas emissions are down 19 percent, with expectations to be at 45 percent reduction by 2024. The remainder of Duke's emissions reduction will take place with local offsets, such as methane capture, forestry and land conservation, and community-based energy efficiency projects.
Learn more about Duke's sustainability efforts in this 2015 year-end report.