Duke Senior Among Inaugural Schwarzman Scholars
Emma Campbell-Mohn is among the first 100 recipients of a scholarship that provides for one year of graduate study at Tsinghua University in Beijing.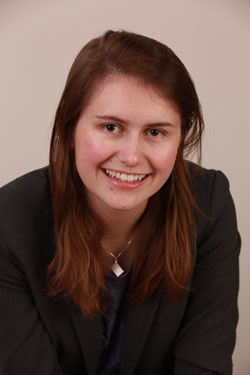 Duke University senior Emma Campbell-Mohn of Westport, Connecticut, has been selected for the first class of Schwarzman Scholars and will study for one year at Tsinghua University in Beijing, China. 
Campbell-Mohn is among the first 100 recipients, out of 3,054 applicants, chosen for this scholarship.
The Schwarzman Scholarship gives scholars the opportunity to develop their leadership skills through a funded one-year master's degree in public policy, economics or international studies. Scholars were selected on the basis of leadership potential, entrepreneurial spirit and a desire to understand other cultures, among other things. Students will live and study together at Tsinghua University's Schwarzman College campus, a newly built, state-of-the-art facility. 
"Schwarzman Scholars will allow me to strengthen my understanding of China's position on foreign policy and national security," said Campbell-Mohn. "My fellow classmates and distinguished professors will form a community where decision-makers can express contrary opinions and work together to ensure global peace and stability."
Campbell-Mohn is pursing a double major at Duke in political science and Asian and Middle Eastern Studies, with a minor in history. She received the Alona E. Evans Prize in International Law and an American Grand Strategy Fellowship in 2015, and is also a Duke University Chapel Scholar.
Campbell-Mohn's academic work has focused on security, peace and conflict, and Chinese language and culture. This work resulted in several published articles, including "Should We Stay or Should We Go: The Shale Revolution and American Involvement in the Middle East" in the Columbia Journal of Politics and Society and "Developing a Global Fighting Force: Transitions in the People's Liberation Army" in the Princeton Journal of East Asian Studies. Her work has also appeared in The Diplomat, the (Raleigh) News & Observer, the Jerusalem Post and the Duke Political Review.
At Duke, Campbell-Mohn serves as co-chair of the Council on American Grand Strategy, organizing and leading events featuring foreign policy experts. She has served as president of the Alexander Hamilton Society, where she led numerous debates between foreign policy professionals and organized student discussions on current events. As a volunteer with Duke Hospital, she mentors young people in the Adolescents Transitioning to Leadership and Success Program. 
Campbell-Mohn has worked as a research assistant to Duke political science and public policy professor Peter Feaver; worked in U.S. Congressman Randy Forbes's office as a defense policy legislative research intern; and interned at the American Enterprise Institute in Washington, D.C. Her other internship work in the nation's capital was with the Department of the Interior, where she performed legal research for the Deputy Solicitor for Indian Affairs. 
Campbell-Mohn plans to pursue a master's degree in global studies, with a concentration in international relations, at Tsinghua University. Following her graduate studies in China, she hopes to return to Washington, D.C., to work on U.S. security policy for either the government or a think tank.
"From there, I will pursue a career in government service working in U.S. foreign policy and Asia-Pacific security challenges," said Campbell Mohn. "I am incredibly grateful to Duke for the tremendous opportunities this institution provides. I would not be in this position without the support of friends and faculty."
A complete list of this year's recipients -- and more information about the scholarship -- can be found at http://schwarzmanscholars.org. Blackstone co-founder Stephen A. Schwarzman personally contributed $100 million to the program and is leading a fundraising campaign to raise an additional $350 million from private sources to endow the program in perpetuity. The $450 million endowment would support up to 200 scholars annually from the U.S., China and around the world.
_ _ _ _ 
Duke students interested in applying for the Schwarzman Scholars Program or other nationally competitive scholarships should contact Duke's Office of Undergraduate Scholars and Fellows at 919-660-3070 or visit http://ousf.duke.edu.