Employees Step Up During Winter Storm
From clearing icy roads to birthing a lemur, employees keep campus running
As snow fell Saturday, covering layers of ice and sleet, Lauren Shum was trying to figure out how to get home.
She had joined friends for lunch and study sessions at Perkins Library and realized just before midnight that she needed to get back to the Home Depot Smart Home off Swift Avenue, where she lives with other Duke students. She didn't want to walk alone, and road conditions were hazardous. So she called Duke University Police, and security officers Aaron Thompson and Susan Ellis, who were on regular patrol, stopped and picked her up on West Campus and drove her home.
Read More
"It was really nice of them because it was really late at night, in the snow," said Shum, a junior. "It definitely doesn't fit into normal responsibilities to give rides to stranded students, but they were very friendly about it."
Her story is just one example of Duke staff members going above and beyond to keep campus – and the Duke community – safe as Winter Storm Jonas passed through the area, dumping about two inches of snow and one-tenth of an inch of freezing rain in Durham County. The storm was part of a large system that targeted the Eastern U.S., where some cities received record snowfall amounts of 30 plus inches.
"Staff from across the university and health system worked tirelessly to keep the critical functions up and running through this weather event," said Kyle Cavanaugh, vice president of administration. "These men and women are truly appreciated for their service to all our patients, their families, students, faculty, staff and visitors."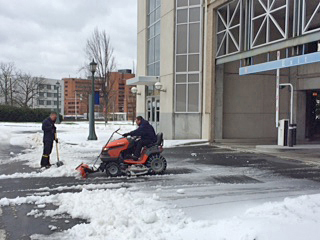 Duke Parking and Transit staff work to clear a building entrance during the storm.
Storm response started long before the snow and ice came with Duke officials monitoring weather forecasts, and then when the frozen rain and snow arrived, some employees worked nearly around the clock. From dining staff to health system caregivers, employees kept Duke running.
Beginning at 6:30 a.m. Thursday, Jan. 21, Duke Facilities Management crews prepped walkways, roads and parking lots around the university and medical center with brine and salt before the storm. It would be the first of eight consecutive shifts of 12 hours, lasting through Sunday evening. Around the clock, each shift saw 26 Facilities staff taking on duties like laying down salt, shoveling snow and making sure vehicles and people could get around safely. Twelve different trucks were deployed to assist in the work.
"This was not an easy one, but one we were most prepared for because we knew on Monday it was happening Friday," said Bryan Hooks, director of grounds for Facilities Management. "We were able to put a lot more pretreatment down on walking surfaces and roads so any snow or ice couldn't adhere as well to the concrete and we could pick it up a little easier."
In all, 70 tons of salt and sand were use across the university as well as two tons of ice melt. It was particularly helpful for Parking and Transportation Services, which ran one C1 bus route to connect East and West campuses through icy roads.
Michael Morris, a bus driver who drove the C1 on Saturday and Sunday, started working at Duke last May after moving to the area from upstate New York near the Vermont border. He said the snow and ice didn't bother him after driving transit in the Northeast.
Crews spread sand during the storm response.
"You just slow down your speed and take your time," he said. "If I needed to, I looked for some crunchy snow and that's how I got tires not to slide."
Even though his final run on the C1 was supposed to be at 6 p.m., Morris made two extra trips between East and West campuses to accommodate students who needed to get back to their dorms.
"If I don't do that, they're going to be walking in freezing temperatures," Morris said.On Duke's medical campus, some health system staff stayed overnight to provide care to patients, and other staff members like Duke clinical nurse Susan Evans received a place to sleep because they were unable to make the icy drive home. Evans, who was finishing up a 12-hour shift Friday night in the Duke Hospital Operating Room unit, realized she wouldn't be able to navigate her Toyota Avalon home through the ice. She stayed over in a unit on the medical center campus through Sunday morning. "I didn't have to worry about trying to maneuver through the snow or end up on the side of the road or try to find a hotel somewhere," Evans said. "I felt fortunate to have such a nice place. It was warm, cozy and safe."
Another Duke employee who got a unique first-hand view of the weekend weather was Sue Wasiolek, associate vice president for student affairs and dean of students.
Wasiolek, a faculty-in-residence at East Campus' Gilbert-Addoms Residence Hall, was riding the bus between East and West campuses when she decided to hunker down in her apartment to take care of email and other work.
"Low and behold, a student came in to see me and said, 'Dean Sue, will you teach a class today?'" said Wasiolek, who holds a master of laws degree from Duke and a doctorate degree from the University of Pennsylvania.
So she did.
As wind gusts picked up and freezing rain and snow fell outside, Wasiolek whipped together an outline for a one-time "introduction to education in law" class. After posting the outline to Facebook, she invited students to join her at the apartment and five students came by for a 90-minute workshop held just as a fun, educational opportunity with regular classes cancelled.
"How many school students would show up on a snow day for a scholarly class?" Wasiolek asked. "I thought it was really, really awesome."