In its 90th year, The Graduate School has grown to the extent that it is has the second largest enrollment at Duke, behind only Trinity. Photo by Jonathan Lee.
Duke's first president, William Preston Few, made a prediction when the new Duke Graduate School opened its doors in 1926: The undergraduate program would be the heart of the young university, but its academic reputation would be made by The Graduate School and the scholars it produced and attracted.
As the school turns 90 this year, that prediction has been proved prescient. But now, Graduate School Dean Paula McClain is hoping to use the anniversary to make the school a large piece of the university's heart as well. 
"One of our goals this year will be bringing The Graduate School back into the consciousness of Duke as an important player in the university's reputation," said McClain, who has been dean of the school since 2012.
"Few's vision has come about, but over time significance of The Graduate School to Duke's rise has fallen away. One reason why our undergraduate program is so strong is because great undergrads are attracted by great faculty. But the faculty aren't going to come to Duke unless they have great graduate students to train."
The anniversary comes as McClain is trying to make both graduate students and alumni a more integral part of life at Duke. A series of events are planned for the anniversary, but there's an underlying purpose beyond celebrating nine decades of highlights. There is, she said, "a hunger on the part of graduate students to feel more part of Duke."
"For three years now we've had a special homecoming for graduate students," McClain said in an interview in her Campus Drive office. "That may seem like a small thing, but we've had alumni in the past tell us that they thought homecoming was for undergraduates. We had alums who wanted to come and looked at the schedule and didn't see anything for them. Now they are coming." 
Other small measures — getting Graduate School T-shirts in the Duke Stores, creating a logo for the school, hiring communications director John Zhu — are helping to build a stronger bond between the graduate students and the school, McClain said.
Other efforts have been ongoing. For more than a decade, a Ph.D. hooding ceremony has gathered new Ph.Ds together at commencement, but only recently has the school added the presentation of the Distinguished Alumni Award to the event.
"What happens is the new Ph.Ds can see what previous Ph.Ds have done with their careers," McClain said. "It's a way of showing the new graduates how to follow the alumni in their achievements."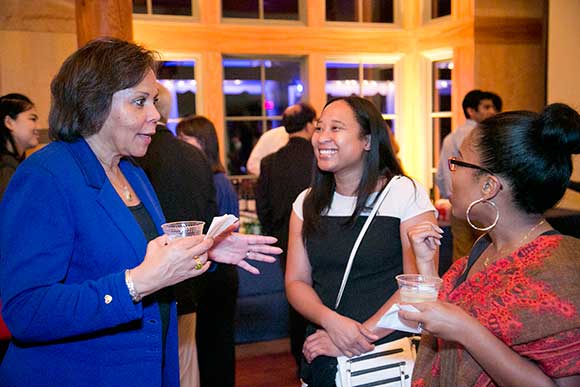 Dean Paula McClain with graduate alumni at the school's 2014 Homecoming. Photo by Jared Lazarus/Duke Photography
Another approach to building bonds with both students and alumni is boosting professional development efforts, McClain said. In doing so, the school has adapted to the new market, where more graduates are pursuing careers beyond the traditional tenure track. Since 2013, more than 2,000 graduate students have participated in professional development programs at Duke. 
"We are actually a national leader in this area," McClain said. "[Senior Associate Dean] Jacqueline Looney has been talking about it with students for a long time, but we hired an assistant dean position for it in 2013.
"What all of these programs have in common is they help students use their research skills to package themselves in a different way. This makes them competitive for other types of jobs outside of academe, jobs that are still exciting for them and follow the scholarly interest that brought them to graduate school."
McClain said she hopes the anniversary events can shine a light on these programs. The year will also highlight the school's efforts to raise funds, both through Duke Forward and through the Annual Fund, and to be part of Duke's new strategic plan.
The funds are crucial to the school's ability to offer competitive financial support to attract the best graduate students. Meanwhile the strategic plan will attempt to bring some of the academic innovations that have marked undergraduate education over the past decade to The Graduate School.
"When you see graduate students on campus now, many of them are wearing 'Duke, The Graduate School' shirts. They like being identified as part of the Duke community," McClain said.
"The school is the second largest at the university, and our graduate students are on campus longer than undergraduates. It's their home. That's why we're excited about recognizing the 90 years that The Graduate School has been part of Duke and the development of its reputation."