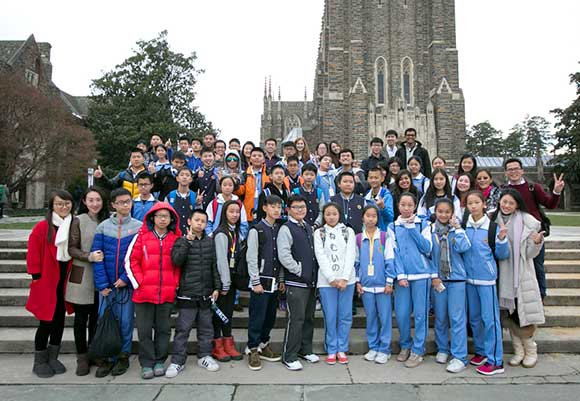 More than 70 middle school students from Zhuhai, China, toured the Duke campus Wednesday and a reunion with Duke students who taught and lived with the Chinese students this past summer as part of the Duke Engage China program.
The Chinese students are currently part of an exchange program in Greensboro. Duke Music Professor Hsaio-Mei Ku, who supervises the Duke Engage China program, said that when the Chinese students learned how close Greensboro was to Duke, the number of students in the exchange program doubled because they were promised a visit with the Duke Engage students during their visit.
The weather almost stopped the reunion from happening. Initially the students were scheduled to come from Greensboro this past weekend, but the trip was cancelled because of the icy road conditiions. A quick visit Thursday was arranged with Duke students meeting the Chinese students in front of Duke Chapel and taking them on an hour tour. However, the Chinese students will return Saturday for a longer visit.
Some of the Chinese students were members of host families for the Duke Engage students in 2015. Others were students of the Duke Engage participants. Above, Duke Engage students Dennis Xu and Taela Dudley pose with some of the students they worked with while in Zhuhai.
Below, Duke freshman Sisi Tang, an applicant for Duke Engage Qingyuan Independent Program, meets with the Chinese students. Duke students in this program volunteer at a primary school in Qingyuan. Duke Engage has participated for the past five years.