Every year, some 6,000 members of the Duke community donate more than 300,000 service hours in local, national and international civic engagement programs, according to the first large analytical report of Duke civic engagement.
This effort to quantify Duke-related service work underscores how deeply integrated civic engagement is into the culture of the university and, in particular, its academic curriculum. 
"About 45 percent of the programs ere embedded to some component of undergraduate or graduate curricula," the report said. "This includes large-scale efforts such as Duke Service-Learning and Bass Connections, as well as programs with specific course or departmental connections such as Duke Chapel PathWays."
Looking toward the future, the university's ongoing initiatives in interdisciplinary and international work, as well as new efforts such as the Rubenstein-Bing Student-Athlete Civic Engagement Program, ensure that civic engagement will remain a central part of the Duke experience, the report said.
Future reports aim to track how civic engagement benefits the communities they serve, rather than just offer opportunities for students.  The goals include making students "more aware of the issues surrounding them, as well as the potential strategies for resolving those issues."
"This report is remarkable for the range and depth of civic activities it documents on our campus," said Eric Mlyn, assistant vice provost for civic engagement and one of the report's authors. "This range and depth can be seen in the types of activities, the range of students, faculty, staff and alumni who are involved, and the local, national and global communities we serve."
The report's executive summary can be found here. Below are four highlights of the full report.
* The civic engagement efforts go well beyond the undergraduate student community
More than 1,500 graduate and professional students contributed around 40,000 engagement hours through programs such as the Duke Interdisciplinary Social Innovators and the Certificate in Community-Based Environmental Management.
The latter program has Nicholas School students learn environmental management through projects that pair them with one of 10 community partners. These projects have organized neighborhoods to address environmental justice issues and developed citizen-based programs to monitor local environmental conditions.
"Our students are hungry to learn the grounded realities and best practices for facilitating the process through which communities are empowered to improve their own environments," said Elizabeth Shapiro-Garza, director of the program.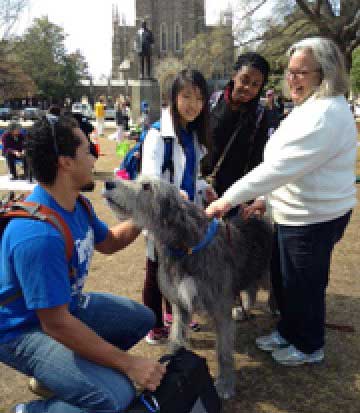 A 2015 Durham Giving Project fund-raiser brought pets to campus for a stress-relief effort.
* Despite the growth of international initiatives, nearly half of civic engagement effort is local
More than 40 percent of the work is done in Durham, including efforts such as the Community Empowerment Fund and the Durham Giving Project.  In all, 72 percent of the projects are in-state. 
One such effort is the Durham Giving Project, organized through the Duke-Durham Neighborhood Partnership. The 12-year-old program selects local organizations to receive grants for community projects.  Students in a house course connected with the project teach other Duke students about Durham history, culture and economics, and get them thinking about how targeted grants can help meet community needs. 
"The students leave the course with a new sense of Duke's institutional purpose as a good neighbor and their personal connection to civic engagement," said Sam Miglarese, program director. "They are invited to make their community a better place with their idealism and energy … when they see the nonprofit causes worthy of their time."
* Campus faith-based programs provide a significant amount of civic engagement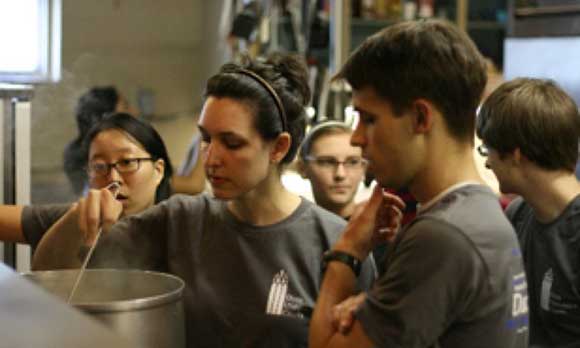 PathWays interns prepare a meal at Urban Ministries in Durham
Faith-related efforts account for about 11 percent of all civic engagement programs.  These efforts include ongoing work in the Durham community and alternative spring break trips.
More than one-quarter of these projects worked on economic or social justice, while another 20 percent focused on alleviating poverty.
One of the largest faith-based projects is the 10-year-old Duke Chapel PathWays fellowship and internship programs, in which students and recent graduates partner with five community groups. PathWays has built long-term and sustained relationships involving the chapel, Duke students and the community partners, said the Rev. Bruce Puckett, the chapel's director of community ministry. This connection makes the work more meaningful and effective for the community, he added.
"Long-term working relationships between nonprofits and Duke students and graduates are a regular outcome of the internships," Puckett said.
* One future path for civic engagement is to translate teaching and research efforts into community action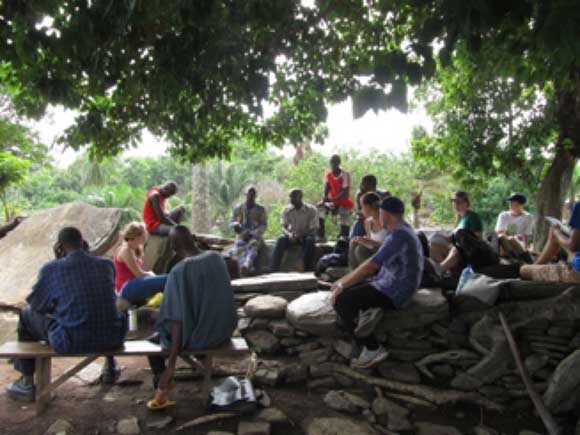 Charles Piot and students meet with residents in West Africa.
The new Certificate in Innovation and Entrepreneurship aims to get students and faculty to use innovative market-based approaches to address pressing social issues. The Bass Connections is another model for how faculty researchers and graduate and undergraduate students can partner with local and international groups to apply research and learning to a real-world situation. 
But there are less publicized efforts as well. For two decades, cultural anthropology professor Charles Piot has brought Duke students to West Africa to connect their educational experience to such projects as working with young vegetable farmers and one to establish a microfinance program for teen entrepreneurs. 
"Student development initiatives in remote communities depend on generating an understanding of local need and practice," Piot said. "Developing an attitude of humility toward the local -- assuming that local knowledge and expertise usually trump outsider knowledge -- is often the secret to success."
The financial impact of Duke's civic engagement efforts is conservatively estimated as being between $5 million to $10 million at the low end. The total includes the value of the volunteer service and a measurement of the value of goods, services, expenditures and other deliverables.
In addition to Mlyn, the report was produced by Elaine Madison, executive director of the University Council on Civic Engagement, and Jaclyne Purtell, assistant director for assessment and evaluation for DukeEngage.