Students, Staff Plant 17 Trees on East Campus
The event Friday was part of ongoing recognition of Duke's Tree Campus USA status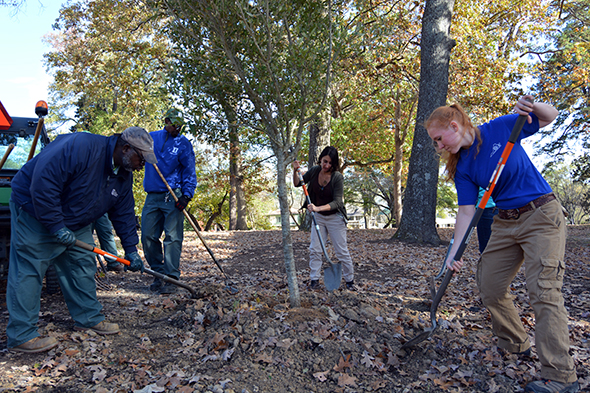 Duke students joined Facilities Management staff Nov. 13 as part of a tree planting event to celebrate Duke's "Tree Campus USA" designation. 
Live Oaks, Red Buds and Long Leaf Pines were planted on East Campus alongside the Academic Advising Center and Bishop's House. Above, from left, Facilities staff Orlando Watson, Gary Atkins and Katie Rose Levin bury a tree's roots with students Emma Wellbaum and Morgan Irons. In all, 17 trees were added to campus grounds.
"It's important to get people out and about because we spend so much time indoors and don't gain an appreciation of what's around us," said Irons, leader of the student group Campus Keepers, which volunteers with Facilities for landscaping projects. "These kind of events help students be part of the campus and help beautify it." 
Below, Terrence Williams, landscape services equipment operator, and Atkins, a tree pruner, prep the base of a tree before it's buried with dirt.
This year marked the seventh straight Duke was recognized by the Arbor Day Foundation as a Tree Campus USA, which honors the campus' commitment to sustainability and a tree care program. Another tree planting event is tentatively scheduled for April.
See additional photos from the event on the Working@Duke Facebook page.