Happy 10th Birthday, Nasher Museum
Duke's nationally acclaimed museum shapes the arts on campus and in Durham
Visiting artists in paint-smeared pants rolled electric-blue, sunflower-yellow and teal paint on a wall, forming the beginning abstract shapes of a mural. The emerging fine lines and swath of colors, commemorating Julian Abele, the African-American architect who designed Duke Chapel, Cameron Indoor Stadium and most of Duke's campus, caused visitors to pause and watch the painting unfold in Duke's Nasher Museum of Art.
The museum commissioned abstract painter Odili Donald Odita, whose exhibitions appear around the world, to create the 31-by-12-foot mural at the entrance of the museum's lecture hall as part of the Nasher's 10-year anniversary celebration this year.
Read More
"They say an artwork wears well if you put it in your living room and 20 years later, you still like looking at it," said Nasher Museum Director Sarah Schroth. "Well, this building is a work of art and it has worn well for 10 years. Every day I come in, I feel like I'm entering a work of art."
Since the Nasher's opening on Oct. 2, 2005, the museum has welcomed nearly 1 million visitors, acquired about 1,000 new works, organized hundreds of educational programs and transformed arts culture at Duke and in Durham.
The Duke-Durham partnership isn't lost on Jessica Ruhle, the Nasher's manager of public education, who views the Odita mural every day at work. On her morning run, she sees a second Odita mural – also commissioned for the museum's anniversary – on the side of the downtown Durham YMCA.
A goal of Duke alumnus Raymond D. Nasher, the museum's namesake and founder, was for the museum to become a shared space for Durham.
"Having an artwork that's mirrored at the Nasher and in the community is just a beautiful manifestation of that," Ruhle said.
Duke's investment in the arts will continue to expand with the Nasher looking to place more of its collection on display and the university beginning construction on a new arts building close to the museum.
Bolstering the arts on campus
When Matteo Gilebbi encourages students in his Italian courses to explore Italian culture and identity through art, he arranges a Nasher visit. Gilebbi, a senior lecturing fellow in Duke Romance Studies, arms students with Italian words describing colors and emotions, and then they view Nasher artworks and analyze what they see.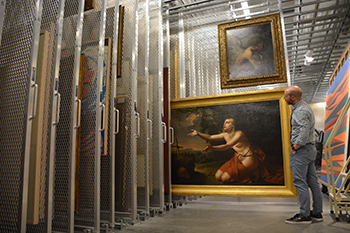 Marshall Price, the Nasher's curator of modern and contemporary art, looks at paintings in the museum's on-site storage space. Photo by April Dudash.
"The Nasher has this large space in the middle of the museum that looks like an Italian square," Gilebbi said. "We really analyze the museum as a space for cultural and physical interaction."
After the Nasher opened in 2005, it not only brought together decentralized art programs at Duke, but it encouraged class visits and the creation of lesson plans and art installations, said Scott Lindroth, Duke vice provost for the arts. Last year, more than 2,000 Duke students and faculty visited the museum's galleries and on-site artwork storage.
"The museum had such success out of the gate and demonstrated to all of us that arts can play an important role in shaping the campus culture," Lindroth said.
Sparking creativity in Durham
Three-year-old Leia Royston clutched bubble gum- and salmon-colored pencils and leaned over her paper doll art project, scribbling. She and her sister visit the Nasher once a month for a creative workshop.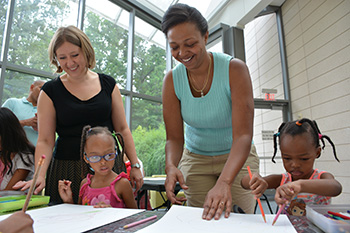 Durham resident Tonesha Mayo, center, creates paper dolls with daughters, Leia and Lana Royston, at a Nasher Creates workshop. Nasher employee Alex Deyneka, far left, looks on. Photo by April Dudash.
"Kids get to understand art a little bit more, and they get to appreciate it a little bit more," said their mother and Durham resident Tonesha Mayo.
This winter, the Nasher expects to greet its one-millionth visitor. Museum visitors have spent an estimated $100 million in Durham over the past 10 years, according to the Durham Convention & Visitors Bureau (DCVB).
Draws include original exhibitions that have gained national and international attention, such as "El Greco to Velázquez: Art During the Reign of Philip III," which was named a top-10 museum exhibit of 2008 by Time, and "Archibald Motley: Jazz Age Modernist," which opened at the Nasher in 2014 and traveled to the Whitney Museum of American Art in New York, where it will be on display in October.
Before the Nasher was built in Durham, "there was definitely cultural offerings, but Nasher took it to a new level," said Shelly Green, president and CEO of the DCVB. "These are really great, fine exhibits of a very high caliber that bring people all over the world, literally, to see them."
The Nasher brings together its curators and Durham residents to discuss current shows. At the Durham County Library, "Art with the Experts" is one of the library's most popular programs, said Joanne Abel, Durham Library's humanities and adult programming coordinator.
"I view it as a way that the 'town and gown' meet, that the community can interface with Duke and the Nasher in a really nice way," Abel said. 
Moving into the next decade
In the Nasher's basement, storage rooms are closely monitored for temperature, humidity and security. Inside are artworks not on view in the galleries, from Peruvian gold jewelry in drawers to Renaissance paintings hanging on giant metal screens. Some of the museum's 13,000 works have never been viewed outside of storage.
Nasher Museum at night. Photo courtesy of Nasher Museum.
Already moving into the museum's next 10 years, Schroth, the Nasher director, has adjusted the exhibition formula, so 70 percent of what's on display is from the Nasher's collections and 30 percent incorporates traveling exhibitions.
"There are real treasures in our storage, and that's what we're putting out to celebrate the 10th," Schroth said. "I want this to be a change in the mindset about the museum, that we are devoting more space and energy to celebrating the collection."
Plans also include a new campus-wide destination for the study and production of the arts across from the Nasher. Construction on a 68,000-square-foot arts building is scheduled to start this fall. The building will include dance spaces, art studios, video production areas, a theatre, and more. The space will be open 24/7 for artistic creation.
"To have this space that joins the two and becomes an expanded gathering site for the arts community on campus is amazing," said Lindroth, the vice provost for the arts. "It signals a truly momentous effort at Duke where the arts are going to be more visible on campus than they ever have before."