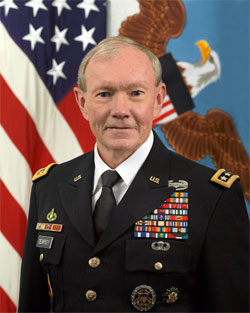 Gen. Martin E. Dempsey, the former Chairman of the Joint Chiefs of Staff, the nation's highest-ranking military officer, has been named a 2016 Rubenstein Fellow at Duke University, President Richard H. Brodhead announced Thursday.
Dempsey will be in residence at Duke in the spring 2016 and fall 2016 semesters. In the spring, he will co-teach a course in the Sanford School of Public Policy on American civil-military relations with Duke political scientist Peter Feaver. In the fall, Dempsey will teach a course on management and leadership at the Fuqua School of Business.
In addition, he will deepen his existing ties to the Duke Program on American Grand Strategy, the Fuqua/Coach K Center on Leadership & Ethics (COLE) and Duke Athletics, and speak to student and faculty groups.
"Gen. Dempsey has held a key leadership role at a time when American national security has grown to include every traditional challenge and many new ones as well," said Brodhead.  "Few people alive know as much about the risks of the global world and are as thoughtful about their implications. In addition, he is a natural leader whose life of service has won the highest admiration on all sides. Duke is thrilled to welcome back this distinguished alumnus, and we look forward to his contributions to our community."
The Rubenstein Fellows, a university-wide initiative to bring thought leaders to Duke to share insight and spark discussion on current and future global challenges, was established by Duke Board of Trustees chairman David M. Rubenstein. Current fellows include Jim Rogers, former chairman and CEO of Duke Energy, and Jack Matlock, who served as U.S. Ambassador to the Soviet Union and Czechoslovakia and as director of European and Soviet Affairs at the National Security Council during the Reagan administration.
"I am delighted to return to Duke University, an institution which I have known to be deeply committed to producing leaders of consequence," said Dempsey.  "My recent experience suggests that the future will belong to those who remain grounded in values and yet adaptable in their thinking.  I look forward to contributing to the development of future generations of leaders who come to Duke to be challenged and to make a difference."
Dempsey was named the 18th Chairman of the Joint Chiefs of Staff in 2011, where he served as as the principal military adviser to the president, the secretary of defense and the National Security Council. Prior to becoming chairman, the general served as the Army's 37th Chief of Staff. His military career included assignments as Commander of the U.S. Army Training and Doctrine Command, Deputy Commander and then Acting Commander of U.S. Central Command, and Commanding General of the Multi-National Security Transition Command in Iraq.
A 1974 graduate of the United States Military Academy, Dempsey earned a master's degree in English from Duke in 1984, where he developed a friendship with fellow West Point graduate and current Duke men's basketball coach Mike Krzyzewski.  He also holds advanced degrees from the U.S. Army Command and General Staff College and the National War College. In 2014, Dempsey delivered the commencement address at Duke's graduation ceremony.
Dempsey and his wife Deanie have three children, Chris, Megan and Caitlin, who have each served in the United States Army, and nine grandchildren.