Dempsey Urges Graduates to 'Make It Matter'
Lead 'lives of consequence,' he says at Duke's annual commencement ceremony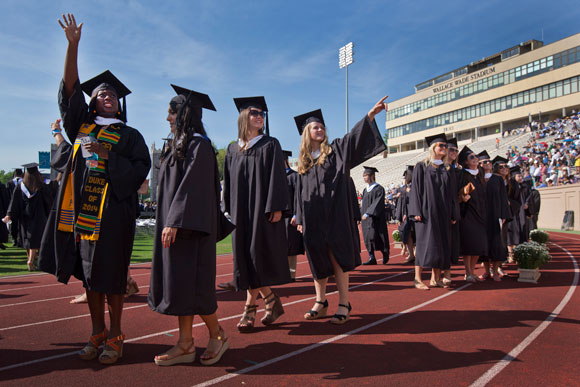 Duke University's graduating class needs to build on its academic accomplishments by leading "lives of consequence" and following a moral compass, the nation's highest-ranking military officer said Sunday at the university's annual commencement ceremony at Wallace Wade Stadium.
"America needs you. It needs each of you if it hopes to remain what it is and what it needs to be," said Martin Dempsey, chairman of the Joint Chiefs of Staff. "We are, and have it within us, to remain exceptional. But you've got to make this wonderful education you've just consumed matter. Make it matter."
Reprising "make it matter" several times, Dempsey said, "It's sunset right now in Afghanistan. Thousands of young men and women your age are either completing their day's work or just about to begin it. They do what they do because they trust each other and because they sense that they should give something back for the opportunities that they enjoy in this country. So they put on their rucksacks and they march out of their base camps and into an uncertain future. That's their way of making it matter. I hope you find your own."
Listing some of the many problems the nation faces, Dempsey told the graduates, "You leave Duke with the intellectual tools to accomplish whatever lies ahead of you. That's only half of what you need and only you can measure the other half. … I know your resume, but what's in your heart?"
Dempsey, who earned a master's degree in English from Duke in 1984, opened by recalling his own time on campus, saying, "I'm very proud of my Duke education and I often speak about how it shaped me." He led the crowd in a cheer of "Let's Go Duke" and jokingly compared birds chirping near the stage to "Chapel Hill warblers" who complain about basketball officiating calls.
Delivered under a sunny Mother's Day sky, his address highlighted the ceremony at which Duke awarded more than 5,100 undergraduate, graduate and professional degrees, including to students who graduated in September and December. The deans of each Duke school made the presentations from a stage evoking the university's distinctive stone architecture. The students were seated on the field before them, with family members and friends cheering from the stadium's seats.
Many of the students wore ribbons in memory of Rebecca DeNardis, a senior who was killed in a car accident in March while returning from a Duke-sponsored spring break trip to Florida. DeNardis was awarded a degree along with her classmates at the ceremony.
The university also awarded five honorary degrees. The recipients were Carolyn Bertozzi, a molecular biologist at the University of California at Berkeley; Erskine B. Bowles, businessman and former White House chief of staff and president of the University of North Carolina; Susan Hockfield, a neuroscientist and former president at the Massachusetts Institute of Technology; Walter Isaacson, a writer, biographer and president and CEO of the Aspen Institute; and Dr. W. Delano Meriwether, a physician, philanthropist and former track and field champion who was the first African-American student in the Duke School of Medicine.
While commencement speakers typically receive an honorary degree, Dempsey said previously he is not accepting any further honorary degrees while in his role with the Joint Chiefs of Staff.
Preceding him in the ceremony was student speaker Jennifer Sherman, who celebrated the life lessons she and other Duke students learned along with their educations in the classroom. "At Duke, we have learned from extraordinary and ordinary moments. Of the two, the ordinary ones might be more important. We have been learning to innovate and inspire, to analyze and investigate. But we have also been learning to tell the truth, to take responsibility for our mistakes, to be present with grief and to forgive. We have been learning to be grown-ups. We have been learning to be human," Sherman said.
A cultural anthropology major with a minor in theater studies from Bay Village, Ohio, Sherman worked extensively with refugee families and co-directed the Mastery Tutoring Program of the Kenan Institute for Ethics during her years at Duke. Selected from among 30 applicants by a committee of students, faculty and administrators, she concluded her speech by saying: "Congratulations, Class of 2014. You learned with patience, lived with joy and with every passing, ordinary day, you made Duke extraordinary."
Duke President Richard H. Brodhead presided over the ceremony, which began at 9:30 a.m. with a colorful procession of degree candidates, faculty members and university leaders entering the stadium. A large group of student marshals guided the process.
A special "gigapixel camera" at the stadium captured an exceptionally high-resolution image of many of the participants. The photographers, from the lab of Pratt School of Engineering professor David Brady, have invited graduates and others in the photo to tag their faces.
Following the main ceremony, many of the graduates went to locations across the campus to receive their individual degrees at ceremonies organized by their schools, departments or programs.
Earlier in the weekend, in his baccalaureate address at Duke Chapel, Brodhead urged the graduates to embrace the uncertainty that awaits them. "Not a single one of you has any idea what you're going to be doing 10, let alone 20, years from now," he told them. "You don't know the rest of the story of your life. If you think you do, you are wrong. That's not a bad thing. It's just the way life works. The single greatest pressure smart people live with is the myth of the perfect biography, the expectation that you will move in a straight line from success to success to some successful end."
After describing several Duke alumni who pursued remarkable, if unexpected, career paths, Brodhead said, "Henceforth, you and you alone will be responsible for your well-being and well-going. You've got the skills. Now it's a matter of attitude. Live a life of risk-aversion and self-centered concern for conventional success, and it could be a pretty dull journey. Write your story with venturesomeness and keep reaching to learn the full extent of your powers, and the prognosis will be excellent."
Also prior to Sunday's ceremony, Duke's graduate and professional schools held graduation events across the campus. Speakers ranged from former NBA and Duke basketball star Grant Hill, who addressed graduates of the Duke MBA–daytime and Ph.D. programs, to Duke trustee and law graduate Xiqing Gao, former president and chief investment officer of China's sovereign-wealth fund, the China Investment Corp., who spoke at Duke Law's hooding ceremony.
On Saturday evening, the Duke Alumni Association and Duke University Stores sponsored a "Forever Duke" event inside tents that transformed a campus parking lot into a festive party. Numerous other events were also held throughout the weekend, bringing together members of campus religious groups, academic programs and groups ranging from the Black Student Alliance to International House.
Much of the action was discussed on social media, especially via the Twitter hashtag #Duke2014 and from @DukeU. Duke's news office posted images on Instagram and curated the social media activity at http://tagboard.com/duke2014. 
Duke's Office of Special Events & University Ceremonies organized the events, whose origins trace back to 1838. Dempsey, who met with local reporters on Saturday afternoon, was the latest in a list of prominent speakers. His final words on Sunday were, "Good luck, Godspeed and fight, Blue Devils, fight."
Additional information on Duke's commencement weekend is available at web.duke.edu/commencement.
Gen. Dempsey's speech: