Four Students Save Popular Duke Professor
Professor suffers sudden cardiac arrest in Perkins Library on Sept. 7
The Duke Marketing Club's executive board had just started digging into its agenda when George Grody, the club's advisor and professor of Markets and Management appeared to feign boredom by falling asleep.
"We've known Grody since we were freshmen, and he loves to make fun of us," said senior Brooke Altman, co-president of the club. "At first, we thought that this was his way of saying, 'Could you be more boring?' "
Read More
But Grody's face turned from red to white. He wasn't breathing.
It was about 9:30 p.m. on Sept. 7, and despite the fact that Grody was in cardiac arrest in a classroom at the Link in Perkins Library, fortune was smiling on him. A few feet away, sat three students who volunteer with Duke Emergency Medical Services (EMS), a group of about 30 students who provide basic life support treatment and care until responders from Durham County arrive.
Kevin Labagnara, Kristen Bailey and Kirsten Bonawitz were working their Monday shift for Duke EMS while studying in the Link when a panicked voice cracked a quiet library.
"Does anyone know CPR?" shouted a student who emerged from Classroom 5.
The three EMS students rushed into the room and found Grody, 56, unconscious and slumped over in a chair.
"When we found him, he was really pale," said Labagnara, a junior from New Jersey. "His eyes were closed, and he was non-responsive. He wasn't breathing, and he didn't have a pulse, so we lowered him to the floor."
Bonawitz cut off Grody's shirt, Labagnara began chest compressions, and Bailey ran outside to get equipment from the Duke EMS vehicle. Meanwhile, the fourth member of the Duke EMS crew, senior Ritika Patil, had been attending a Dance Council meeting on the first floor of Perkins when a student noticed her EMS uniform.
"Come with me," the student told her. "They need you downstairs. Someone is unconscious."
On her way downstairs, she grabbed her emergency radio and reported the incident to dispatch, which notified the Durham Fire Department and Durham EMS. After checking on her teammates, Patil then ran to meet Bailey and assist her with the equipment.
"We were all so worried," said Altman, the co-president of the club. "It seemed like it took a century."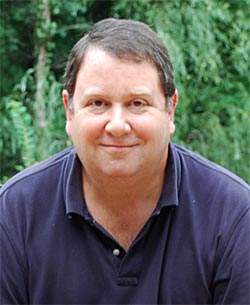 George Grody, Visiting Associate Professor for Markets & Management Studies
Duke Police Officer Robert Knelson arrived and began rotating with Labagnara to perform compressions when Bailey and Patil arrived with the equipment. Bailey then took over compressions, Patil prepared the Automated External Defibrillator (AED), and Bonawitz began pumping oxygen into Grody's lungs with a bag mask resuscitator.
Patil placed the AED pads on Grody's chest to monitor his heart rhythms. The machine advised that a shock was recommended. After the first shock, the AED recommended a second and then third shock.
"We got a pulse after the third shock," Labagnara said. "By that time, the fire department and Durham EMS arrived and took over. We stayed and worked on him for another 10-15 minutes before they transported him to the hospital."
A week later, the significance of the events is sinking in.
"In the moment, we were just doing our job, what we've been trained to do," said, Bailey, a member of the Duke EMS crew.  "When we got back to base, the adrenaline kind of kicked in and you think about what just happened."
All four Duke EMS students are pre-med and relied on their training that night, but they realized the outcome might have been different if they were not all so close at hand. According to the American Heart Association, for every minute of cardiac arrest without CPR, the chance of survival decreases between 7 to 10 percent.
"The average response time for us to reach most buildings on campus is about 6 minutes," Patil said. "The miracle was that we were in the library already."
Bonawitz said that it is critical that Duke staff be ready and available to respond to such situations, too.
"We really need to have more AEDs installed in buildings and more staff trained on how to do CPR," she said. "That would really help."
Altman said that it was equally fortunate that Grody had remained at the library late that evening. He had finished teaching his capstone class Markets and Management Studies and stayed afterward for the Duke Marketing Club executive board meeting.
"He lives alone, so it is really fortunate that it happened when he was with us," she said. "Otherwise, he might not have made it."
Grody, who underwent by-pass surgery and is recovering in Duke Hospital, said he had no symptoms and felt fine before going into cardiac arrest.
"The last thing I remember is giving one of my students grief about something," he said. "And then the next thing I remember is waking up and looking at a doctor."
Once the Duke community learned of the situation, the professor, who also works with Duke Athletics to help with marketing and recruiting efforts, found a steady stream of well-wishers. Current and former students called or stopped by, including Duke Football Coach David Cutcliffe and former student and current Atlanta Falcons quarterback Sean Renfree. 
Altman joined several of her classmates to visit Grody in the hospital and express a sentiment felt by many others.
"I just couldn't imagine Duke without him."