Updates on 9 Summer Construction Projects
Learn the latest on nine projects, including West Union and Duke Chapel
The quiet of a typical summer was replaced this year with the liveliness of construction, upgrades and restoration projects found across Duke's campuses.
With the academic year officially beginning, many efforts are coming to an end during a season that saw about 60 summer projects costing roughly $50 million take place at Duke. Crews spent time this summer on campus utilities, living and dining spaces and more. 
"There is still a tremendous amount of work to be done, as work continues at Duke Chapel, the West Campus Union, athletic facilities and many other locations," said Paul Manning, director of project management for Facilities Management. "But our goal is to enhance the beauty of Duke's campus to make sure we can protect Duke's past while preparing for its future."
Plenty of work will continue through the upcoming year, but here's a look at where several summer projects stand with the fall semester underway. 
Union Drive-Towerview Road Intersection
A diagram of work to be completed along Union Drive and Towerview Road this fall. Courtesy of Duke Facilities Management.
Work will continue into late fall to upgrade and install utilities and infrastructure by the intersection of West Campus' Union Drive and Towerview Road. Crews have spent the summer installing and relocating gas and hot water lines, as well as centralizing Duke's emergency power system to enhance service to academic and athletic buildings, including the new Student Health and Wellness Center, which is expected to be completed in 2016.
A projected timeline of work is available in this story. 
New Parking Options for Moped Commuters
An example of the new moped "hitches" to be installed on West Campus this summer. These hitches are installed at the Fuqua School of Business. Photo courtesy of Alison Carpenter.
Two new moped/motorcycle parking stations were installed this summer – one each behind the Sociology-Psychology and OIT-Telecommunications (Telcom) buildings. The new stations join eight other moped/motorcycle parking areas across West Campus and the Health System as Parking and Transportation Services offers tailored parking options to students and employees. The goal is to shift parking from bike racks near walkways and buildings to bicycle-only areas in order to better protect pedestrians.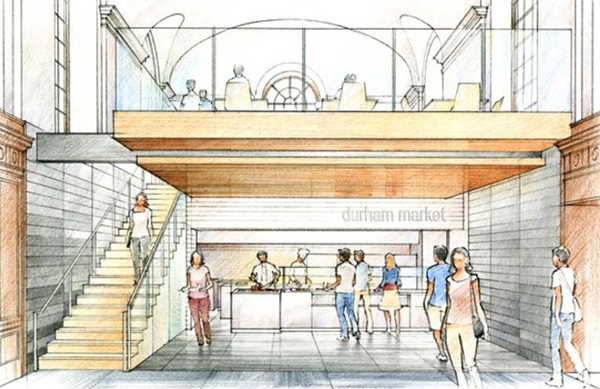 An artist rendering of what final changes inside the Marketplace will look like. Courtesy of Duke Facilities Management.
The East Campus building received its first renovation in 20 years this summer and began serving meals to first-year students after they arrived last week. Work still remains inside, however, due to the presence of camps over the last two months. 
Crews will finish work in the Marketplace's basement this fall, where the Trinity Cafe will be relocated. Classrooms for Duke's first-year Focus Program will also be created in the basement as well as upper levels of the building. Renovations to the lobby, which include a new food kiosk, dining space and skylights, will take place over winter break. 
For more information, see this project summary.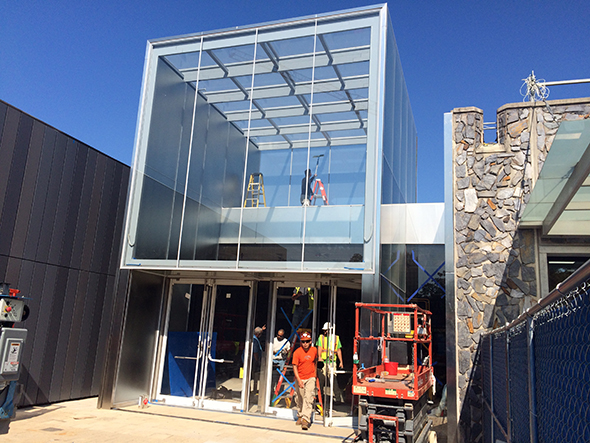 The new Bryan Center entry offers a modernized look. Photo by Leanora Minai.
A new, 353-square foot, glass-encased entry welcomes Duke community members as an artistic upgrade for West Campus' student union. The height of the new entry – 26 feet – is about three times the height of the previous vestibule, giving greater prominence to the primary building entry. 
The new space integrates artificial lighting directly into its stainless steel structure, creating a soft glow effect rather than traditional overhead lighting. The idea is to recreate the softness of daylight even at night.
Find more specifics about the project in this story. 
Construction took place this summer to remove bluestone sidewalks along the West Campus Quad in order to improve drainage and irrigation before replacing the same stone. Photo by Bryan Roth. 
Duke completed the first of three phases to restore West Campus Quad's historic landscape with upgraded irrigation, drainage, walkways and plantings. Bluestone sidewalks, which were installed in the 1930s, were removed and reinstalled as part of work to upgrade drainage. Enhancements will also provide better access to Perkins Library and West Union for people with disabilities, offering entry directly off the quad without use of steps.
Landscaping around areas where work took place will continue this fall. Details about the project can be found in this story.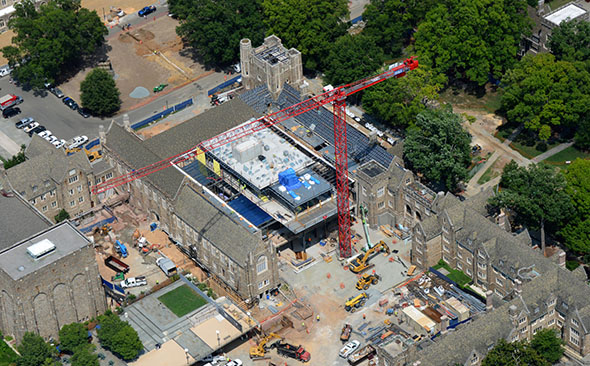 An aerial view of construction at the West Union. Photo courtesy of Duke Facilities Management.
Two areas of the renovated building are estimated to open in February 2016. Other areas of West Union will open in spring 2016 with work to be done to finish infrastructure, install new equipment and add new lighting fixtures. 
In late winter, an outdoor seating area just east of construction will become available. Formally known as Kilgo Quad, it will now be called the West Union Quad. Inside, a new dining facility known as The Pub will also open, serving locally focused food, beer and wine by Geer Street Garden, a Durham restaurant located on Foster Street who will act as a new vendor. The space will have about 150 seats and large screen TVs.
Visit this website for more information artist renderings of the project. 
Construction crews perform work on Duke Chapel's roof, one part of several restoration projects taking place through April 2016. Photo by Ray Walker.
Scaffolding is now complete around the perimeter of the Chancel, Memorial Chapel, Transepts and Nave, allowing crew unrestricted access for replacement of the Chapel's roof. A majority of the roof has already been removed and new panel installations have begun.
Inside the Chapel, dust containment barriers are installed to section off work areas as limestone mortar joints are being restored. The repair is complete inside the Chancel, nearing completion in the Memorial Chapel and has begun in the Transepts. Workers will begin refurbishing wood around the end of August.
For more details on the project, which will finish in spring 2016, visit this website.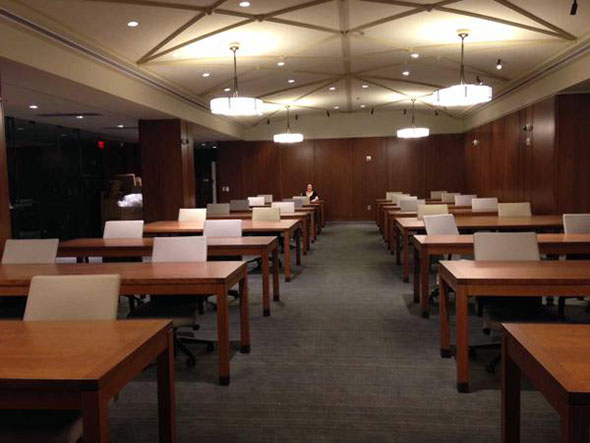 A look at the Rubenstein Library's new reading room. Photo courtesy of Duke Libraries.
On Aug. 24, the David M. Rubenstein Rare Book & Manuscript Library will reopen after almost three years of construction and renovations to increase the research, instruction, storage, and exhibition capabilities of the library. The space will now be able to accommodate more people with more space, including designated areas for collaborative research.
Updates extended to the Mary Duke Biddle Rare Book Room and the Gothic Reading Room, where finishes, furnishings, lighting, technology infrastructure, and exhibition facilities were all enhanced. 
Duke community members can see all the changes first-hand during an open house event from 2 to 4 p.m. Sept. 10 at the Rubenstein Library. For more details, visit the Duke Libraries Blog.
An aerial view of construction at Wallace Wade Stadium. Photo courtesy of Duke Facilities Management. 
Areas around Brooks Field at Wallace Wade Stadium and Cameron Indoor Stadium have been particularly active this summer.
At the Blue Devils' football field, construction added new seats, installed new turf and setup a new, state-of-the-art scoreboard. A temporary press box will also be completed before Duke's first home game on Sept. 12. This was the first of two summers that will make a slew of improvements to the stadium. A full list can be found here.
Outside Cameron Indoor, work will continue into the winter to construct a two-floor south entry lobby and hospitality space. The first floor will house a memorabilia display and ticket operations space. The second floor will feature hospitality space for up to 350 people. As part of the project, the ground floor south entry area of Cameron will be renovated to enhance offices and restrooms. 
When football season begins, scaffolding will be installed as part of an entry to allow Blue Devils fans to enter into the current Cameron Indoor lobby where the ticket office will remain until the new two-story lobby is complete.
Want to know more about construction projects at Duke? See locations of work on this Duke Campus Map, which highlights construction spots across East, Central and West campuses.