New Sciences Advisor Draws from Experience
Nyote Calixte will advise a full bevy of science students this fall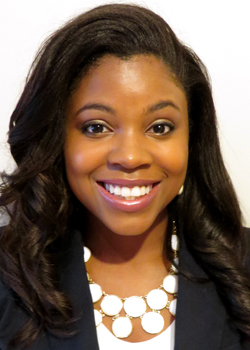 Nyote Calixte knows that many college students start off thinking they want to be doctors. She wanted to be a physician herself – before she realized she loved science more than medicine. 
Now this scientist is helping students find their own paths as the first director of academic engagement for natural and quantitative sciences in the Academic Advising Center.
In this new position, Calixte, who holds a Ph.D. in chemistry, helps students integrate their science coursework with Duke's many research, global and service opportunities.
''We have terrific academic advisors who work with small cohorts of students, as well as specialist advisors who more broadly support engagement with Duke's humanities, arts, global, civic, and Bass Connections opportunities,'' said Beth Fox, the center's director. ''Now that Dr. Calixte has joined us, we can even better serve our students interested in the natural and quantitative sciences.''
Calixte's position is being funded in part by the Howard Hughes Medical Institute COMPASS program to support the success of students in the sciences.
Potential and current science, math and engineering majors from all four years can schedule appointments with Calixte.  Hildana Haileyesus, a rising sophomore from Stone Mountain, Georgia, has already benefitted from talking with Calixte, after a friend told her about Calixte's chemistry background. Calixte introduced her to Duke programs she would not have known about, asked tough questions she had put off addressing and encouraged her to go the Academic Resource Center to improve her class performance.  
''She helped me realize that I was actually very unsure about my direction because I had not taken the time to gather together all that I was passionate about into a formulated plan,'' Haileyesus said. ''I was really impressed with how prepared she was for our meeting. She was waiting for me with information and a plan of action for each course that I was considering. Dr. Calixte helped me to look at each course as a building block of my time here rather than a place holder until I found my 'true' direction.''
Calixte said college is the time for students to keep an open mind about majors and career goals – and ultimately decide for themselves which path to take.''Many students come to Duke with certain majors or careers in mind,'' Calixte said.''This is not a bad thing, but occasionally, it is not necessarily the best career for their passion. I don't look to discourage students from taking any one path, but rather to open their minds to all the possibilities a major or career can have when well integrated with your interests. My goal is inspire science students at Duke. ''