Duke Presents Awards for Service to Community
2015 Algernon Sydney Sullivan Awards recognize commitment to others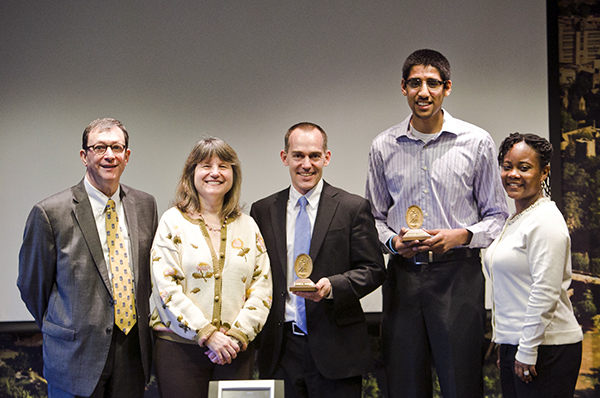 Left to right, Sam Miglarese, director of Community Engagement with the Duke-Durham Neighborhood partnership; Sally Kornbluth, Duke University Provost; Brad R. Fulton, staff/faculty recipient of the Algernon Sydney Sullivan Award; Rasheed Alhadi, student recipient of the Algernon Sydney Sullivan Award and Dominique Redmond, assistant director for programs with the Duke Community Service Center and DukeEngage-Durham Program Director, posed for a photo during the award ceremony at the Allen Building boardroom on Friday.
Duke recognized two campus community members Friday with the 2015 Algernon Sydney Sullivan Award for demonstrating a passion and commitment toward others in their personal and academic work. 
Brad Fulton, a Ph.D. candidate, and Rasheed Alhadi, an undergraduate, were honored by Duke administrators May 1 during a ceremony in the Allen Building. The award is sponsored by the Algernon Sydney Sullivan Foundation to perpetuate the characteristics of integrity and service exemplified by Sullivan, a New York lawyer and philanthropist who died in 1887. Duke bestows the award each year to one student and one faculty or staff member.
This was the first year that awards were presented at the same ceremony, bringing together students, faculty and staff to celebrate.
"Both are deeply committed to building bridges, reconciling worlds and celebrating differences," said Sam Miglarese, director of the Duke-Durham Neighborhood Partnership. "This is an important way to recognize the depths of spirituality, service and humanitarian spirit of our community."
Here's a look at this year's two winners:
Brad Fulton
Fulton, who earned a master's in sociology from Duke in 2011, is completing Ph.D. work with a dissertation on how social diversity influences organizational effectiveness. His work has included research across the country, surveying congregations, neighborhood associations, schools, unions and immigrant associations to indicate that diversity and team interaction are positively related to effectiveness.
"These organizations are doing a lot of advocacy work and there's more to be done when you can empower and develop leaders within marginalized communities," Fulton said. "It's an honor to be recognized and hopefully I reflect back a lot of the good things everyone else is doing." 
In addition to his work highlighting the importance of diversity, Fulton has been involved with local organizations in Durham, participating in Walltown Community Association meetings and events, working with Durham Congregations, Associations & Neighborhoods and other community initiatives.
For the past two years, he's volunteered with Project TURN, an educational program that partners incarcerated men and women with students that offers academic training and personal spiritual development. Fulton also implemented a survey for Project TURN to track the impact on Duke and incarcerated students. 
"In my view, he is among the best two or three young scholars I have seen in my 15 years working extensively with doctoral students," wrote Richard L. Wood, chair of the Department of Sociology and director of the Southwest Institute on Religion, Culture and Society at the University of New Mexico, in his nomination of Fulton for the Sullivan Award. "His intellectual discipline and work ethic, combined with native intellectual abilities that only fully emerged when confronted with challenging graduate-level material, are at the root of his success – and will carry him forward into a career in research and teaching."
Rasheed Alhadi
Alhadi will graduate this month with a bachelor's degree in biomedical engineering and a minor in chemistry. As part of the nomination process for the Sullivan Award, he was recognized for his work and commitment with the Muslim Student Association and Duke Voices for Interfaith Action, showing a dedication to members of the Muslim community across the Duke, Durham and Triangle communities. 
"I don't want to think about this award as a check box of important qualities, but as a reminder of goals we should all strive to be better at," Alhadi said. "This embodies morals, values and character and it's better than any academic award I could ever receive." 
During his time at Duke, Alhadi spearheaded an interfaith engagement workshop on campus and helped plan the first Muslim youth leadership conference for Muslim high school students in the Triangle. He has also participated with Habitat for Humanity, helped form a community garden at the Center for Muslim Life and serves as a service-learning discussion facilitator for Duke's Medicine and Medical Ethics group.
After graduation, Alhadi will teach underserved high school students in California before attending medical school.
"I cannot think of a current graduating senior who is more deserving of the recognition that comes with the Sullivan Award than Rasheed Alhadi," wrote Christy Lohr Sapp, associate dean for Religious Life who nominated Alhadi. "In short, he is an excellent reflection of the best of what this award embodies and he is a great reflection of what Duke students have to offer."