Duke Holds Commencement in Downtown Ballpark
Cheering families fill stands as university awards more than 5,100 academic degrees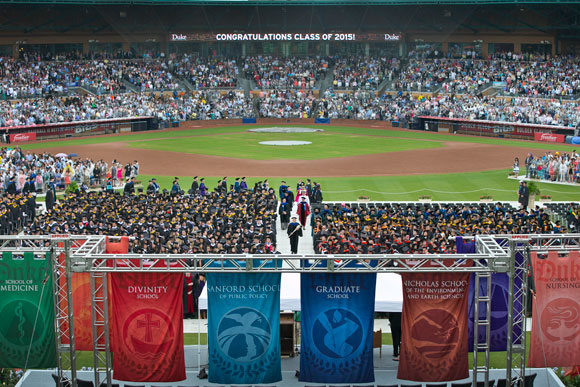 The students filled the outfield of Durham Athletic Park for the 2015 Commencement ceremony. Photo by Jon Gardiner/Duke Photography
Read More
Center field became center stage Sunday, as the Durham Bulls Athletic Park was transformed into the setting for Duke University's 163rd Commencement.
Duke President Richard H. Brodhead presided over the ceremony, which awarded more than 5,100 undergraduate, graduate and professional degrees before a stadium packed with cheering family and friends on a drizzly Mother's Day. Duke moved the ceremony to the downtown venue because of renovations at its Wallace Wade Stadium.
Colorful banners for each of Duke's schools, large screens showing campus images and backdrops resembling Duke's distinctive stone framed the proceedings, which began with graduates, faculty, trustees and administrators entering from right field.
The ceremony was punctuated by applause from what Luke Powery, dean of Duke Chapel, described in his invocation as "a great crowd of human witnesses who have cheered for us every day." Webcast live on Duke's YouTube channel and covered on Twitter at #Duke2015, the ceremony also honored students who graduated in September or December 2014.
Among them were 32 students who will receive MMS degrees on May 20 after completing studies that began at the Fuqua School of Business on Duke's main campus and finished at Duke Kunshan University (DKU) in China. These will be the first DKU students to receive Duke degrees.
"I hope that all of you graduates, and especially those who are not exactly sure what you'll be doing over the next few months, are open to serendipity and disappointments and to changing directions when circumstances call for it. Don't hang on to narrow notions of success or to the anxieties that often accompany them," global health leader Dr. Paul Farmer said in his commencement address.
Farmer, who graduated from Duke in 1982 with a bachelor's degree in anthropology, humorously described his own path from rural Florida to an eclectic Duke career that eventually led to his becoming a Duke trustee and founding director of the international nonprofit organization Partners In Health (PIH). Farmer, who now resides in Rwanda, was profiled in Tracy Kidder's best-selling book, "Mountains Beyond Mountains: The Quest of Dr. Paul Farmer, A Man Who Would Cure the World."
Discussing the Ebola epidemic in Africa and recent unrest in U.S. communities ranging from Baltimore to Ferguson, Farmer said too many people "are shut out of all dreaming by forces beyond their control." He called on the graduates to reject the "false and grotesque notion" that people can only feel empathy for others like themselves. "Our species gets in trouble any and every time we consider someone to be less than human," he said.
Farmer concluded by noting his daughter will be joining Duke in August as a member of the Class of 2019: "I know that she will be surrounded as you have been and as was I by talent and creativity and drive, and I hope by more than a little kindness, affection, forbearance and empathy. Our beautiful and troubled planet to which you will decamp tomorrow needs these sentiments."
Farmer was the latest in a list of distinguished commencement speakers at Duke. He was immediately preceded by two other Duke graduates -- Gen. Martin Dempsey, chairman of the Joint Chiefs of Staff, and philanthropist Melinda Gates.
Earlier in the program, student speaker Andrew Kragie cited Farmer as an example of "Blue Devil double vision," which he described as the ability of many Duke students to simultaneously see the world "as it is and as it might be."
"We can accept, work with and even love the way things are -- without ever giving up our vision of how they can be made better," said Kragie, a political science and public policy major from Maryland. "We can realistically but lovingly critique the institutions to which we belong, whether they are businesses or hospitals or government agencies. We are reformers who care about results; we are advocates with realistic approaches; we are effective agents of change. Duke has prepared us to combine vision and execution -- to marry idealism and pragmatism."
Prior to Farmer's address, Duke awarded six honorary degrees. The recipients were France Cordova, director of the National Science Foundation; Renee Fleming, an opera singer and winner of the National Medal of Arts; Rakesh Jain, a pioneer in the fields of bioengineering and tumor biology; Harold Mooney, a plant ecologist; McCoy Tyner, a jazz pianist; and David Levin and Michael Feinberg, founders of the Knowledge is Power Program, who shared an award.
In addition to Sunday's ceremony, Duke's graduation weekend was filled with events held by schools, departments and programs across Duke's campus and downtown Durham. On Thursday afternoon, the Duke Alumni Association held send-off events for the graduates, followed by a Forever Duke party on Saturday night. On Friday afternoon and twice on Saturday, graduating seniors gathered in Duke Chapel for a colorful baccalaureate service. The three services were the last events to be held in the Chapel prior to a year-long restoration during which the landmark campus structure will be closed.
Speaking at the baccalaureate services, Brodhead told the graduates: "My friends, where you went isn't who you'll be. But it could help you to what you could become. Life isn't about struggling along until you suddenly 'are' something. Life is a journey, a voyage of self-unfolding through collision with experience. A prior stage in that journey brought you to Duke. Duke helped you on with your becoming. Now you leave here to trace that journey forward."
Also on Friday and Saturday, graduates of Duke's graduate and professional schools gathered at ceremonies where they heard from an array of notable speakers. Former NBA star and Duke graduate Shane Battier spoke twice to graduates of different programs at the Fuqua School of Business.
The weekend also included commissioning ceremonies for ROTC graduates, a breakfast reception at International House, a family brunch for United Methodist Campus Ministry and a lunch for the Reginaldo Howard Scholars, along with dozens of other events. For many of the graduating seniors, a highlight was receiving their degrees at departmental ceremonies following the gathering at the ballpark.
As the final ceremonies wrapped up on Sunday afternoon, caps and gowns gave way to tearful embraces and parting glances at campus landmarks. Crews swept the ballpark, minivans loaded up with suitcases and the Class of 2015 embarked on its many roads beyond Duke.
"We can't wait to see what you will do," Brodhead said at the end of the ceremony. "Now get out of here and go and do it."