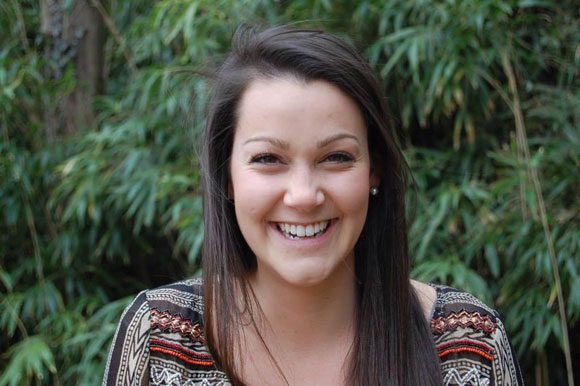 Dominique Beaudry will do a Fulbright Fellowship teaching in Malaysia
Dominique Beaudry has spent her Duke career pursuing community empowerment through education. The Benjamin N. Duke scholar advocates for social change, and her interdisciplinary approach has earned her recognition at both national and local levels.
After spending summers working at a sexual assault clinic in South Carolina and a microfinance firm in Samoa, the senior from Concord believed that effective education was a key to breaking cycles of poverty. A public policy studies major with minors in education and psychology, Beaudry said effective teaching requires comprehensive strategy and vision.
"[In] education reform, there's this idea that if you just fix it with enough enthusiasm anyone can solve a problem," she said. "But enthusiasm is not all you need. You need literacy skills, and you need to know how to actually teach kids in a way that's addressing different types of learning."
Through a public policy class with professor Robert Korstad, Beaudry went door-to-door in northeast Durham with a "quality-of-life assessment" survey developed by the mayor's office and neighborhood improvement services. She heard from community members about the concerns they grapple with daily, from rising rent to underfunded schools and underemployment. This information was then shared with taskforces of leaders in the non-profit, business and research sectors that seek sustainable improvements in Durham's public safety, education and banking.
Beaudry's interest in this project stemmed from her belief that poverty is a roadblock to children's achievement. Having developed an attachment to Durham since entering the North Carolina School of Science and Mathematics in 11th grade, she wanted to better understand how its policy makers address development and inequality.
"I wholeheartedly believe that poverty is not the result of individual actions, but it is the result of a series of systems pushing down on people. I really wanted to see how Mayor Bell addressed this from his position as mayor, where he has more power over all of these systems. He can start to shift them in different ways that open up room for people to succeed," she said.
Beaudry, who has tutored in Durham Public Schools, spent last summer teaching social studies with Breakthrough Collaborative, a program that works to build students' knowledge and prepare them for college. In her work with seventh graders, Beaudry found that she loved encouraging her students to think about complex issues in nuanced ways.
"In the 1920s it was Italian immigrants who were being murdered and being ridiculed, and now we have pizza and pasta on every corner. So how do you use that scenario with former Italian immigrants to gain people's empathy in talking about immigration today?" she said.
Ultimately, Beaudry believes that education is a tool for both personal empowerment and broader social change.
"I think that we need to educate kids – but not just educate them more, because I think that over-testing and this hyper-stressed environment that so many Duke students see is so harmful," Beaudry said. "We need to teach kids personal development and self-awareness and empathy. That's the education that I'm pushing more."
Beaudry will spend the summer in Washington, D.C., interning with Reach Incorporated, a nonprofit that develops grade-level reading and leadership skills by training teens to teach younger students. In January, she will begin a teaching Fulbright Fellowship in Malaysia.
As both student and teacher, Beaudry recognizes the importance of classes that "put the ivory tower into practice." A Truman Scholar, she plans to earn degrees in teacher certification, law, and potentially social work, combining her skills to teach children about civics, economics and social studies. 
Below, Dominique Beaudry discusses her work on the Honor Council.