Duke Celebrates Seventh 'Tree Campus USA' Designation
Students, staff plant trees Friday to mark designation of Duke as a "Tree Campus USA"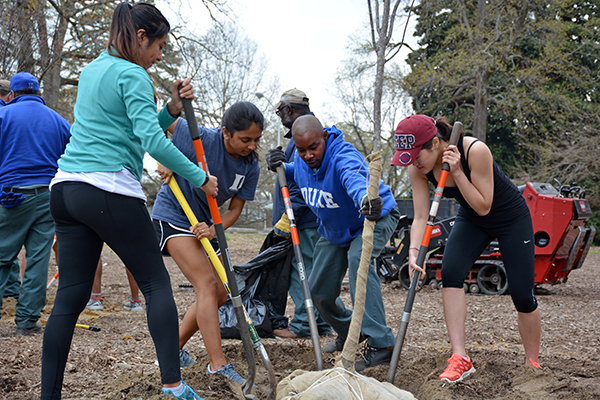 Students and staff gathered Friday to mark a seventh-straight designation of Duke as a "Tree Campus USA" location by the Arbor Day Foundation. Along with undergraduate students volunteering as part of a class taught through Duke's Global Health Initiative, members from Facilities Management planted 11 Eastern Redbud trees around East Campus' Academic Advising Center.
Above, Gary Atkins, center, a tree pruner with Facilities, balances a 4-year old Redbud sapling while Jocelyn Vargas, left, Dhara Patel and Laurie Hwang, right, fill in a hole with dirt where the tree will stand.
"Having students and staff work together annually is a great way to build bridges within our community," said Katie Rose Levin, natural resource manager with Facilities Management who helped oversee the day's plantings. "Campus is undergoing a lot of renovation, so it's important for us to prepare the next generation of trees."
Below, Judd Edeburn, longtime Duke employee and retired resource manager for Duke Forest, presents a Tree Campus USA plaque to Bryan Hooks, director of grounds for Facilities.