Students, Employees Honored for Sustainability
Annual 'Sustainability Awards' held this week honoring students, faculty and staff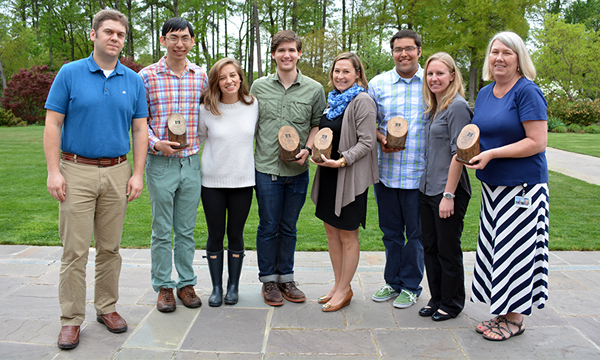 Sustainable Duke presented their annual Sustainability Awards April 15 to students, faculty and staff, recognizing a variety of efforts to promote "green" behaviors on campus. Photo by Bryan Roth.

A collection of faculty, staff and students were recognized Wednesday for showing their commitment to sustainability in the past year and even got a surprise announcement as well.
During an awards luncheon at the Doris Duke Center, Sustainable Duke honored winners of its annual Sustainability Awards, which are presented to Duke community members who showcase a variety of "green" actions to support Duke's commitment to sustainability and going carbon neutral by 2024.
It was also announced during the event that three Duke community members - an employee and two graduate students - who tied for first place in the inaugural Unpark Yourself Challenge would each receive the grand prize bike-electric hybrid vehicle known as an ELF. Previously, just one of the top finishers was randomly selected as the winner of the ELF.
"We rely on individuals across campus to make daily decisions that help make Duke a more sustainable place," said Casey Roe, outreach coordinator for Sustainable Duke. "These leaders inspire friends and coworkers to get involved with sustainability and this is a great opportunity to celebrate these stories of engagement."
Here are the winners:
Outstanding Leadership in Sustainability – StaffBonnie Conner, logistics coordinator, Duke University Press
Conner instituted an internal program that makes paper recycling easy for coworkers by placing recycling bins within 15 feet of coworkers' desks. Along with other staff, she collects these bins each week to empty into larger containers collected by Duke Facilities Management staff.
She also created collection points for batteries and light bulbs, established waste-free catered meals for meetings and secured a Green Grant to purchase kitchenware to eliminate paper and plastic plates and utensils. 
Outstanding Leadership in Sustainability – FacultyDan Vermeer, associate professor of the practice and executive director for the Fuqua School of Business' Center for Energy, Development, and the Global Environment
Through his work at Duke, Vermeer is able to develop leadership, education and outreach to solve global energy and sustainability challenges.
A large part of his work is dedicated to reducing food waste and he also teaches courses on energy, sustainability and economics at Fuqua and the Nicholas School for the Environment. Vermeer regularly collaborates with sustainably-minded groups across Duke including the Duke University Energy Initiative, Center for Sustainability and Commerce, Duke Campus Sustainability Committee, Food Sustainability Committee and Duke Campus Farm. 
Outstanding Leadership in Sustainability – StudentVictoria Cheng, undergraduate student
By using a leadership role as uniform manager with the Duke Marching Band, Cheng promoted sustainable behaviors amongst her peers. She began game day recycling initiatives with the band, which now participates in making football games zero waste events by collecting bottles, cans and cardboard boxes.
On her own, Cheng prefers reusable bags instead of plastic, finds reusable stationary through the Duke Free Store and take leftover free T-shirts from student events to sew new clothes. She also collects plastic bags to bring them to proper recycling bins at the French Family Science Center. 
Outstanding Leadership in Waste ReductionePrint Initiative Group
Members include: David Clancy (student), Leah Catotti (student), Fareed Kahn (former student), Evan Levine (Office of Information Technology), Ann Elsner (Duke Libraries), Deborah Jakubs (Duke Libraries), Charlotte Clark (Nicholas School for the Environment)
The team of students, faculty and staff analyzed use of Duke's ePrint system, which allowed for unlimited printing on campus. Changes to the system, which included allocating a cap for number of printed pages, reduced student printing by 17 percent in the fall 2014 semester, the equivalent of using 2.2 million fewer sheets of paper.
Members of the group educated students about alternative ways to consume information rather than printing, such as sharing documents electronically. They led an effort to give monetary value to resources used to print in order to change behavior.
Along with individual winners, other groups recognized included:
Unpark Yourself Challenge winners – Individuals and teams who finished as top performers in Duke's inaugural sustainable commuting competition for employees and graduate students. The individual top performers were Casey Harrison, a clinical nurse at Duke Hospital, and graduate students Isaac Hacerola and Gabriel Yapuncich. Below, Hacerola, left, poses with representatives from the top performing team: graduate students Ryan Lion and Tendai Kwaramba, and social media "ninja," DeAnna Hall, right.
Green Dining Award winners – Campus eateries showing a commitment to sustainability.
Green Workplaces and Labs – Certified spaces on campus that reduce environmental impact through eco-friendly behaviors toward electricity, water and more.