Duke Set to Open Reclamation Pond
Sustainable project will save up to 100 million gallons of water per year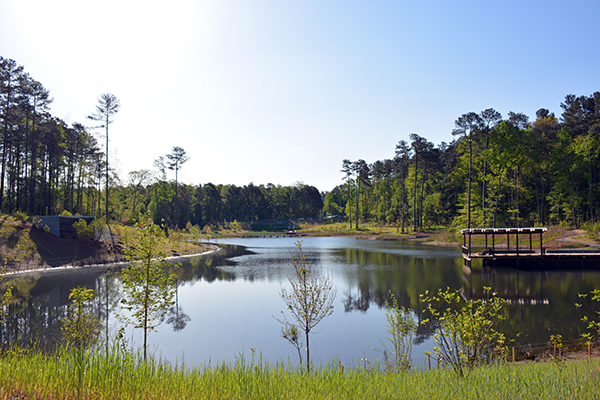 After nearly two years of construction and landscaping, Duke is set to soon open its new reclamation pond to the campus community.
The pond, located near Erwin Road adjacent to Circuit Drive and Towerview Road, is a $11.5 million sustainable project expected to save up to 100 million gallons of water annually, replacing the need for the same amount of potable water from the City of Durham. 
The pond will collect rainwater and runoff from 22 percent of the main campus area, and water from the pond will be used in cooling towers at the nearby Chilled Water Plant #2, which pumps water across campus to cool buildings. Duke estimates savings of $400,000 per year by flowing storm water to the Water Plant in lieu of city water.
"We try to look at all options when it comes to sustainability efforts at Duke, including the reduction of limited resources like water," said Casey Roe, outreach coordinator with Sustainable Duke. "The pond will incorporate sustainability in a very real way, allowing us to reduce our reliance on city water while creating a new community gathering space." 
Facilities Management staff has begun removing fencing from access points around the 12-acre site with plans to have all fencing removed no later than May 7, said Steve Carrow, project manager with Facilities. Access is expected to be open by May 7 via main entries to the pond off Towerview Road and Circuit Drive.
Gravel and mulch paths have been completed, offering a winding walking loop of nearly a mile around the pond. Nearly all landscaping has finished, which installed about 41,000 plants throughout the 12-acre site. 
Dozens of varieties of grasses and shrubs were planted, including nearly 40 kinds of trees like Black Cherry, Redbud and Eastern Red Cedar. Trees that were taken down during the construction process have been reused or donated.
Other amenities include an observation deck, seen below, and a boardwalk that extends onto the water. Environmental, biology and even recreation classes have plans to use the pond for research and activities.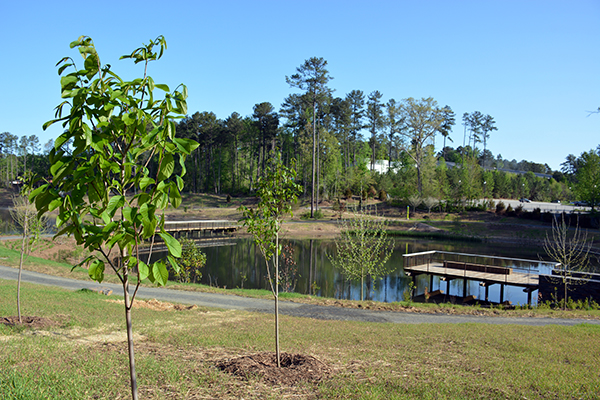 There are no plans to stock the pond with fish, however some wildlife has made their way to the small body of water.
See nine additional photos of the reclamation pond, including comparisons of what it looked like in February and today, on the Working@Duke Facebook page.