Reshaping Research Capabilities on Campus
Innovation Studio offers unique resources like 3D printers for student and employees
Dr. Piers Barker used 3D printers to design replicas of a child's heart. 
Lauren Gonzales, a graduate assistant, used a printer to create a copy of a 15 million year-old brain of the oldest Old World monkey.
Read More
With the help of one unique space on campus, Duke students, staff, faculty and doctors have the chance to get three dimensional to change their expectations for research and patient care. It's happening at the Innovation Studio, a space focused on providing resources and support through unique and cutting-edge technology and hardware. The Studio was a project borne out of the Innovation Co-Lab, an on-campus creativity incubator, focused on exploring how technology can reshape the research, academic and service missions of the university 
"Our mission is to help turn brilliant and crazy ideas into a reality," said Michael Faber, IT innovation program manager who runs the Co-Lab and Studio. "Our space is another tool for supporting a variety of projects by offering resources and guidance." 
Along with an assortment of electronics, scanners and industrial-grade laser and woodcutters, the Studio also hosts several 3D printers, which allow for creating life-like objects made of plastic resin. All the tools are open to members of the Duke community for a variety of research uses from noon to 5 p.m. Monday through Friday at the Studio at 118 Telcom.
To use 3D printers in the Studio, users must have a high-quality file from which an object can be created. That file is transferred from computer to the 3D printer. A nozzle inside the printer then moves back and forth in multiple directions over several hours, slowly releasing a heated plastic resin that cools to create layers and compose the three-dimensional shape.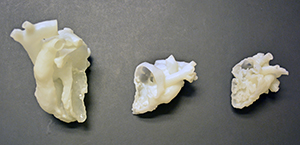 A collection of three 3D-printed hearts made by Dr. Piers Barker at the Innovation Studio. Photo by Bryan Roth.
Barker, professor of pediatric cardiology in the Department of Pediatrics, used the Studio's 3D printers to design replicas of hearts of two children and an adult.
"When you're doing an operation on a seven-pound baby with significant heart disease, every minute is crucial and that's not the time where you really want to be trying to understand something for the first time," Barker said.  "Using this technology to see and understand problems, you can have a plan in place and maybe more efficiently perform an operation."
In the fall, Barker created three 3D hearts from MRIs and CT scans of patients. On display in Barker's office, the white plastic hearts, hollow but with indentations and details of the real thing, have been used to teach about congenital defects and prepare surgeons to perform work quicker and more accurately.
"Despite having seen these problems as reconstructions on a computer screen, people still had a hard time finding answers compared to few limitations while holding a 3D reconstruction in your hand," Barker said. 
In addition to enhancing patient care, the Studio has also allowed faculty to find new ways to approach research. 
Gonzales, the graduate assistant in Duke's Department of Evolutionary Anthropology, recently needed a new way to look at 15 million year-old brain of the oldest Old World monkey, but a CT scan of the fossil wouldn't do. So she sought out the Studio.
A brain and skull of an Old World Monkey made by Lauren Gonzales to assist in her research at Duke. Photo by Bryan Roth.
"There's part of its shape that can be hard to figure out on a computer screen, but with a 3D print, you can hold it in your hand and get a much better 'feel' for the actual shape and size of the brain," she said. "Because the software to visualize 3D images is very expensive and is hard to use, I am the only person out of my coauthors who has been able to extensively study this fossil brain."
Along with her own version of the brain and an accompanying skull, which measures about 4-square inches, Gonzales created additional 3D copies to send to research partners in New Mexico and Germany.
"There's a very big difference between working off a computer screen and holding research in your hand," she said. "Having a tangible thing is more informative to me and truly helps me figure out what I'm looking at."