Reclamation Pond Construction to Finish in May
Fall and winter rainstorms help fill the pond on West Campus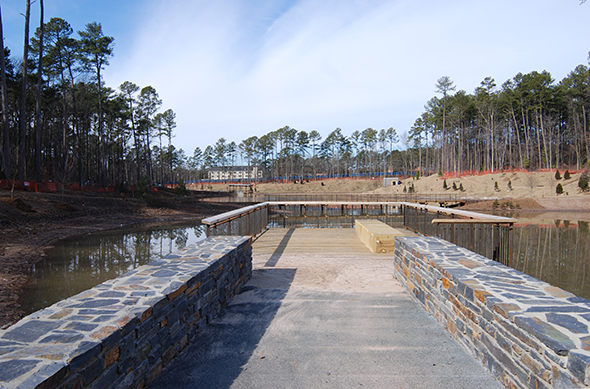 Construction continues on Duke's reclamation pond between Circuit Drive and Towerview Road with anticipated completion in May. 
Thanks to heavy rain in recent months, much of the pond has already filled with water, at times reaching 10-feet in depth. With many structures built, including a bridge and walkways, crews have begun landscaping the area with about 41,000 plants throughout the 12-acre site.
Dozens of varieties of grasses and shrubs will be planted in the coming months, including nearly 40 kinds of trees like Black Cherry, Redbud and Eastern Red Cedar. Trees that were taken down during the construction process have been reused or donated. 
Above, a boardwalk extends into the water, where visitors to the pond can sit and relax. Additional amenities will include a pavilion, nearly mile long walking path and amphitheater with lawn seating.
The pond will collect rainwater and runoff from 22 percent of the main campus area for use in cooling towers at the nearby Chilled Water Plant #2. The plant pumps water across campus to cool buildings. The pond is expected to save about 100 million gallons of potable water a year.
To see three more images of the site, visit the Working@Duke Facebook page.