Artistry Meets Architecture for New Bryan Center Entry
Construction on glass Bryan Center entrance begins March 9
Beginning in early March, the entry to the Bryan Center off The Plaza on West Campus will close as Duke starts construction on some new, artistic architecture for the entryway.
On March 9, the entry will close to pedestrian access, detouring Duke community members and visitors to enter the Bryan Center through the University Store, whose entrance is directly adjacent off The Plaza. A full list of store hours when the entrance will be open is available online.
A second option is through the building's north entry, which is around the corner, off a roundabout immediately outside the Bryan Center. During construction, signs will be placed outside the Bryan Center to help point pedestrians to entrance options.
Construction on the 353-square foot, glass-encased entry will take place until mid-August, when access through that side of the building will be reopened. The height of the new entry – 26 feet – is about three times the height of the existing vestibule to give greater prominence to the primary building entry. 
Bill McCraw, project manager with Facilities Management, said the new glass and steel entry will establish a visual link between the Bryan Center, the glass Penn Pavilion and the planned glass south wall to be built for the West Union, which is expected to complete next year.
"It will have the same presence on the plaza as our  new buildings." McCraw said. "We're creating it with the idea that it will be a work of art as much as a work of architecture."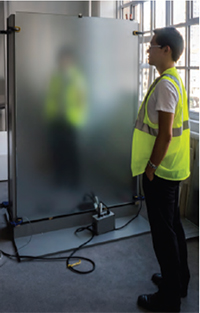 An example of the translucent material to be used for the siding of the new Bryan Center entry. Photo courtesy of Duke Facilities Management Department.
Planning for the entry was done by New York-based James Carpenter Design Associates, which is known internationally for a specialty in working with glass and manipulating light, including projects like 7 World Trade Center. The new entry will integrate artificial lighting directly into the stainless steel structure, creating a soft glow effect rather than traditional overhead lighting. The idea, McCraw said, is to recreate the softness of daylight even at night.
Instead of four pairs of doors like the Bryan Center currently has, the new entry will have two wider pairs a total of 18-feet wide to allow for smoother pedestrian flow. A 12-inch thick, soft mirror reflective glass will be installed on the sidewalls and will appear translucent, showing off broad shapes and colors instead of defined appearances, like a regular mirror. A Duke-blue ledge directly above the new doors will also reflect that color amongst others.
"You'll get an idea of the clouds and sky above you reflected high on the side walls, and diffuse reflections of people down low as they pass through the entry," McCraw said.
For more information about the project, visit the Facilities Management website.