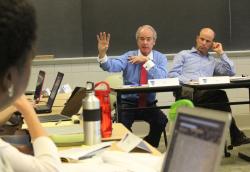 College professors are known for inviting students over to their homes for dinner once in a while, but this was a little different: a four-hour restaurant dinner discussing, arguing and laughing with their teacher, the former CEO of the nation's largest energy utility, who then picked up the tab.
"We talked about everything," says Jim Rogers, who retired as Duke Energy's CEO in 2013 and is spending the year at Duke as a visiting fellow. Rogers has almost 25 years of experience as a CEO in the energy industry – a tenure during which he served as the CEO of three utility companies, engineered a series of mergers and acquisitions, and operated assets in 17 countries.
This fall, he's co-teaching a graduate-level class on renewable energy sources for the developing world with Tim Profeta, director of the Nicholas Institute for Environmental Policy Solutions.
Rogers is also working on a book on the same topic, since nobody else has written it. And he's meeting one-on-one with grad students from five different Duke programs, keynoting at events such as the recent Duke University Energy Conference, speaking at informal lunch lectures and advising students over dinner.
"We're delighted to have Jim Rogers bring his deep experience in the energy industry, business, law, and policy to Duke," said President Richard H. Brodhead.  "As students and faculty across the university think about important and complex issues such as energy access in the developing world, they can benefit from this tremendous opportunity to work closely with such an accomplished leader."
After running a company with $100 billion in assets, more than 7 million customers, and shareholders and regulators on all sides, Rogers is thoroughly enjoying the professor's life.
"What I love the most is the students who are great critical thinkers," Rogers says before class in his sparsely decorated office at the Energy Initiative in Gross Hall. "These students cut to the chase. It's refreshing."
And they're finding him pretty refreshing too. "I'm impressed by his interest in us as students and his ability to bring his experience as a CEO to the class," said Ade Olayinka, a PhD student in the Sanford School of Public Policy.
Equally impressive to the students is that the former titan of fossil fuels not only acknowledges climate change, but wants to see measures taken to slow it down. In fact, under Rogers' leadership, Duke Energy was named to the Dow Jones Sustainability World Index in 2010 and 2011, and the company has been on the Sustainability Index for North America every year since 2006. 
During the Wednesday afternoon class, Rogers effortlessly gives the two dozen grad students a 70-year history of natural gas infrastructure in the U.S. to explain why the current "gas boom" is working so well and then casts himself as the minister of energy in Nigeria. "If I'm the minister in Nigeria, I'm going to avoid the tyranny of either/or," Rogers says. "There's no perfect fuel; you have to make a tradeoff every time."
Having prominent leaders like Rogers on campus "really meshes nicely into what Duke is already doing," Profeta said. "It's a beautiful fit, and very Duke-like."
After the class, Rogers stays to chat with several students for another 20 minutes, animatedly answering follow-ups and what-if questions that emerged from the day's discussion.
"I was interested in the topic," said second-year Fuqua MBA student Julia Mote, as she packed up her laptop after class. "And when I saw there was a real-life CEO, it seemed like an opportunity I couldn't pass up."