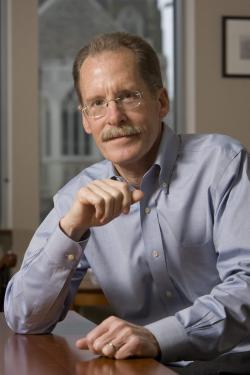 The Trinity Science & Research Scholars Program is launching this fall to provide opportunities for Trinity College freshmen and sophomores to engage in science and research early in their undergraduate careers.
The scholars program will include multi-year research experiences during the academic year and summers and intensive one-on-one mentoring with Arts & Sciences faculty. Students interested in any area of science are invited to participate.  
Information sessions will occur during the fall semester and the program will appoint students from the Classes of 2017 and 2018 early in the spring 2015 semester. Huntington Willard, who led the Duke Institute for Genome Sciences & Policy from its founding in 2003 to its closing in 2014, is leading the new project. It builds on the model of a four-year program Willard initiated as a Howard Hughes Medical Institute professor from 2006-2010. That program sent more than 45 percent of its graduates on to Ph.D. and M.D./Ph.D. programs.
"This program champions an important side of the university, which is the intellectual life of research," said Dan Kiehart, dean of natural sciences in A&S. "This is different from learning what other people have discovered -- it gives you a chance to make knowledge."
Willard is now the Arts & Sciences Professor of Biology and Genome Sciences in the Department of Biology. "This is not a typical 'one and done' semester," Willard said. "The general emphasis is to get students involved in research as soon as we can and to keep them engaged in the life of research over their four years at Duke. This will give them both high-quality and high-quantity contact with some of our most successful research faculty."
Willard also will continue to direct the Genome Sciences & Policy Undergraduate Program, which consists of a Focus program for incoming students, the Genome Sciences & Policy Certificate (now affiliated with Duke Science & Society), and co-curricular offerings throughout the year.