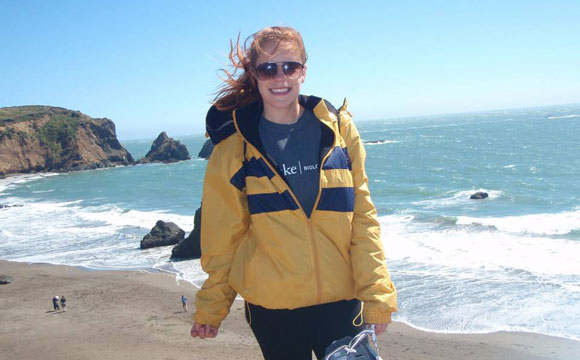 From whales to lemurs, senior Cassidy Pomeroy-Carter is using animal research experiences at Duke to prepare her for a future in veterinary medicine.
As a pre-veterinary student interested in working with exotic animals, Pomeroy-Carter is a biology and German double major from Vienna, Austria. She is currently working on two research projects -- one involving lemurs at the Duke Lemur Center and a second with whales at the Duke Marine Lab.
"The reason I'm involved in so many different research projects is that I really have a wide range of research interests, and I have tried to take advantage of opportunities to explore them as an undergrad," Pomeroy-Carter said. 
In addition to her lemur and whale research, she has worked on developing gene therapies with Dwight Koeberl, associate professor of pediatrics and molecular genetics and microbiology.
Pomeroy-Carter feeds and provides basic medical care for dogs in Koeberl's lab and shadows local veterinarians. At the Lemur Center, Pomeroy-Carter works with Leslie Digby, associate professor of the practice of evolutionary anthropology, on a long-running behavioral thermoregulation project. Behavioral thermoregulation refers to behaviors or activities that the lemurs use to regulate their internal body temperatures, such as seeking out the shade on a hot day or sunbathing on a cooler day.
Pomeroy-Carter is looking at how ring-tailed lemurs and Coquerel's sifakas use different heights in the trees to regulate their body temperatures. She will continue to expand on the project throughout the coming year as a part of a senior thesis.
"Being in the field is really unique as an undergrad," she said. "The Lemur Center is not Madagascar, but it approximates natural behavior and natural settings for the lemurs."
Besides her work at the Lemur Center, Pomeroy-Carter is interested in working with marine mammals. She is pursuing a certificate in marine science and conservation leadership and spent last summer rehabilitating seals and sea lions with the Marine Mammal Center in San Francisco, with funding from DukeEngage.
At the Duke Marine Lab, Pomeroy-Carter works with Andy Read, Stephen Toth professor of marine biology, to analyze Antarctic humpback whale blubber. The whales are staying in the western Antarctic peninsula -- their main feeding grounds -- later into the season than in previous years. Most of them are pregnant females who stay near the feeding grounds to better support their pregnancies. She received funding from the Undergraduate Research Support office to help Read set up his lab at the Duke Marine Lab.
After graduation, Pomeroy-Carter hopes to take a gap year to do field research on animals. She said she is deciding between veterinary school or pursuing a Ph.D., or perhaps a combined Doctor of Veterinary Medicine and Ph.D. research program.
"I have had the opportunity to work in a bench setting with [Koeberl], on animal behavior studies with Dr. Digby and in a sort of combination with Dr. Read," she said. "Part of why this has been so great is that I'm interested in the One Health Initiative, which emphasizes the interactions between human, animal and environmental health. In my opinion, pulling together lots of different types of research is the future of science and healthcare."