Bike Rack Restricting Ramp Access on Chapel Quad Relocated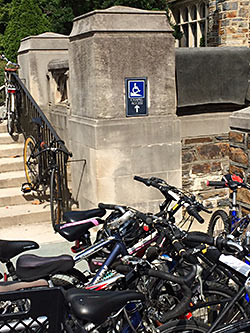 A bicycle rack moved due to construction work on Perkins Library has been relocated to allow for unrestricted access to the handicap ramp to and from Duke Chapel. 
The rack, which was originally located closer to the Divinity School Gray Building, had been pushed back close to the access ramp when construction fences were moved back to allow for upgrading the Perkins' building foundation. 
When bikes, mopeds and scooters filled the rack, access to the ramp was limited or blocked. Facilities Management temporarily relocated the bike rack in front of the Chapel steps until construction is completed or alternative plans are made. 
"From a sustainability perspective, it's great that we have so many bike commuters," said Alison Carpenter, manager of Duke's transportation demand management program. "We have ordered additional bike racks for the plaza between Perkins and Bostock, and we are working closely with Disability Management to ensure that the racks do not inhibit access to any of our facilities."
Carpenter encouraged two-wheeled commuters to use the racks provided for securing their vehicles. "When people attached their bikes or mopeds to handrails, benches or other objects, it often creates problems for others, including those who are disabled."