Employee Prepares for Unique Sideline Experience
Dr. Anthony Galanos is Duke football's honorary employee 'captain'
For more than 40 years, Dr. Anthony Galanos has had a connection to Duke, from undergraduate student to alumni to employee. Throughout, football has played a pivotal role.
A Duke-UNC football game in 1970 brought him on his first campus visit, but it was the campus community that convinced him to apply for admission.
Read More
"I had never been outside the state of Alabama, but I got on the bus to go from West to East campus and thought I'm going to introduce myself to people," said Galanos, now a Duke Medicine physician with specializations in geriatric and palliative care. "I rode the bus for three hours talking to people and when I got off the bus that night, I told my best friend, 'this is where I want to go to college.' "
After arriving on campus as a freshman in 1972, Galanos rarely missed a football game and when he returned as an employee in 1989, he didn't hesitate to buy season tickets he's held ever since.
And this month, he'll enjoy a new kind of game day experience.
Galanos – known as "Coach G" to colleagues - received 49 out of 97 nominations to become Duke football's honorary employee captain for the Blue Devils' Aug. 30 home opener against Elon University. He was selected to take on the role after a Working@Duke search drummed up dozens of nominations highlighting how he represents aspects of Duke's Guiding Principles.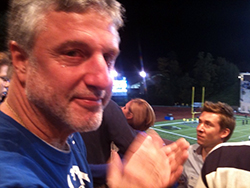 A friend captured this shot of Dr. Anthony Galanos becoming teary after Duke's last-second win against UNC in 2012. Photo courtesy of Anthony Galanos.
Galanos was recognized for his enthusiasm to mentor and teach interns, residents and fellows, his connections with colleagues and above all, he was consistently highlighted for his treatment of patients. During his time at Duke, Galanos has won Duke Medicine's Golden Apple Teaching Award and Eugene Stead Teaching Award, and the national Hastings Center Cunniff-Dixon Award for compassionate end of life care.
"Duke's reputation as a world-class institution to receive high-quality end of life and palliative care starts and stops with Dr. Galanos," wrote nominator Arif Kamal, a clinical oncologist and assistant professor of medicine. "He regularly stays until 8 or 9 p.m. everyday to make sure families are comforted during very difficult times. Dr. Galanos is the best of Duke."
In addition to his relationship with coworkers and patients, Galanos has also connected with Duke Athletics over the years. From 1989 to 1999, he volunteered his time to provide physicals for student-athletes and in 2007 and 2008, acted as a faculty adviser to football players who wanted to learn more about faculty academic and research work at Duke.
Seen here during his freshman year at Duke in 1972, Galanos plays catch on the field at Wallace Wade Stadium. Photo courtesy of Anthony Galanos.
As part of his role as honorary captain, Galanos will have the opportunity to join the Blue Devils for team activities the week of the football game against Elon, including:
Participating with head coach David Cutcliffe during a weekly press luncheon.
Running onto the field at Wallace Wade Stadium with the football team before kickoff.
Recording a video with Cutcliffe to broadcast during the home opener.
Watching the game against Elon University from the sidelines.
"I've told my kids that when I run out of the tunnel with Duke, I might die of happiness," Galanos said. "Duke is full of good teachers and role models and I've been lucky to have pats on the back, but this takes it to a new level."
Nominees for Honorary Employee Captain
Below are the names of all Duke employees nominated to act as Duke's honorary employee captain:
Windy Batten, Psychiatry and Behavioral Sciences
Kyle Cavanaugh, vice president for administration
Robert Carr Jr., Pratt School of Engineering
David Doctor, Duke Energy Initiative
Libby Gulley, LIVE FOR LIFE
Dr. Anthony Galanos, Center for Plliative Care
Chuck Hemric, Duke Gardens
Tim Kelly, 2300 floor, Duke Hospital
Keith Lawrence, Office of News and Communications
Nancy Leedy, Neurology
Deb LoBiondo, Housing, Dining, Residence Life
Doug Marchuk, Molecular Genetics and Microbiology
Clinton Miller, Medical Education IT
Eric Oberstein, Duke Performances
Melissa Pascoe, Thompson Writing Program
Amy Seibel, Urology
Randy Smith, Biology
Charles Stewart, Coagulation
Celestina Torres, Housekeeping
Brian Williams, Duke Paint Shop