Minding the Health of Duke Students
Franca Alphin helps students form healthy diets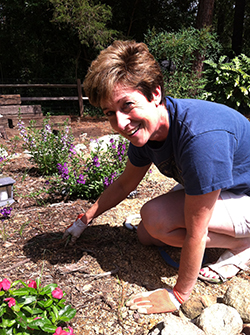 Name: Franca AlphinPosition: Director, Nutrition Services-Student HealthYears at Duke: 25
What I do at Duke: I meet with students one-on-one for any nutrition-related concerns, which can run the gamut from eating healthy to eating disorders. A third of my job is with athletes for sport nutrition. I also teach, so some work is with an undergraduate class and nutrition classes with graduate schools. My job can be lots of things, but it's primarily clinical work, teaching and work with Duke Athletics.
If I had $5 million, I would: Invest it and seek out organizations that might have need. I'd give a good chunk to agencies that work with animals – things like saving wild horses or dogs or even a zoo. I'd want to support mental health as well. My husband is very invested in mental health issues.
My first ever job: Working retail at a Laura Ashley store in a mall in Bethesda, Maryland. I was there during my undergraduate years and worked there three years. You haven't worked until you've worked retail.
My dream job: This may sound bizarre, but I feel like I have my dream job. In this career, I've had multiple jobs at Duke throughout the years and each job has been the dream job of that moment and I grew and moved on. But there's no other job I'd rather have in nutrition. If I weren't in nutrition, I love interior design, landscaping and gardening, so I'd want to do something design-related.
If someone wanted to start a conversation with me they should ask me about: Leading with a joke is usually good, but you can always ask about my kids, my pets and family.
The best advice I ever received: You are responsible for making yourself happy. Too many people believe it's other people or other things, but you're the one who can make yourself happy.
What I love about Duke: My peers and all the people I get to work with. It really is about the people I connect with every day. They're fun, supportive and great to work around. People make Duke a great place to work.When I'm not at work, I like to: Walk my dog, garden or play recreational sports like tennis or bowling. I do like to travel, too. I'm from Switzerland so I enjoy going home.   
If I could have one superpower, it would be: Invincibility. You could help fight crime and get the bad guys while being impervious to guns or knives. You could support people who are victims of crime or can't support themselves.
Something most people don't know about me: I was an equestrian and competed for many years. I started when I was about 8 and rode until I was in my early 20s. I enjoyed everything about it. I love animals, I adore horses and I love being outside. Riding horses is also very challenging. It challenges everything about you and feeds the things I love – animals and the ability to meet people.