Duke in Pictures: New Track and Field Stadium Construction
Work expected to complete in December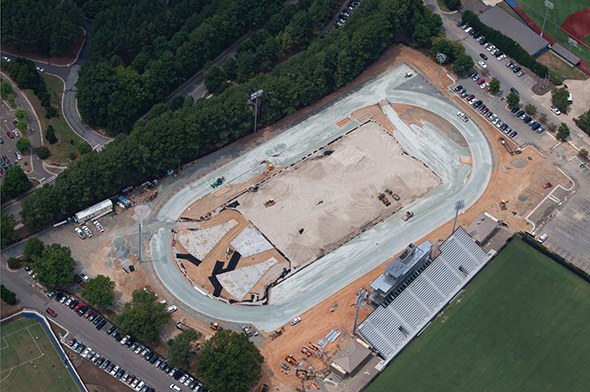 Above, an aerial view of Duke's new Morris Williams Track Stadium shows progress on construction that began in February and is expected to complete in December. Adjacent to Duke Athletics' new turf playing fields and Koskinen Stadium, the track is part of a $9 million donation for construction to improve athletic facilities at Duke and will also include a new bleacher area for about 500 spectators.
As the track is being built, work is also taking place to complete the Kennedy Tower, which includes suites and press areas to serve Morris Williams and Koskinen stadiums. The tower is named after Chris Kennedy, senior deputy director of athletics who has worked at Duke since 1977, and his late wife, Ana.
Once complete, the track stadium will be open for athletic events and will also be available for use by Duke community members and local residents in the same way the current track is open for exercise opportunities.
"We have a great team working diligently to keep us on schedule for a December opening when both projects will become huge assets for Duke's student-athletes, staff, alumni and members of the Durham community," said Mike Cragg, deputy director of athletics/operations. "After years of strategic planning, it is fun for all of us to see these key ingredients to the Duke Athletics campus being brought to life."
Below, a closer look at the track surface shows the stone base track, which will be covered by asphalt and then surfaced with rubber this fall. Crews have also begun installing cages and safety nets for field events like the hammer throw.