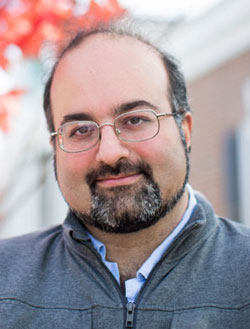 Duke University has received a $3 million gift from alumna Bettye Martin Musham to establish a directorship for Islamic studies, President Richard H. Brodhead announced Tuesday.
The gift will fund the William and Bettye Martin Musham Director for Islamic Studies. The director will oversee the Duke Islamic Studies Center (DISC), the university's hub of teaching, learning and research about Islam and Muslim communities.
The first appointment to the position is Omid Safi, a Duke alumnus who also has an appointment in the Department of Asian & Middle Eastern Studies. (For more information about Safi, go to http://today.duke.edu/2014/07/safi.)
"We're grateful to Bettye Musham for her generosity," Brodhead said. "In our increasingly interconnected world, it is vital that non-Muslims and Muslims are educated in each other's cultures, beliefs, practices and contributions to the world. This gift will help keep Duke and our scholars at the forefront of cross-cultural learning and understanding." 
A 1954 graduate of the Duke School of Nursing, Musham was one of the founders of Gear Holdings, Inc., a branding, design, marketing and communications firm in New York. She spent 17 years in the advertising industry and was the general manager of Louis Vuitton for North America in the 1970s. She also has served on various corporate boards and is a member of the Council on Foreign Relations.
William Musham, who died in 2001, graduated from Purdue University, attended Harvard Business School and graduated from a business school in Chicago. He was the CEO of ITE-Imperial and vice chairman of Gould, Inc., after its acquisition of ITE.
Both attended a Duke reunion in 1983 and heard a lecture on the meaning of jihad by religion professor Bruce Lawrence, the founding director of DISC. "We were both hooked with the importance of Islam and also became fast friends of Bruce and miriam cooke," a professor of Asian & Middle Eastern Studies, Musham said.
Safi is a prominent American public intellectual who specializes in classical Islam and contemporary Islamic thought. Before coming to Duke, he was a professor of Islamic Studies at the University of North Carolina at Chapel Hill.
"I will be working with other faculty members and colleagues to help expand and deepen an interdisciplinary engagement with Islam as both a religious tradition and a civilization at a global level," said Safi, who received bachelor of arts, master's and doctorate degrees from Duke. "It is a wonderful opportunity to build on DISC's visible Islamic studies profile in a way that broadens its relevance to scholars and the public, and speaks in a humanistic and engaged way to contemporary needs and issues."
Established in 2006, DISC is a leading institution in North America for the study of Islam and Muslim communities. Its faculty members represent a number of Duke schools -- including Trinity College of Arts & Sciences, the Fuqua School of Business, Sanford School of Public Policy and Nicholas School of the Environment -- and a range of disciplines, including economics, political science, cultural anthropology, sociology and history.
In addition to organizing programs and events for students and faculty each semester, DISC sponsors special initiatives. One example is the Transcultural Islam Project, which supports and publicizes research-based information about Islam and Muslim communities in the U.S. and across the globe through its public face, ISLAMiCommentary.org.
Musham's gift will help advance the comprehensive $3.25 billion Duke Forward fundraising campaign. The seven-year effort supports priorities across Duke's 10 schools, Duke Medicine and a range of university programs.
###