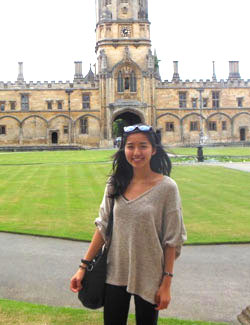 Baldwin Scholar and senior Tiffany Lieu has dabbled in several departments during her time at Duke, but at the end of the day always loves learning about history.
Her favorite history classes have been Immigrant Dreams/US Realities and her capstone course, both taught by Gunther Peck, Fred W. Shaffer associate professor of history and public policy. She said Peck's teaching style is what made the classes so enjoyable for her.
"He's one of those professors that asks more questions than he answers," said Lieu, who is focusing on U.S. history but also pursuing minors in English and political science. "At the end of the day, that's what history is."
In her capstone course, Lieu studied Amerasians—children born in Asia to a U.S. military father and an Asian mother. She said these children faced discrimination in their mothers' home countries because they were not fully Asian, but faced several obstacles in trying to immigrate to the United States. The links between immigration and foreign policy illustrated one of Lieu's favorite aspects of history.
"What I love about history is that everything is kind of connected," she said. "There is a narrative that connects these things and events—tying events together and what they mean across generations."
Lieu said she has always been interested in wars and what factors convince a nation to go to the brink of battle. She added that her favorite topic in history is the Cold War because it was "the ultimate war that wasn't a war."
"I'm fascinated by how different countries interact with each other—especially when there's power asymmetry."
Lieu is currently working on a thesis about the Vietnam War with history professor John French. She is looking at the relationship between the United States government and Ngo Dinh Diem, president of South Vietnam from 1954 to 1963. She will be travelling to Vietnam and then to College Park, Md., to conduct archival research for her thesis.
In Vietnam, she will use her Vietnamese language skills to assist with her research. Lieu grew up listening to Vietnamese at home and said she is rigorously learning how to read and speak the language better. She can also speak French, which will help as she digs through archives from the French colonial period.
Beyond her thesis research, she does research with Peck and associate professor of political science Tim Büthe. Lieu is assisting Peck with a project on the history of "whiteness," from a race and immigration perspective. With Büthe, Lieu is studying how increasing economic globalization affects enforcement of antitrust laws in the United States and the effects of partisanship on antitrust enforcement.
Lieu is also the chair of The Chronicle's editorial board, an undergraduate writing tutor and a member of the Undergraduate Conduct Board.
"The Chronicle has been one of my favorite things I've done because it gives you a lot of insight into how the school works," she said.
When Lieu came to Duke she aspired to eventually attend law school, but she said the past three years of studying history have convinced her to pursue a joint Ph.D. and J.D. degree program focusing on legal history.
"The past three years have convinced me that I love research and I love history and I'm always curious," she said. "Law and history are irrevocably intertwined and that to me is really fascinating."