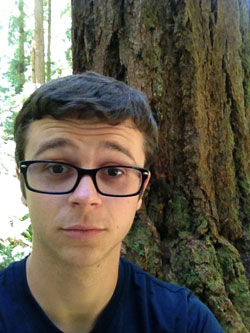 Senior chemistry major Chris Podracky conducts basic science research on enzymes secreted by the bacteria chlamydia, in hopes of identifying targets for the treatment of the disease.
The Middletown, NJ, native is working with chemistry and biochemistry Professor Dewey McCafferty on understanding the mechanism of pathogenesis in chlamydia. Chlamydia is the most frequently reported sexually transmitted disease caused by bacteria in the United States, with about 1.5 million cases in 2012, according to the Centers for Disease Control and Prevention website.
Podracky began his chlamydia research during his freshman year after taking a first-year chemistry seminar with chemistry Professor Jie Lu that introduced students to researchers. This summer, he is working as a Chemistry Department Summer Fellow in the McCafferty lab and is hoping to turn his project into a thesis in the coming year.
"I love it when there's no textbooks to consult because [the research] is new stuff, so you have to solve puzzles and rely on the basic principles that you've learned over years of studying and doing similar kinds of work to make an informed decision," Podracky said. "It's challenging -- definitely different from class, but it can be very rewarding and a lot of fun."
Chlamydia is most effective when it lives inside of a host. A host cell's normal immune response is to die before the chlamydia has a chance to replicate, but the chlamydia protects itself by excreting proteins, hijacking the host cell machinery and preventing the host from destroying itself until after the chlamydia has replicated.
"It doesn't act by itself and it has been hard to establish a direct link between [the proteins], virulence and chlamydia's life cycle," Podracky said. "We needed new targets, so the first part of my project was basically cloning out of the chlamydial genome other targets that we thought might be interesting."
From about 900 possible proteins, Podracky and his labmates narrowed down a subset of proteins that had secretion signals. For chlamydia to stop the host cell from destroying itself, it must secrete the proteins, making them interesting targets for research, Podracky said.
By studying the structures, kinetics and mechanisms of the enzymes, Podracky said he will establish them as viable targets for the treatment of chlamydia and future research can design inhibitors against them. For now, however, he is still focusing on understanding the mechanisms behind the enzymes.
Besides research, Podracky is involved with the service fraternity Alpha Phi Omega and the Duke Catholic Center. Podracky said he enjoys his involvement with both groups because he gets to spend time with a larger and more diverse group of people.
After graduation, Podracky said he hopes to attend graduate school in either chemistry or biochemistry. He said he wants to continue to work with recombinant proteins, but would like to work on different topics as well.